Trump Unveils Plan To Promote Skill-Based Immigration
But even that's a bridge too far for immigration restrictionists.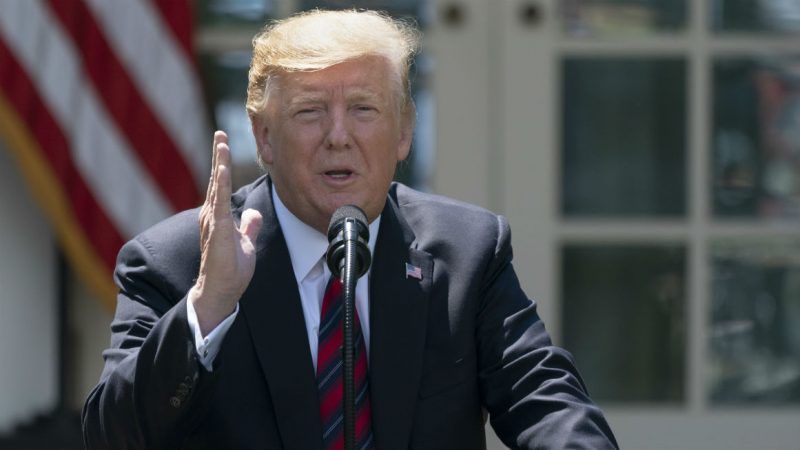 (Chris Kleponis/picture alliance / Consolidated/Newscom)
President Trump unveiled a new legal immigration plan on Thursday that would favor merit-based immigration and high-skilled labor over prospective immigrants who already have family in the U.S.
Standing in the White House Rose Garden, Trump spoke unfavorably of family-based and lottery-based immigration. "Random selection," he argued, "is contrary to American values and blocks out many qualified potential immigrants from around the world who have much to contribute."
Here's a handout the White House provided to reporters at Trump's address:
Re: Trump's immigration plan. This is the 4-page-handout reporters received in the Rose Garden pic.twitter.com/3ZFkIUUch8

— Fabian Reinbold (@fabreinbold) May 16, 2019
According to a chart, Trump's plan would boost skill-based immigration from 12 percent to 57 percent while decreasing family-based and lottery-based immigration by 50 percent.
Recipients of the Deferred Action for Childhood Arrivals (DACA) program are noticeably absent from this plan. Prior to Trump's speech, Press Secretary Sarah Sanders said plans for DACA were "left out on purpose." She deemed the issue "too divisive," as each Trump immigration plan that included DACA provisions has been shot down by Congress.
While Trump's proposal has obviously earned the ire of pro-immigration advocates, restrictionists have their own issues with the plan. 
As Reason's Matt Welch reported earlier in the week, the administration quietly raised the cap for H-2B visas, which allow non-agricultural laborers to do seasonal work in the country. Restrictionists like Sen. Tom Cotton (R–Ark.) claim that the importation of "cheap foreign labor" would drive down wages and harm non-college-educated Americans. Cotton has co-sponsored the Reforming American Immigration for a Strong Economy (RAISE) Act, which aims to cut the legal immigration rate by half.
Welch also noted that economists largely come to different conclusions when analyzing the relationship between low-cost labor and non-college-educated Americans. As Reason columnist Veronique de Rugy found, the impact, if there's any, is nowhere as dire as restrictionists like Cotton claim. Others have discovered a (similarly minimal) positive relationship between low-cost labor, non-college-educated Americans, and wages.