Activists Say Professor Who Criticized Them Is a Threat to Student Safety, Insist Seton Hall Must Fire Him
The administration capitulated immediately, placing Williamjames Hoffer on leave pending an investigation.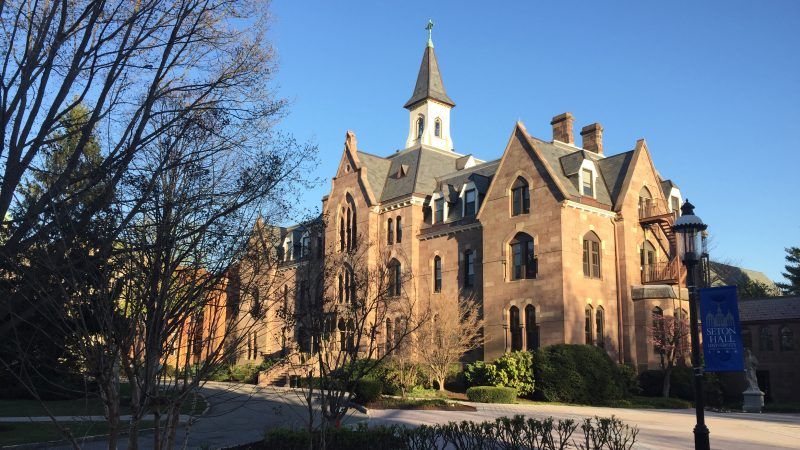 (Joe829er / Wikimedia Commons)
The Concerned 44, an activist student group at Seton Hall University—a private, Catholic school in New Jersey—is demanding the firing of History Professor Williamjames Hoffer, who criticized the activists' tactics in posts on social media and his blog.
Hoffer poses a physical danger to students, activist leader Emani Miles told the student paper, The Setonian.
Seton Hall's administration has placed Hoffer on leave pending an investigation, ostensibly "to ensure a safe environment is maintained on campus," The Setonian reported.
As is often the case on college campuses, the very definition of safety is being stretched quite broadly here. Hoffer poses no actual danger to his students. But he has offended them. In a since-deleted post on his blog—published in October of 2018, around the time the Concerned 44 were attempting to occupy university buildings to ensure their previous demands were met—Hoffer accused them of using rhetoric reminiscent of the Klu Klux Klan.
"As usual, replace 'black and brown' with white and vice versa, and you cannot tell the difference between the Concerned 44 and the Ku Klux Klan," he wrote. "These ideas are a fundamental rejection of everything that Seton Hall University stands for and is attempting to do."
This might be unfair to the Concerned 44, but it is not a threat. It does not make them unsafe. It's just speech, and any university that values academic freedom should allow professors to express sentiments that students find displeasing.
Hoffer also lambasted the Southern Poverty Law Center—an organization well worth scrutiny—in a Facebook post, insisting that "the Ku Klux Klan and Neo-Nazis are not a threat compared to the race war Black Lives Matter and Muslim Terrorists want to sponsor in this country." This is a stupid comment and one that suggests Hoffer doesn't have much insight to offer his students. But his comment is not violence, nor is it a call for violence. It's just stupid.
Hoffer apologized for his "intemperate" comments:
I am writing this message in order to apologize to the university community and particularly students for my intemperate blog post and comments on social media. While I did not bring these remarks to the campus, I regret any and all ill-feeling they have caused. I have dedicated my life to the fight against bigotry through the dispassionate, objective search for truth. However, these communications did not serve that objective. While I believe it is important to engage in a free discussion, it is also essential to remain respectful and civil at all times. I sincerely hope we can move forward together as a community and am committed to learning from this so I can do better.
In response, the Concerned 44 have posted pictures of Hoffer's face, emblazoned with the words "white supremacist," all over campus. Seton Hall administrators are now investigating the posters and Hoffer.
"Seton Hall is a community that embraces the values of inclusivity, civility and respect for all," a spokesperson told Reason. "Recently, a group of students brought to the attention of the University a posting by Williamjames Hoffer, a faculty member, on his personal online blog in October 2018 that did not reflect these core values. As a result, the University is currently conducting a review of the situation."
Hoffer should be able to critique activists' tactics on his personal blog, and activists should have the right to call him out. Right or wrong, no one's safety is threatened by speech, no matter how dumb. Seton Hall is a private institution, so it can do what it wants without risking a violation of the First Amendment. But giving credence to the idea that anyone's behavior here was violent, dangerous, or beyond-the-pale for a college campus seems like a serious mistake.