To Discourage Migration, Trump Orders Asylum Seekers Pay Fees to Apply
The plan is likely to backfire and cause more illegal border crossings by the people most desperately in need.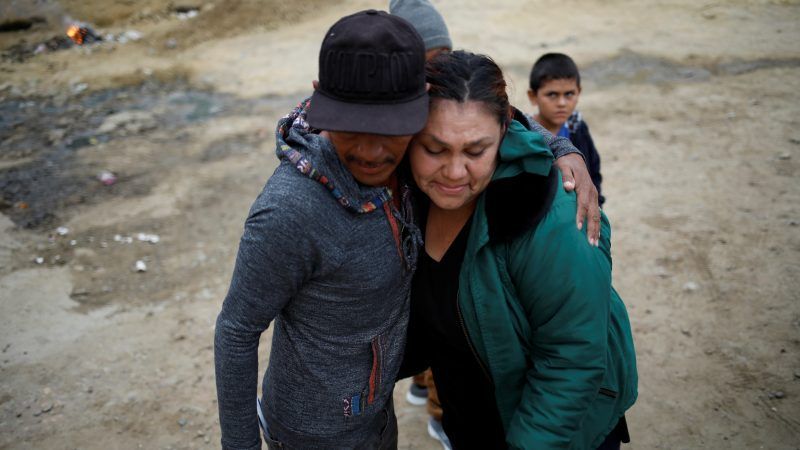 (ANDRES MARTINEZ CASARES/REUTERS/Newscom)
President Donald Trump on Monday ordered new restrictions on those seeking asylum at the U.S.-Mexico border, including imposing fees on asylum applications and barring work permits from those who cross the border illegally.
The move comes as an influx of Central American migrants continues to flood the system. Many of those arriving are families that are released into neighboring border towns while they await a court date. The president's actions also follow the resignation of Kirstjen Nielsen as secretary of homeland security, which reportedly came after she declined Trump's request to stop accepting asylum seekers altogether.
A presidential memo, sent to Kevin McAleenan, the acting secretary of homeland security, further requires that asylum cases be adjudicated within 180 days. More than 850,000 cases are currently lodged in the court system with an average wait time of two years. 
"The purpose of this memorandum is to strengthen asylum procedures to safeguard our system against rampant abuse of our asylum process," Trump said in the memo.
Administration officials have 90 days to create regulations in line with the restrictions stipulated by Trump. They are likely part of his deterrence strategy, made infamous by his "zero tolerance policy," which endeavored to prosecute every adult who crossed the border illegally and soon led to family separations. The effort to dissuade would-be migrants with harsher immigration enforcement has shown no measurable impact, however, as more than 103,000 undocumented immigrants crossed the border in March.
The restrictions will almost certainly be challenged in federal court. If they survive the inevitable legal challenges intact, the new fees on asylum applications could cripple the ability of some migrants—many of whom say they are fleeing humanitarian crises in their home countries—to seek asylum the legal way. Migrants are currently not charged any fees when applying for asylum protections.
Fees would also be placed on work permits, which allow immigrants to legally obtain employment while awaiting their court hearings. Work permits would be revoked completely for those who crossed the border illegally until their asylum claims are adjudicated.
If border crossings are any indication, with March's tally the highest in over a decade, asylum seekers without the necessary funds will almost certainly still make the trek. The thought of an application fee is considerably less spooky than the allegations of persecution many such migrants are fleeing—even for those who acknowledge they are only running from destitute financial conditions, which does not qualify for asylum. But they will be incentivized to cross illegally.
Trump has consistently railed against undocumented immigrants. In recent months, however, he has shown a new openness toward those that take the legal route. "I want people to come into our country in the largest numbers ever," he said during his State of the Union Address. "But they have to come in legally." His administration, however, is making it more and more difficult to do just that.
Trump's aspiration to declutter the courts and adjudicate all cases within 180 days is a sensible one. But it would require a substantial investment in the system, which currently relies on approximately 400 judges to wade through the hundreds of thousands of cases that are rapidly piling up.
Keren Zwick, associate director of litigation for the National Immigrant Justice Center, told The Washington Post that processing the inflow of claims within that time frame would be a near impossible feat and would corrupt the integrity of the process. "There's a fine line between quick adjudication and being railroaded through the system," she said. "It's not like asylum seekers want to sit here in limbo forever. But they also don't want to be punished for seeking asylum."