Guantanamo Bay Prison Commander Fired Weeks Before Scheduled Departure
Navy Rear Admiral John Ring's legacy will likely be defined by his funding requests to build a new prison for aging inmates.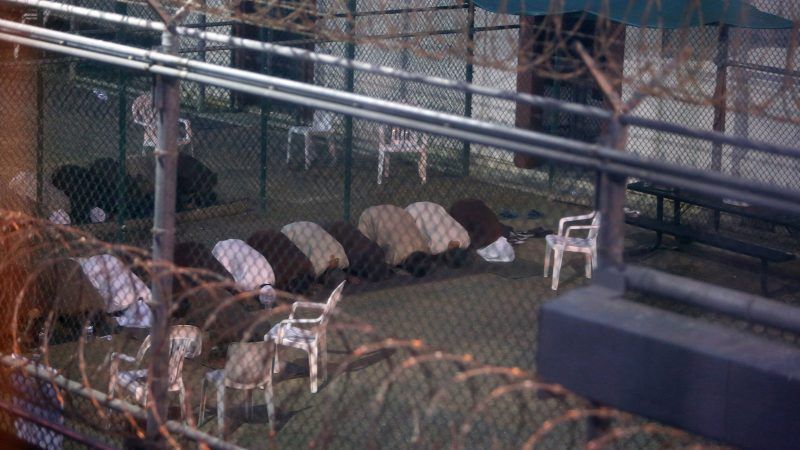 (Walter Michot/TNS/Newscom)
The commander of the prison at Guantanamo Bay has been terminated just 7 weeks before he was set to formally depart his post.
Navy Rear Admiral John Ring was fired over a "loss of confidence in his ability" to lead, according to a statement from the United States Southern Command. U.S. Army Brigadier General John Hussey has assumed the role of acting commander of the prison, which houses accused terrorists and enemy combatants at a U.S. military base in Cuba.
"This change in leadership will not interrupt the safe, human, legal care and custody provided to the detainee population," the statement says.
Admiral Ring, a former commander of the aircraft carrier Nimitz, took the reins at Guantanamo in April 2018. There he oversaw approximately 1,800 employees and 40 prisoners. His legacy will likely be dominated by his loud calls to build a new prison to replace Camp 7, the segregated unit that has held Guantanamo's most notorious inmates, including Khalid Shaikh Mohammed, the alleged 9/11 mastermind. Ring argued that the building lacks the resources and infrastructure to serve its aging population.
"Unless America's policy changes, at some point we'll be doing some sort of end of life care here," Ring told The New York Times before his dismissal was announced. "A lot of my guys are prediabetic. Am I going to need dialysis down here? I don't know. Someone's got to tell me that. Are we going to do complex cancer care down here? I don't know. Someone's got to tell me that."
The project came with an estimated $88.5 million price tag, which might sound like quite the renovation. That pales in comparison, though, to the $454 million it costs to operate the prison each year. Taxpayers have spent nearly $5 billion on the detention center since its inception in 2002, all to maintain a fortress that holds prisoners indefinitely without charges, and thus without trials.
A spokeswoman for the Southern Command has told The New York Times that Ring's advocacy had nothing to do with his termination, declaring that he was fired after a monthlong investigation that began in March. "The vast majority of commanders complete their assigned tours with distinction," Colonel Amanda Azubuike said to the Times. "When they fall short, we hold our leaders accountable, which reflects the importance we place on the public's trust and confidence in our military leaders."