What's Really in the Mueller Report
Mueller won't decide on obstruction charges, but a close read reveals he likely thinks there's something there.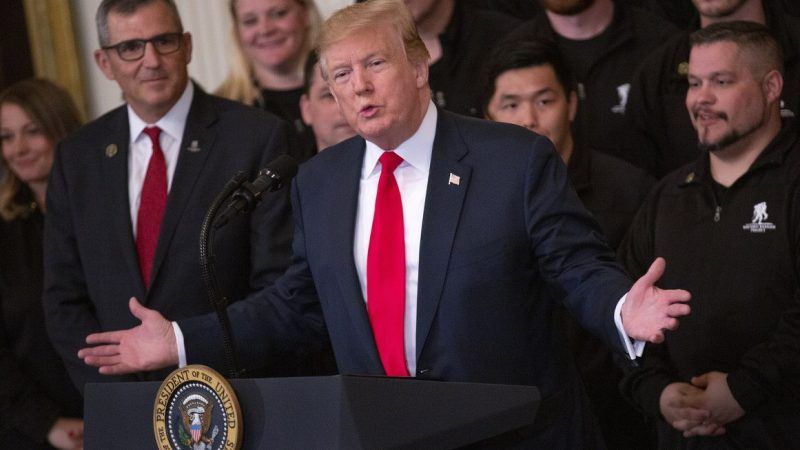 (Ron Sachs - CNP / MEGA / Newscom)
While preparing the public for the release of Special Counsel Robert Mueller's report this morning, Attorney General William Barr noted that Mueller examined 10 separate instances where President Donald Trump might have potentially obstructed the investigation.
Mueller ultimately decided not to decide whether Trump had actually attempted to obstruct, and Barr has concluded that Trump's behavior was not enough to justify obstruction charges.
But the minute Barr noted that Mueller had flagged 10 separate instances, that became the news hook for the day. Since Mueller did not draw a conclusion on obstruction, what does the report say?
Mueller explains from the start of the report's obstruction section—an entire volume of the overall report—that he would not come to a "traditional prosecutorial judgment" about Trump because he'd accepted the Office of Legal Counsel's conclusion that "the indictment or criminal prosecution of a sitting President would impermissibly undermine the capacity of the executive branch to perform its constitutionally assigned functions." But Mueller does say that investigating a president for potential illegal conduct is itself permitted.
Mueller then adds that if he were confident that Trump did not obstruct the investigation, he would clearly say so. "Based on the facts and the applicable legal standards, however, we are unable to reach that judgment."
Here are the 10 cases that Mueller explored.
1. How Trump behaved during the investigation of National Security Adviser Michael Flynn.
Flynn ended up resigning from the administration after admitting he had lied to officials when he said he hadn't discussed with Russian officials the easing of sanctions that President Barack Obama's administration had put into place as a response to evidence of election meddling. Flynn had, in fact, discussed this issue with Russian Ambassador Sergey Kislyak in order to discourage Russia from retaliating over the sanctions. Flynn then reportedly lied to FBI investigators about the conversation.
When the Washington Post reported on the conversation between Flynn and Kislyak in January 2017, Trump angrily called Reince Priebus, who was coming in as his chief of staff. Flynn said he was then pressured to try to get the whole story killed. Flynn's deputy contacted the Post to deny the conversation happened, even though she knew the story was true. Several Trump officials denied that sanctions were discussed during the discussions. This series of events alarmed the Justice Department because they had already been investigating ties between Flynn and Russia, and they worried that Russian officials could prove the conversations happened and therefore compromise Flynn by threatening to expose him.
Acting Attorney General Sally Yates had warned the White House that Flynn was lying about the nature of his discussions with Kislyak and that the administration was inadvertently passing along the lies.
Trump subsequently forced Flynn's resignation. Trump then pulled then-FBI Director James Comey aside for a private conversation where he reportedly said to Comey, "I hope you can see your way clear to letting this go, letting Flynn go," rather than charging him for his false statements.
In Mueller's analysis, he notes that Trump then publicly denied asking Comey to let Flynn go, but he finds evidence to corroborate Comey's account. He then analyzes whether this statement as a "hope" or an actual request, which is how Comey says he took it. Mueller agrees that Comey saw this as a directive.
But was this obstruction? Mueller observes that Trump went through the effort to talk to Comey alone, against advice from the White House attorney who told Trump not to speak directly to Justice Department officials by himself so as not to appear as if he was attempting to influence the investigation. Then Trump denied he had made the request, something he wouldn't have needed to do had he believed that his request was appropriate.
We're left hanging about whether Mueller sees this as obstruction. It's clear he sees the behavior as inappropriate and strange, but we don't know whether he thinks it was illegal.
2. How Trump responded to the announcement of the FBI investigation and Attorney General Jeff Sessions' recusal.
After the special investigation was announced in March 2017, Sessions recused himself due to his participation in Trump's campaign. This infuriated Trump, who wanted Sessions to "unrecuse" himself. Trump contacted Comey and other intelligence leaders to ask them to state publicly that Trump was not connected to Russian election interference.
Sessions recused himself from overseeing the investigation due to his ties to Trump's campaign and also because it turned out he had not disclosed his own meetings with Kislyak during his confirmation hearings. Trump, through his White House counsel, kept trying to get Sessions not to recuse himself. Sessions did anyway. According to Mueller's report, Sessions believed Trump was worried that the investigation "could spin out of control and disrupt his ability to govern" if Sessions were not leading it.
When Comey confirmed to the House Intelligence Committee the existence of the investigation of Russia's involvement in the election, Comey specifically made sure not to state who was being investigated. He also declined to answer when asked if Trump was under investigation. This led some press outlets to suggest that maybe Trump was under investigation, and this made Trump angry at Comey. Trump pushed then-White House Counsel Don McGahn to try to intervene with the Justice Department and ask if there was a way to speed up the investigation. It was at this point that McGahn's office began looking into whether Trump needed to have cause in order to fire Comey.
On several occasions following Comey's testimony, Trump asked officials in his administration to put out the word that he was not under investigation and that there was no link between him and Russia's election interference. He asked Comey if anything could be done to "lift the cloud" over the presidency being caused by the investigation.
Does all this count as obstruction? After looking at all over, Mueller notes that, unlike the Flynn situation, people that Trump spoke to said that it didn't feel as though they were being given directives to interfere with the investigation. Here Mueller concludes that Trump's behavior was influenced by his anger and frustration that the investigation was interfering with his ability to govern and would detract from his accomplishments. All of that is to say, here it appears as though Mueller doesn't see Trump's actions as directly trying to interfere with the investigation itself.
3. The firing of FBI Director James Comey
Trump fired Comey in May 2017, formally citing Comey's handling of the investigation into Hillary Clinton's use of private servers as Secretary of State. But he privately admitted that the termination was at least in part due to the way the Russian investigation was going, and he told the Russian foreign minister exactly that, saying that he thought it would take the pressure off.
Was firing Comey obstruction of justice? In Mueller's analysis, firing Comey could have been obstruction if it had the actual effect of ending the investigation. But it didn't, and Trump was told before firing Comey that it wouldn't stop the investigation from continuing.
Mueller notes that it's obvious that Trump's termination of Comey had nothing to do with his handling of Clinton's case, and most telling was the fact that Trump ordered the termination letter to include a sentence that Comey had on three separate occasions told Trump he wasn't under investigation. While Trump was again somewhat acting out of frustration that the investigation was interfering with his ability to do his work, there was evidence that Trump was concerned about the investigation into the campaign.
Here's an important note from Mueller: "[T]he evidence does indicate that a thorough FBI investigation would uncover facts about the campaign and the President personally that the President could have understood to be crimes or that would give rise to personal and political concerns."
There's also a short section in this part of the report that's redacted due to an ongoing investigation of the Trump Tower negotiations. Considering that there are actually very few redactions in this part of the report, that's worth noting.
4. Trump's alleged attempt to end the special investigation and get rid of Mueller
In June 2017, following media reports that Trump was being investigated for obstruction, Trump tried to get White House Counsel McGahn to have Mueller removed. McGahn didn't do so and instead prepared a resignation letter.
When Trump found out that a special counsel had been appointed he reportedly freaked out and said it would be the end of his presidency, and blamed Sessions. Sessions submitted his letter of resignation, but Trump convinced him to stay on.
Trump then tried to argue that Mueller had conflicts of interest because he had previously interviewed for FBI director. Noted Trump whisperer Steve Bannon thought the idea that Mueller had conflicts of interest "ridiculous." McGahn warned Trump that attempting to get rid of Mueller would be another argument used to claim he was obstructing the investigation.
Regardless, Trump ignored his advisors after the Washington Post reported that Mueller was investigating Trump for obstruction, and asked McGahn to have Mueller removed. McGahn was not willing to do so and decided he'd have to resign. Priebus and Bannon convinced him not to.
So what does Mueller himself think of Trump trying to fire him? Is it obstruction? Much as with Comey's firing, Muller notes that removing him wouldn't necessarily mean the end of the special investigation, but a factfinder would have to determine whether doing so would have a chilling effect on his replacement.
Mueller also notes that Trump's sense of urgency to have him removed, particularly after reading that he might be a target of an obstruction investigation, made a lie out of Trump's claims that he was concerned about conflicts of interest, because he could have sought out an ethical evaluation rather than immediately on a weekend try to have Mueller removed.
Mueller adds that by this point in the investigation, Trump had been warned repeatedly that contacting the Justice Department would feed the obstruction investigation. Mueller bluntly notes, "The evidence indicates that news of the obstruction investigation prompted the president to call McGahn and seek to have the Special Counsel removed." He adds that Trump likely knew that it was wrong to ask McGahn to take this action because McGahn already told him the White House could not be involved with this. And then Trump subsequently denied ever telling McGahn to remove Mueller and tried to get McGahn to deny the story.
So once again, here, without actually saying obstruction happened, Mueller wants the reader to clearly understand that he believes Trump tried to have him removed in order to stop the investigation because Trump knew he himself was a target of the investigation.
5. Trump's attempt to affect the scope of the special counsel investigation
Just days after the failed effort to have Mueller removed, Trump had Corey Lewandowski deliver a message to then-Attorney General Session asking him to limit the scope of the special investigation to the subject of making sure Russia didn't meddle in future elections.
Trump wanted Sessions to give a speech explaining that Trump was being treated unfairly and shouldn't be the subject of a special counsel investigation because he hadn't done anything wrong.
At the time, Lewandowski failed to deliver the message due to scheduling conflicts. By July of 2017, it became public knowledge that Donald Trump Jr., Jared Kushner, Paul Manafort, and others had met with Russian lobbyists in June 2016. Trump pushed again for Lewandowski to deliver the message to Sessions. Lewandowski handed it off to White House official Rick Dearborn to pass along. According to Mueller's report, Dearborn said the message "raised an eyebrow" and being asked to pass it along to Sessions made him uncomfortable, so he didn't.
A few days later the Washington Post reported that Sessions had discussed campaign matters with Russian officials, and this prompted Trump to again consider firing him. He told Priebus to demand Sessions' resignation. Priebus warned that he might not be able to get a replacement through the Senate. Priebus and McGahn discussed again the possibility of resigning rather than carrying out Trump's orders. Eventually, Priebus convinced Trump not to demand Sessions' resignation, but then Trump began to tweet comments critical of Sessions.
Was this obstruction? Mueller notes that Trump was still trying to get Sessions to "unrecuse" himself and take control over what the investigation's scope. Mueller says that these "directives indicate that Sessions was being instructed to tell the Special Counsel to end the existing investigation of the president and his campaign."
Again in this example, without saying "this is obstruction," Mueller outright states that the evidence shows here that Trump was attempting to prevent further scrutiny of his conduct. Mueller observes that trying to use Lewandowski to quietly pass a message along to Sessions rather than going through official communication channels demonstrates his intent to bypass people like McGahn who had been urging him to stop trying to meddle with the Justice Department's work.
6. Trump's involvement in efforts to prevent disclosure of emails about the Trump Tower meeting and Russian lobbyists
In response to initial reports that Trump Jr., Kushner, Manafort, and others had met with Russian lobbyists in Trump Tower, Trump's campaign said it was a meeting about Russian adoption rules. A lot more happened in that meeting: The most notable of which was that Trump's team had been told that the Russians had damaging information about Hillary Clinton.
Trump played a role in crafting initial statements about what happened at the meeting in explanations to the press, deliberately concealing the full nature of the discussion and preparing his son's statement.
Here, Mueller notes that the lies were being told to the press, not Congressional investigators or to Mueller's team. Trump apparently made no effort to keep emails about the true nature of the meeting out of the hands of investigators. In this case, Mueller makes it clear that he doesn't see evidence of obstruction. They were trying to keep the information from getting into the hands of the press, sure, but not investigators.
7. Trump repeatedly tried to get Sessions to unrecuse himself before firing him
As 2017 went on, Trump complained to Sessions that the Department of Justice wasn't investigating who he thought they should be investigating, by which he meant Clinton's private server use. He urged Sessions to look at her and then started tweeting that Comey's letter exonerating Clinton happened before the investigation was complete.
For months, Trump would attack Sessions in tweets and interviews for recusing himself. Then, the day after the midterm elections in November 2018, Trump dumped Sessions.
In his analysis, Mueller notes that evidence shows that part of Trump's intent to get Sessions to unrecuse himself was his belief that Sessions would limit the scope of the investigation to protect Trump. Trump was aware at this point that the investigation included him and his son.
8. Trump ordered McGahn to lie about his attempts to fire Mueller
Trump's failed effort to remove Mueller was uncovered by The New York Times in January 2018. Trump several times tried to convince McGahn to publicly deny that the story was true. McGahn refused each request.
Here, Mueller's analysis notes that Trump disputes McGahn's characterization of his request. Trump says he didn't say the word "fire." But McGahn insisted that the stories were accurate when they said Trump ordered him to have Mueller fired.
At this point, Mueller's grand jury had brought back several indictments, and Mueller notes that the president had received a list of topics Mueller's office wanted to discuss in a potential interview. Obstruction was among them. Trump also knew that McGahn had already been interviewed by Muller's team and had told them about the attempt to remove Mueller.
Here Mueller concludes that "substantial evidence" indicates that Trump's urging here for McGahn to dispute the story was intended as an attempt to influence McGahn in "in order to deflect or prevent further scrutiny of the President's conduct towards the investigation."
9. The president's conduct toward Flynn, Manafort, and [Redacted]
In this section, Mueller notes Trump's differing treatment of those who have been caught up in Mueller's investigation based on how loyal they are to him and whether that counts as obstruction.
Flynn initially received supportive comments from Trump until he ended a joint defense agreement with Trump's team and started cooperating with the government. Trump raised the possibility of a pardon for Manafort and made it clear he felt the man was being treated unfairly by the government over his fraud convictions.
There is an entire section of this part of the report about a third person that is entirely redacted. I'm not inclined to speculate.
Mueller notes that there's evidence that Trump's public comments are intended to encourage Manafort not to cooperate with the investigation and that Trump raised the possibility of a pardon as a way of influencing his behavior. But he also notes that it's possible Trump genuinely felt bad for Manafort and he was trying to influence public opinion, not necessarily Manafort or a jury.
10. Trump's treatment of Michael Cohen
Trump's former personal attorney, who has turned against him, gets his own section in the obstruction volume. Cohen was part of the team pursuing the Moscow Trump Tower project for the Trump organization, insisted that the organization didn't have any business in Russia when they were still negotiating, and when Cohen's lies were uncovered, Trump said publicly that Cohen wouldn't "flip" and passed along private messages of support. Cohen also said he thought he'd get a pardon from the president if he remained "on message."
Then Cohen began cooperating with the government and all hell broke loose. The media found out that Cohen had a recording of a conversation with him and Trump arranging to pay off a woman Trump had an affair with to keep her mouth shut. This was the second case, and Cohen would eventually plead guilty to campaign finance violations for these payoffs.
Trump and Cohen turned on each other. Trump started publicly making comments that implied that Cohen's family members were also involved in crimes. Trump said that Cohen had turned rat to get his sentence reduced and suggested that Cohen's father-in-law had done something wrong. This prompted Cohen to postpone testimony before Congress (though he did eventually testify.)
In Mueller's analysis, he explores both whether Trump encouraged Cohen to provide the false testimony to Congress that led to him being charged, and whether Trump took actions that would otherwise stop Cohen from testifying truthfully.
Mueller says that, while it's likely Trump knew Cohen lied to Congress, he could not establish that Cohen did so at Trump's request. Cohen has said that he believed that Trump wanted him to lie to Congress that negotiations to build a hotel in Russia ended before the campaign began, but Mueller isn't so sure.
As for Trump's treatment of Cohen abruptly changing after he started cooperating with investigators, Mueller notes that the inference here is that Trump gives off positive messages to those who refuse to cooperate with the government and "then turns to attacks and intimidation" to either deter or undermine the credibility of those who assist.
In Mueller's analysis of Trump's intent here, he is clear that he sees evidence that would support a claim that Trump's treatment of Cohen is deliberately intended to discourage him from cooperating with the government precisely because it would "shed adverse light" on the president's conduct during the campaign.
In the end, while Mueller will not specifically say that Trump did or did not engage in obstruction, what he has written in this report is most certainly intended to direct us to look at a trend of behavior designed specifically to either bring the investigation to a halt or to stop the people around him from cooperating with investigators.
And it does leave you to wonder what Mueller would conclude had he not decided from the start that he was not going to make a traditional prosecutorial decision about whether Trump had engaged in obstruction if Trump were not the president.
All of which is to say: This report really reads as though Mueller believes that Trump engaged in obstruction.