Jeff Flake Reveals Death Threats, Says a Democratic President Would Be Better Than Trump
The former Arizona senator warns that anti-immigration rhetoric could make Republicans as unsuccessful nationwide as they are in California.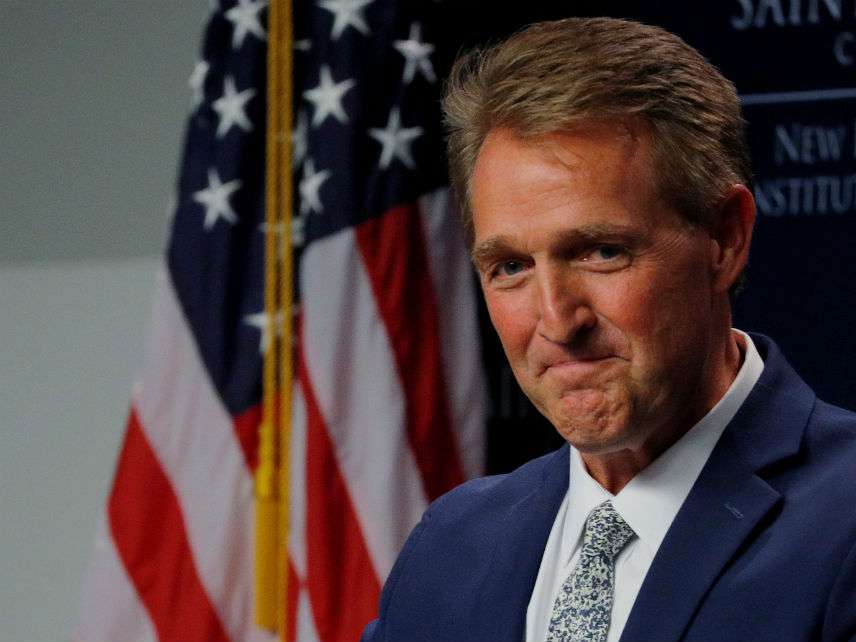 Last week, 58-year-old James Dean Blevins Jr. pleaded guilty to threatening former senator Jeff Flake with a menacing voicemail. Blevins agreed to probation as punishment for his call, which took place last September amidst the controversies surrounding Brett Kavanaugh's nomination to the Supreme Court. In the message, Blevins said: "I am tired of him interrupting our president, and I am coming down there to take him and his family out."
In an interview published in The Guardian this week, Flake, who was on the field in 2017 when a former Bernie Sanders volunteer opened fire on a bunch of GOP lawmakers practicing for the annual congressional baseball game, said the voicemail was "only one of several threats," which he then proceeded to detail: a man seen with a rifle scope at three different Church of Jesus Christ of Latter-day Saints locations in Arizona, plus "several" other incidents that "haven't been tracked down yet," including "threats where they list my kids and their addresses, links to beheading videos."
Flake was a vocal opponent of Donald Trump during the GOP primary season, after Trump secured the nomination, again after the Access Hollywood tape surfaced, and then throughout the first two years of this presidency. He declined in 2017 to wage what would have been an uphill 2018 reelection campaign, for a seat now occupied by Democrat Kyrsten Sinema. In January of this year, after months of speculation, Flake ruled out a 2020 challenge to Trump while taking a job as on-air analyst for CBS News. (CNN, which has different standards for journalism ethics, has allowed paid contributor John Kasich to continue weighing a presidential run.)
In the Guardian interview, Flake said he'd been in contact with the former Ohio governor and "Kasich hasn't ruled it out."
As part of the former senator's ground-losing fight for a conservatism that embraces free trade, welcomes immigrants, repudiates dictators, honors alliances, and eschews comportmental crassness, Flake took part last week in an Intelligence Squared debate in New York on the question of whether the GOP should re-nominate Trump. Not only did the Arizonan (along with wingman Bret Stephens of The New York Times) argue in favor of primarying the president, but Flake answered "yes" to the question of whether a Democratic victory in 2020 would be preferable to a second Trump term.
"I'd like another Republican elected," Flake said. "But…if we continue and go with President Trump, I think that Republican principles, conservative principles, will be damaged more in the long run by having President Trump with a second term than they would by limiting him to a first term."
Flake analogized Trump's modern GOP with then–Gov. Pete Wilson's California Republican Party of the mid-1990s, which rallied around the immigration restrictionism of Proposition 187 and Wilson's "They keep coming" ad.
"Does anybody remember anything that Pete Wilson was able to do in the second term in California that justified the fact that, in the past quarter century now since Pete Wilson…won that second term, only Arnold Schwarzenegger, who later switched parties, and an insurance commissioner have been elected as Republicans statewide in California?" Flake asked. "There are no Republicans representing California from Orange County, Reagan Country, in Congress anymore. California may be a generation before they elect another Republican to office, because that Prop. 187 campaign, much like it has done elsewhere in the country, it can galvanize people for a while, maybe for a cycle or two, but in the end, it turns people off. It turns off minorities. It turns off women."
Flake's debate opponents , former Kansas secretary of state Kris Kobach and Fox News contributor Liz Peek, rejected the comparison.
"Most Californians don't remember what Prop. 187 was, which was more than 20 years ago," Kobach retorted. "It was, of course, something that he used in that election, but that is not why California is where it is in terms of the Electoral College. California is where it is because of demographics, and because of the high tax policy—highest in the country with state taxes—that has pushed so many people to Texas."
Kobach, a leading immigration restrictionist who lost a tight race for Kansas governor in November, is rumored to be on Trump's shortlist for the as-yet-uncreated administration job of "immigration czar." He headed up Trump's controversial and scandal-plagued Presidential Advisory Commission on Election Integrity until it abruptly disbanded in January 2018.