Arizona Will Be First State to Recognize Out-of-State Occupational Licenses
"Arizonans who have recently moved here will be able to put their skills to work faster and without all the red tape," says Gov. Doug Ducey.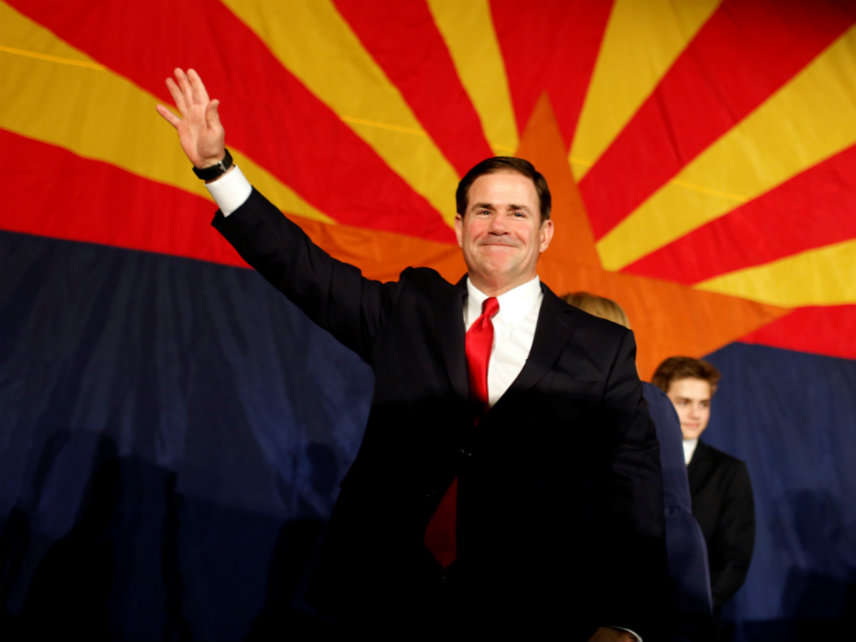 Arizona is one signature away from becoming the first state in the country to recognize out-of-state occupational licenses. That means licensed workers will be able to move to Arizona and immediately find work without going through the expensive, time-consuming, and redundant process of getting re-licensed.
That's a big deal.
The state House and state Senate voted this week to pass a bill recognizing out-of-state licenses. Gov. Doug Ducey, a Republican, has championed the legislation throughout the process and is expected to sign it sometime next week.
"We've heard too many stories of licensed, experienced professionals denied the opportunity to work upon moving to Arizona," Ducey tells Reason. "With this first-in-the-nation reform, Arizonans who have recently moved here will be able to put their skills to work faster and without all the red tape."
The bill's passage is the culmination of a fight between reformers and Arizona's licensing boards. Ducey used his State of the State Address in 2017 to call licensing boards "a group of special interest bullies." He's saved his sharpest barbs for the Arizona State Board of Cosmetology, which has investigated students for giving free haircuts to the homeless and defended a rule requiring 1,000 hours of training before letting someone blow-dry hair for money. The board, Ducey said in 2017, "is going after people who simply want to make a living blow-drying hair. No scissors involved."
The bill that passed this week won't stop Arizona's boards from setting ridiculous requirements for would-be license-holders, but it will create some substantial incentives for the boards to behave differently. By allowing licenses issued in other states to be valid in Arizona, the state's homegrown regulators will now have a reason to match their requirements to what other states do.
This is also a model for other states to follow. Most licenses aren't transferable between states, and research in recent years has shown a link between growing levels of occupational licensing—more than a third of all jobs in the United States are now subject to some form of licensing, up from just one in 10 in 1970—and a decline in workers' mobility.
Nationwide, workers whose jobs require a state-issued license lose out on between $178 million and $711 million they could have earned by moving to a different state, according to a 2017 paper by Janna Johnson and Morris Kleiner, a pair of labor economists at the University of Minnesota. Johnson and Kleiner examined 22 professions that are licensed across most states, and they found that workers in those professions were, on average, 36 percent less likely to move across state lines than workers in non-licensed professions.
"For example, a licensed public schoolteacher with a decade of teaching experience in New Hampshire is not legally allowed to teach in an Illinois public school without completing significant new coursework and apprenticeships," they write. "The existence of such requirements could constitute a significant cost to migration across state lines for those in licensed occupations, and these costs could prevent individuals from moving if the costs of re-licensure had been lower."
If other states follow Arizona's example, workers will benefit from increased economic opportunity and licensed professionals will lose their ability to act like "special interest bullies" by fencing out competition. And with more trained professionals ready to provide those services, consumers will win too.
Someone trained as a nurse in California doesn't forget those skills when he crosses the state border. The same is true for plumbers, electricians, makeup artists, and pretty much any person working in any other licensed profession. Arizona is the first state to stop pretending otherwise.
ReasonTV interviewed Gov. Ducey last month to discuss the bill: