A Tangled, Toxic Dance Brings Fosse/Verdon to Life
Sam Rockwell, Michelle Williams star in FX miniseries about troubled life of famous choreographer.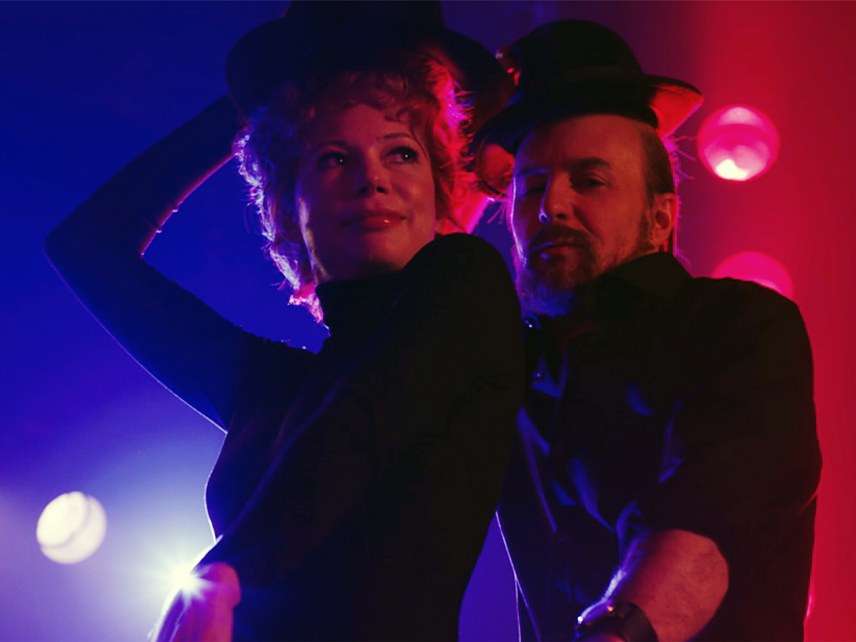 Fosse/Verdon. FX. Tuesday, April 9, 10 p.m.
Rising talent encounters established star; romance ensues; but is it love, or ambition? Regardless, their careers reverse direction and so, eventually, do their positions on the industry totem pole. Pills and booze are consumed in profusion. There's heartbreak and death and tearful goodbye scenes, not necessarily in that order.
This is as near a creation myth as there is in show business, and Hollywood has told and retold it endlessly—four times in A Star Is Born alone. And in a town where drama is not just entertainment but a daily occurrence, there have been plenty of instances of life imitating art.
Which bring us to director-choreographer Bob Fosse and dancer Gwen Verdon, who were the overlords of Broadway for three decades beginning in the early 1950s. Between them, they won 12 Tonys, made some spectacular films, and reinvented American choreography. They teamed up professionally, then married, then plunged into mutual ruination—professional for her, personal for him.
Their all-too-familiar story is the subject of FX's Fosse/Verdon, an eight-hour miniseries that debuts next week. It has too much sheer star power to be bad, but too much predictability to be authentically good.
Fosse/Verdon—at least the two episodes I watched—is a reasonably accurate, albeit determinedly non-linear, retelling of the lives of its subjects. The first episode concerns the nadir of his career, his direction of the disastrous 1970 film flop Sweet Charity, and the peak, two years later, Cabaret. The second skips backward to the 1955 Broadway production of Damn Yankees. And every episode exists within a thoroughly shredded time-space continuum in which the story rolls backward, forward, and sideways. As usual, it's hard to see the point of any of this bouncing around except to convince the producers that the screenwriters reallllly earned their money.
Fosse (Sam Rockwell, Three Billboards Outside Ebbing, Minnesota) was born into a vaudeville family, and as a child did soft-shoe routines in burlesque shows. The gigs dry up as he gets older, and Fosse ditches his wife to marry a Broadway star, Joan McCracken (Susan Misner, Billions), who helps him get work as a choreographer.
A few years later, Fosse gets his first big break when he's named choreographer of the Faustian baseball musical comedy Damn Yankees. He hooks up with Verdon (Michelle Williams, My Week with Marilyn), the show's star, who supports him when he clashes with the producers over the flamboyant, aggressively sexual, dance style he wants to introduce. Once again, Fosse throws over one wife for another who, coincidentally or not, help drive his career forward.
From there, it's rinse, dry, repeat: Fosse periodically goes on binges of drink, drugs, and dames; he and Verdon fight hellaciously; and she takes him back. (To a friend who confesses in horror that she threw a frozen fish at her husband's head during a fight, Verdon shrugs: "In my marriage, that's called foreplay.") That the story is true does not necessarily mean it can support eight hours of television drama.
Yet Fosse/Verdon has some things going for it that held my interest even when the basic plot didn't. The scenes in which the two break out the dance steps for their productions,
are fascinating, even if—maybe especially if—you don't give a tinker's dam about scissor kicks or jazz hands.
Fosse and Verdon push and goad one another toward an overtly sexual in-your-face style of choreography radically different than anything ever seen on Broadway. In one, Verdon watches in confusion as Fosse demonstrates his tentative and seemingly clunky ideas for the classic "Whatever Lola Wants" routine in Damn Yankees, a seductive tango by the devil's mistress. Then a slow smile of recognition spreads across her face: "It's a strip tease!" Fosse is drawing on memories of the strippers with whom he shared stages during his youthful burlesque career, and Verdon chimes in with moves she saw in her own brief fling with bawdy shows.
That scene is also key to one of Fosse/Verdon's central conceits: that Verdon wasn't just a dancer in Fosse's productions but a creative partner, not just in choreography but costuming, scripts and everything else. But her uncredited backstage work with Fosse is no help as her dancing career gives way to the vicissitudes of age. Casting couches are not the only kind of #metoo moments.
The other big plus in the Fosse/Verdon account book is the cast. Rockwell's take on Fosse's casually destructive behavior is convincing (and infuriating). And Williams gives a remarkable performance as Verdon, winningly resilient and horrifyingly foolish as she surrenders again and again to Fosse's half-hearted remonstrations. It is nearly as brilliant as her Oscar-nominated turn as Marilyn Monroe in My Week with Marilyn, in which she oozed wolfish sexuality and painful neurosis with equal vividity. Williams' next project is a Janis Joplin biopic. I can't wait.