Incoming FDA Commissioner Sharpless Shouldn't Stop Snus, the Safer Swedish Smoking Alternative
Even as the FDA continues to crack-down on vaping, it appears ready to allow snus to be sold as what it is: a safer alternative to smoking.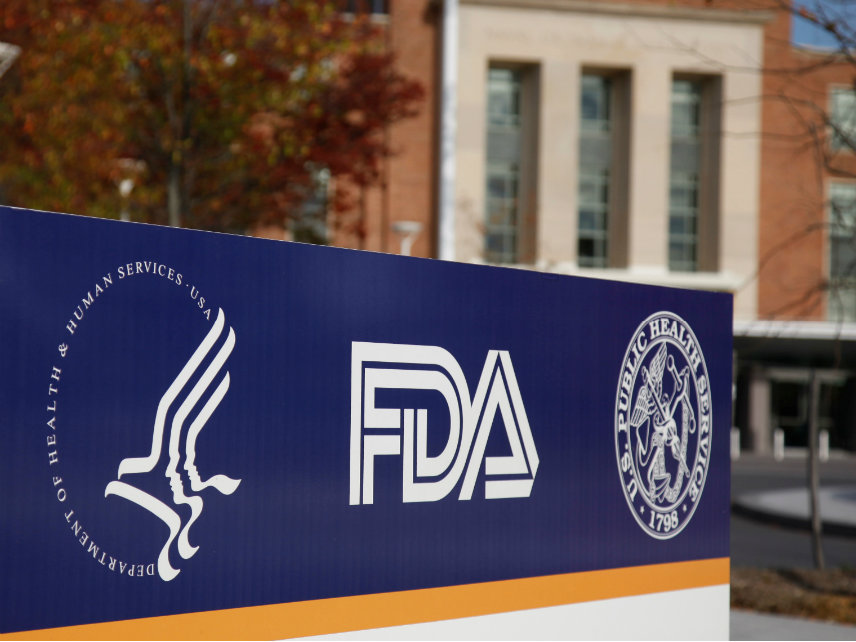 Even as the Food and Drug Administration (FDA) seems poised to continue cracking down on e-cigarettes and vaping as alternatives to smoking, the agency might be loosening its hardline stance on another nicotine product.
That's good news for public health, and something that the next FDA commissioner should encourage.
For more than a year, the makers of snus products—a flavored tobacco packet that's placed inside the lip in a manner similar to dipping tobacco, or "dip," but without the need for chewing or spitting—have been asking the FDA to concede what private researchers have already concluded: that snus is a safer alternative to cigarettes. That doesn't mean it's fully harmless, of course, but Swedish Match is seeking the FDA's permission to put a label on its products saying "no tobacco product is safe, but this product presents substantially lower risks to health than cigarettes."
At a scientific panel convened by the FDA in February, there was broad consensus for making snus the first product to qualify for the FDA's Modified Risk Tobacco Product (MRTP) status. The MRTP designation was created by a 2009 law allowing the FDA to evaluate tobacco products on a spectrum, rather than treating all products as being identical, when they clearly are not.
Snus is an important test for the FDA. A peer-reviewed study published in Tobacco Control found that snus delivers high levels of nicotine with lower concentrations of other chemicals found in cigarettes, and that it "does not appear to cause cancer or respiratory diseases." A study conducted in Norway and published in Nicotine and Tobacco Research found that snus users were three times as likely to quit smoking as smokers using nicotine gum. They believed snus was so effective because it delivered a dose of nicotine that was almost the same as cigarettes and provided a "sensory effect that medicinal nicotine products perhaps lack" because snus smells and tastes like tobacco.
In other words, if snus doesn't meet the FDA's standard for being a safer alternative to smoking, maybe nothing will.
"My sense is that if this is not approved, it might be the death knell for the [MRTP] process because we would be basically saying you can't get anything through this process," Kenneth E. Warner, a professor of public health at the University of Michigan, said during the February hearing.
Under Commissioner Scott Gottlieb, who will be stepping down later this year, the FDA has taken a more aggressive stance against other smoking alternatives, like e-cigarettes, which have a proven record of helping smokers quit and reducing the public health harms of cigarettes. That crackdown has been spurred by a supposed spike in teen vaping rates, even though overall use of tobacco and e-cigarettes among youths has not climbed. On Wednesday, the FDA released data showing that vaping, in rare instances, has caused seizures in young users.
The divergent regulatory prospects for snus and e-cigarettes seem to indicate that the FDA is still grappling with its approach to tobacco and nicotine products. Resolving that situation will fall to Gottlieb's replacement, Norman Sharpless, who will take over as acting FDA commssioner later this month.
There are some indications that Sharpless, the current director of the National Cancer Institute, will continue Gottlieb's hardline approach on vaping. But he would be making a grave mistake to block the current progress on snus' designation as a safer alternative to smoking—doubly important because the FDA's decision on snus will likely determine whether other products can pursue an MRTP rating in the future.
It's fairly obvious that there are differences between cigarettes, e-cigarettes, chewing tobacco, and products like snus. The federal government should acknowledge that spectrum, and do away with one-size-fits-all regulations that ultimately beneift the most unhealthy options by treating less dangerous alternatives as equals.