Georgia Lawmakers Have Introduced a Bill to End the Death Penalty
The bill was introduced by Republicans and co-sponsored by Democrats.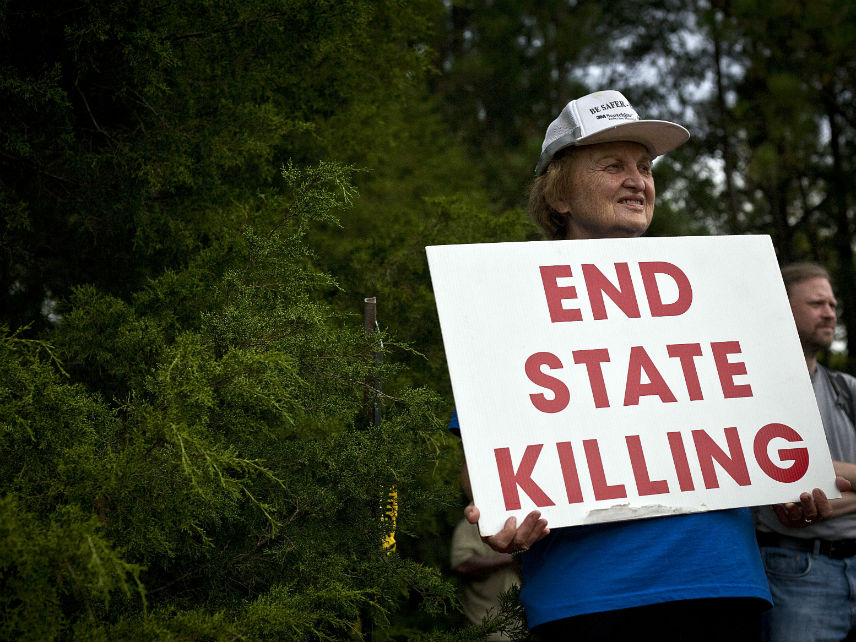 Last week, Georgia state representatives introduced a bill aimed at ending the death penalty.
Three Republicans, Brett Harrell (Snellville), Bill Werkheiser (Glennville), and Scot Turner (Holly Springs), introduced HB207, with three Democrats, Robert Trammell (Luthersville), Scott Holcomb (Atlanta), and William Boddie (East Point), cosponsoring. HB207 seeks to "amend the Official Code of Georgia Annotated so as to repeal the imposition of the death penalty." The proposed bill also seeks to remove any reference to capital punishment from state law as well override any laws in conflict with the new legislation.
The bill reflects a growing trend in the state's criminal justice system. The Atlanta Journal-Constitution reports that prosecutors rarely seek the death penalty in the state as a growing number of juries are rejecting it. A person can only be sentenced to death by a unanimous decision. Anything less will result in a life sentence.
Despite the newer attitudes towards capital punishment, the Atlanta Journal-Constitution notes that Georgia has also produced landmark Supreme Court cases regarding the practice. This includes Gregg v. Georgia, a 1976 decision which held that the death penalty was not an outright violation of the Eighth Amendment's prohibition on "cruel and unusual punishments."
Harell, who is very open about his opposition to the death penalty, retweeted his stance that there was "absolutely nothing conservative about the death penalty."
Hannah Cox, the national manager of the group Conservatives Concerned About the Death Penalty, shared similar beliefs in an interview with Reason. "As conservatives try to live up to their principles, which are limited government, fiscal responsibility, and protecting the sanctity of human life," she says, "this is such an obvious area where we are failing and have failed for many years."
Cox adds that the death penalty does not meet "any of those metrics."
As for the bipartisanship of the bill, Cox says criminal justice reform, including the abolition of the death penalty, is an issue "that brings both sides together."
Capital punishment in Georgia recently sustained a new wave of criticism after the Supreme Court declined to hear an appeal by inmate Keith Tharpe. Sentenced to death for the murder of his sister-in-law, Jacqueline Freeman, Tharpe and his lawyers allege that now-deceased juror Barney Gattie chose the death penalty for Tharpe because Gattie was racist. To make their case, lawyers submitted a signed affidavit where Gattie used racial slurs and shared his thoughts on "'good' black folks."