Federal Judge Rules New York's Dumb 'Gravity Knife' Law Is Unconstitutionally Vague
Groups have complained for years that the laws allowed police and prosecutors to selectively charge people carrying common pocket knives.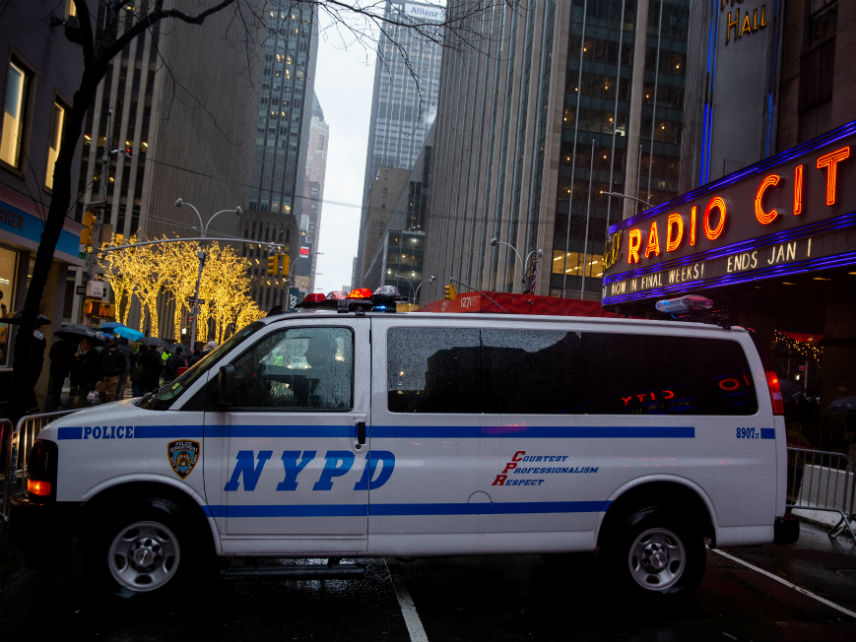 A federal judge ruled today that New York's notoriously nonsensical law criminalizing "gravity knives"—which groups have said for years is used by New York City to selectively prosecute people, especially the working class and minorities, for carrying common folding knives—is unconstitutionally vague.
in response to a lawsuit by New York City sous chef Joseph Cracco, who was arrested and fined for carrying a pocket knife, U.S. District Judge Paul Crotty ruled that New York's law banning gravity knives afforded police and prosecutors almost unlimited discretion to arrest and prosecute people for carrying knives commonly sold in stores across the state.
"The court recognizes that the District Attorney must have discretion to prosecute or not to prosecute criminal matters," Crotty wrote in his opinion and order. "The combination here, however, of a statute that does not specify how Cracco can identify a gravity knife and a a practice of prosecuting possession of gravity knives in an unclear and inconsistent manner provides police and prosecutors 'virtually unlimited' or 'unfettered' discretion to enforce the gravity knife statute. Under such circumstances, and with the lens of Cracco's past prosecution and intended future conduct, the gravity knife statute is unconstitutionally vague."
The law was passed in 1958 to criminalize knives that rely on gravity to open and lock into place. It was intended to address knives modeled after World War II paratrooper knives that opened by depressing a button, whereafter the knife blade fell and locked into place by force of gravity. However, New York City police interpreted the statute to mean any folding knife that can be opened by a flick of the wrist.
As Crotty's ruling notes, a gravity knife, unlike many other weapons, is defined not by its design but by its function, as determined by the "wrist flick test."
Martin LaFalce, a staff attorney at the Legal Aid Society, a legal aid group that has released several reports on the gravity knife law, says in an interview with Reason that the Cracco decision "recognizes the basic principle that criminal liability cannot turn on the flick of an officer's wrist, and it's impossible for New Yorkers to comply with the gravity knife statute."
The law is applied almost exclusively in New York City and nowhere else in the state. A 2014 Village Voice investigation found that between 2003 and 2013, the NYPD made 60,000 arrests for alleged gravity knife possession. Eighty-six percent of those arrested were black or Hispanic.
In 2014, a New York City man received a $7,500 settlement from the city for malicious prosecution after he was arrested for carrying a pocket knife that he'd purchased to comply with the state's confounding laws, and which the staff at the store told him was perfectly legal. The Village Voice reported in 2015 that New York City paid out nearly $350,000 in malicious prosecution settlements involving gravity knives over the previous five years.
In Cracco's case, he was returning home after work with his knife clipped to his pants pocket when he was stopped by NYPD officers.
According to the court ruling, Cracco "had owned the knife for several years and used it to open boxes, to open bottles, and when working on cars and his motorcycle. He never attempted to open the knife by attempting the wrist flick test."
Cracco alleges that the officer who arrested him tried three or four times to flick open his pocket knife before finally succeeding.
Under today's court ruling, if a police officer failed to flick open a knife on the first try, the knife would not be illegal.
"Under the old standard, in theory a police officer could attempt to open a folding knife many times, fail every time, and then on the final time, if the officer was able to, it would qualify as illegal," LaFalce says. "To say that someone could go to jail under that standard is absurd."
Yet that absurd standard led to thousands of people a year being arrested and prosecuted in New York City for carrying knives sold in hardware stores throughout the city.
In response to these issues, the New York state legislature twice passed bills in recent years that would have rewritten the gravity knife statute, yet Gov. Andrew Cuomo vetoed both bills.
The Manhattan District Attorney's office prosecutes the majority of gravity knife cases in the city, including Cracco's. In a statement to Reason, Manhattan District Attorney's office communications director Danny Frost said, "We are reviewing the decision."