Beto Offers Democrats a Blend of Old and New
In New Hampshire, some voters say they are ready for a fresh face.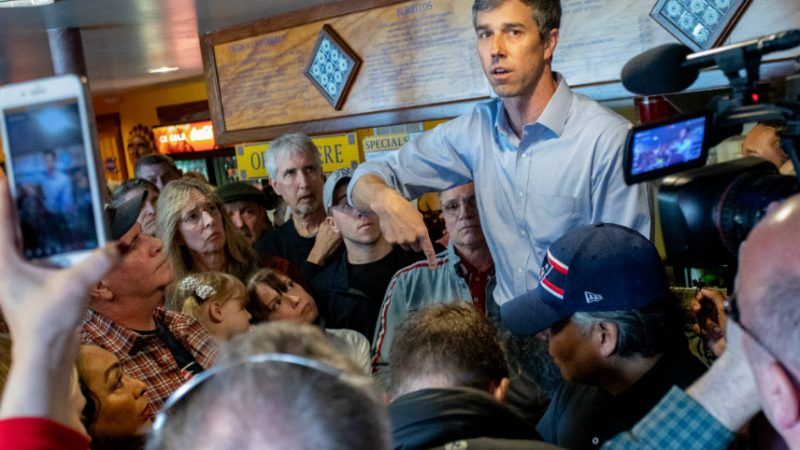 (Keiko Hiromi/Polaris/Newscom)
The conclusion of Robert Mueller's investigation means that if the Democrats are going to defeat President Trump, they'll have to do it not in court with a prosecutor, but in an election, with a politician.
The process of choosing a nominee is getting under way already in the Granite State, where a former congressman from Texas, Beto O'Rourke, recently made his first campaign visit as a presidential candidate.
O'Rourke, 46, is a generation younger than Senator Bernie Sanders, Vice President Biden, or Trump himself.
But despite his youth and his informal appearance—Banana Republic khakis, shirt open at the collar, driving himself around the state in a minivan—O'Rourke's speaking style is oddly old-fashioned and formal. He talks about "the opportunities to which we aspire." He eschews contractions. "I do not care if you are a Republican or Democrat," he says a lot, but never "I don't care." He does, though, frequently sprinkle in the Spanish: "no me importa."
Sometimes it seems as if it's not only O'Rourke's speaking style that's stuck in the past but also the policy substance. At a campaign stop in Manchester, a single parent facing foreclosure asks him a question about affordable housing. O'Rourke replies by talking about a $15 an hour federal minimum wage and about selecting a secretary of housing and urban development who emphasizes civil rights enforcement. The candidate makes no mention of market-based mechanisms for increasing housing supply, such as easing zoning laws that limit density.
In Laconia, O'Rourke sees a voter with a Dischord Records sweatshirt and lights up in talking about how punk rock "freed rock and roll from corporate dominance." He says there's an analogy to today's American politics, which he says need rebalancing toward the grassroots and away from "the few, the wealthy, the protected."
One area where O'Rourke does talk about a positive role for "capitalism" and "innovation" and "market forces" is in combating climate change, which he warns "will cook us to death" if we don't move away from fossil fuels. He notes, accurately, that the federal Department of Labor says that the two fastest growing occupations in America are solar panel installers and wind turbine technicians. For electric transmission lines enabling Texas's wind-power boom, O'Rourke credits a Lone Star State governor named George W. Bush.
Perhaps the sharpest contrast O'Rourke offers against Trump is on immigration. Trump's tone on the issue has varied, but the president frequently emphasizes the threat posed by illegal immigration, paying less attention to the opportunities immigration offers for economic growth. O'Rourke stresses the positives of immigration. He describes himself as coming from the "largest binational community in the Western Hemisphere," by which he means El Paso, Texas and Ciudad Juárez, Mexico. He says the two places are "joined, not separated, by the Rio Grande river and the international boundary line," and he recalls that he took the woman who is now his wife to Ciudad Juárez on their first blind date. Their three children, he says, now attend a dual-language public school where "they are learning math in Spanish."
"Our immigration laws need to be rewritten…in our own image, from our own values," O'Rourke says, calling for an increase in the numbers of visas issued to immigrants. He calls America "a country of immigrants and asylum seekers and refugees," supports giving illegal immigrants driver's licenses, and supports legislation to bestow U.S. citizenship on those who entered the U.S. illegally as children.
This candidacy may seem like a long shot given that O'Rourke has never won a statewide election, let along a national one, or even run any enterprise larger than his own congressional office. But he drew overflow crowds in Portsmouth, Manchester, and Laconia, and his online fundraising has been impressive.
Some voters in the home to the first-in-the-nation presidential primary say they are ready for a fresh face. John Haslam, 64, a self-employed carpenter from Exeter, N.H., and an independent voter who said he cast a ballot for Hillary Clinton in the Democratic primary in 2016, told me as we waited for O'Rourke to arrive in Portsmouth that he had already ruled out Biden, Sanders, or Senator Elizabeth Warren: "I'm done with people our age," he said.
Other voters are mentioning O'Rourke in the same breath as top tier candidates with more experience as candidates and as officeholders. Jordan Shefferman, 18, a freshman sociology major at the University of New Hampshire, will be voting in her first presidential election. O'Rourke is on her short list, she said after seeing him campaign in Portsmouth: "I'm deciding between him and Bernie."
Ira Stoll is editor of FutureOfCapitalism.com and author of JFK, Conservative.