Legal Sports Betting Makes March Madness Better Than Ever
Bringing sports betting out of the black market is a win for fans and sports leagues, and it's another indication of how prohibitionist policies fail.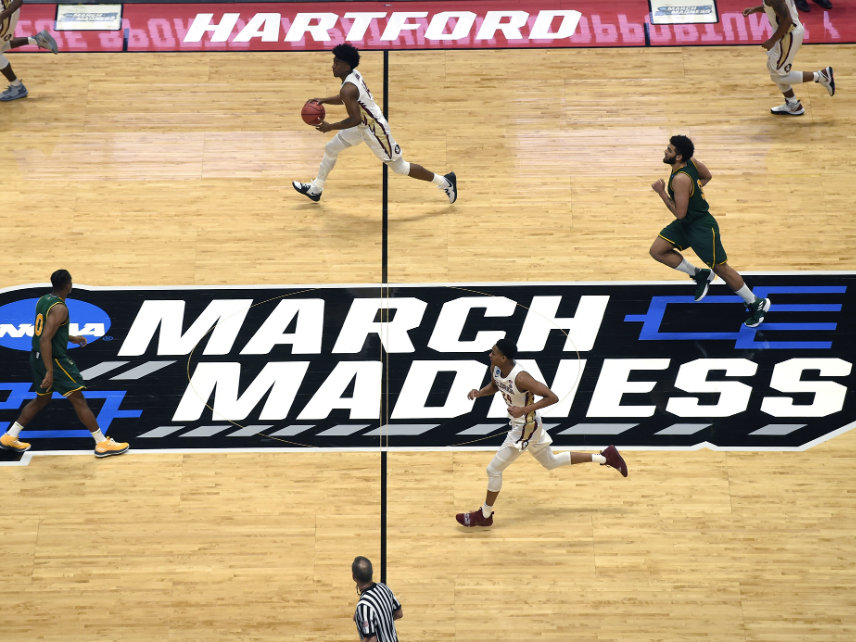 Thanks to the U.S. Supreme Court and some quick action from state legislatures, sports betting is legal in eight states as this year's National Collegiate Athletic Association (NCAA) basketball tournament begins.
That's a big change and a welcome one. For most of the NCAA tournament's 80-year history, anyone who wanted to wager on the outcome of its games had to live in Nevada or take a special trip to Las Vegas. Or find an illegal bookie, which is what lots of people did. Only about 3 percent of NCAA tournament bets were placed legally in 2018, according to the American Gaming Association.
That federal ban on sports betting—which the Supreme Court overturned in May of last year, giving control over betting back to the states—is probably responsible for the hugely popular "bracket pool" games that allow contestants to bet on the outcome of all 63 NCAA tournament games by filling out their own versions of the tournament bracket. Because that doesn't involve betting on the outcome of one specific game, those gambles have always been legal in most states and weren't subject to the federal ban.
In other words, the government essentially said that betting on one specific game was dangerous but betting on 63 games at once was perfectly OK. That weird distinction is finally fading away.
The American Gaming Association expects more than $8.5 billion to be wagered on this year's NCAA tournament. Much of that will run through bracket pools organized by offices, bars, and individuals. Of the roughly 18 million people expected to place bets at sportsbooks and online, however, the AGA says about a quarter of them will bet legally in Nevada or one of the seven other states—Delaware, Mississippi, New Jersey, New Mexico, Pennsylvania, Rhode Island, and West Virginia—where sports betting is now legal. The rest will continue to bet illegally or will use offshore sites, which remain illegal under federal law.
By next year, that number of legal wagers could be much higher. Bills to legalize sports betting have been introduced in another 23 states already this year.
DYK: 2 in 3 American adults live in a state that has legalized #sportsbetting or is actively considering it: https://t.co/PkSveUHklN pic.twitter.com/CKweH24qxL

— American Gaming Assn (@AmerGamingAssn) March 20, 2019
Bringing sports betting out of the black market is a win for fans and sports leagues, and it's another indication of how prohibitionist policies fail. In the new environment, fans can more easily and fairly bet on games if they choose—while leagues and associations, like the NCAA, can use legal betting data to track suspicious activity around certain teams, players, or officials. Just like banning sports betting did not stop it from happening, legalizing it will not stop the occasional attempts to "throw" games, shave points, or otherwise alter outcomes. But legal markets often make such unscrupulous activity easier to identify.
They also make it easier for prospective gamblers to have information that might give them an edge against the house. Sports media sites like ESPN have always listed the official Vegas betting lines for games, but now they offer deep dives into which games and which specific bets are the, well, best bets. (Psst: For today's games, ESPN's experts say you should take the under for Mississippi State vs. Liberty and grab UC Irvine at +5.5 vs. Kansas State.) And we get to know fun stuff like the fact that some anonymous better put down more than $10,000 on Virginia to win the national title—the biggest single bet reported by a sportsbook. It's a good thing UMBC didn't make the field this year.
All this is changing the way the NCAA operates. The infamously stodgy college sports association still has a rule on its books that says it will not allow NCAA tournament games to be hosted by states with legal sports betting. That might make it pretty difficult to find host cities for the tournament in a few years, but The Washington Post reports this week that the NCAA is considering changing that policy in light of the fact that 30 or more states could have legal betting by 2021.
That prohibition is pretty ridiculous too. Several conference tournaments—smaller competitions held in early March as a lead-up to the big national bracket—are literally held in Las Vegas every year.
Sports betting is here to stay. And it's making March Madness better than ever.