Massachusetts Sends Men to Prison for Addiction Treatment, But Not Women. A Lawsuit Says That's Discriminatory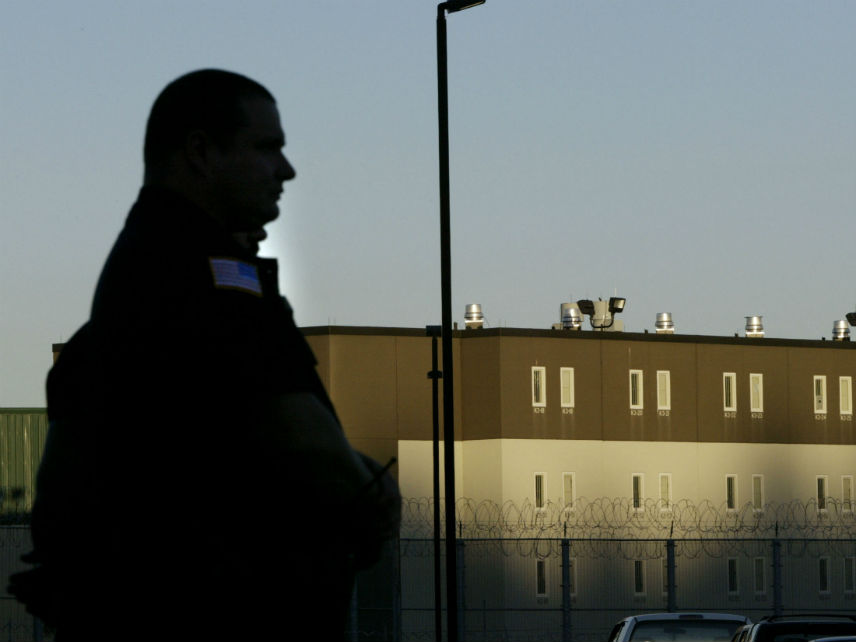 Massachusetts is the only state in the U.S. that sends people to prison for addiction treatment, and it only does so for men—an unconstitutional and discriminatory policy, a class-action lawsuit filed in Massachusetts state court earlier this month claims.
The lawsuit, filed on behalf of 10 anonymous plaintiffs by Prisoners' Legal Services of Massachusetts, says men who are civilly committed by courts to drug addiction treatment are instead shipped to state prison facilities, where they endure degrading treatment that often leaves them worse off than when they arrived.
"While incarcerated, men committed under Section 35 experience appalling conditions of confinement and only minimal treatment," the lawsuit says. "Correctional officers treat them like criminals, routinely humiliate them, refer to them as 'junkies,' and make other degrading comments. Many, if not most, emerge from prison traumatized by the experience and even more vulnerable to relapse and overdose."
Massachusetts, like a majority of states, allows family members and police, with a court's approval, to involuntarily commit someone for addiction treatment under Section 35 of the state's laws. Most of the thousands who are civilly committed spend 30 to 90 days in treatment at a facility run by the Massachusetts Department of Public Health.
However, as opioid addiction surged in the state over the last decade, Massachusetts began putting civil commitments in the hands of the state department of corrections, a practice that civil libertarians and criminal justice groups argue has terrible effects on someone's chances of recovery from addiction.
A 2017 Massachusetts Department of Public Health report on opioid abuse found that, "compared to the rest of the adult population, the opioid-related overdose death rate was 120 times higher for persons released from prisons and jails."
In response to a lawsuit brought by the state chapter of the American Civil Liberties Union (ACLU) and several other groups, Massachusetts changed its policies in 2016 to require that women be sent to actual addiction treatment programs. However, each year more than 2,000 men are still being incarcerated in Massachusetts Department of Correction facilities—a policy the lawsuit says "constitutes unlawful gender discrimination."
"Women committed under Section 35 must be sent to inpatient treatment facilities in the community even if the committing court finds that they need a secure facility," the lawsuit argues. "By contrast, men go to prison when there are no other available Section 35 treatment beds, regardless of their actual security needs. In short, men are punished for their alcohol and substance abuse disorders while women 'receive treatment, support, and recovery services in a dignified medical setting.'"
Massachusetts opened a new facility in 2017 for men who are civilly committed for addiction. It's run by the state Department of Correction, surrounded by razor wire, and deep in the woods. The patients, none of whom have been convicted of a crime, are watched over by correctional officers. They wear orange jumpsuits with "D.O.C." on the back.
A Boston Globe investigation that same year reported many of the same problems as the recent lawsuit:
The Globe interviewed seven former Plymouth patients and three parents of patients who all gave nearly identical accounts of unsanitary conditions, verbally abusive correction officers, and short, perfunctory meetings with counselors who provided little to no therapy. Some patients said that when they complained about the conditions they were moved into isolation cells without toilets or running water.

There are also safety concerns. At least one rape and one serious assault have occurred at the Plymouth facility in its first half-year in operation, court documents show.
A Mother Jones investigation in 2018 found much of the same. Patients reported being mocked by correctional officers and denied medical care. Addiction treatment or therapy was sparse to nonexistent, they said.
A mother recently told the Boston Globe that her son was placed in solitary confinement for five days while committed and denied his medication.
Matthew Segal, legal director of the ACLU of Massachusetts, says the civil liberties group's lawsuit challenged the conditions of women who were civilly committed, "but it was obvious from the way we drafted the complaint that we didn't think it was lawful to imprison men, either."
"What's so striking about the legislative fix is that as is that they changed the law with respect to women to improve their situation, but not men," Segal says. "Even if we were wrong about imprisoning people for civil commitment, it's obviously illegal to treat men and women differently in this way. Right from the moment they passed this legislative fix, it was unconstitutional."
A bill is pending in the Massachusetts state legislature that would move all men committed under Section 35 outside of the department of corrections.
The Massachusetts Department of Correction did not immediately respond to a request for comment.