Will Utah Ban the Shackling of Inmates in Labor?
A bill to stop the dangerous practice reaches the next step.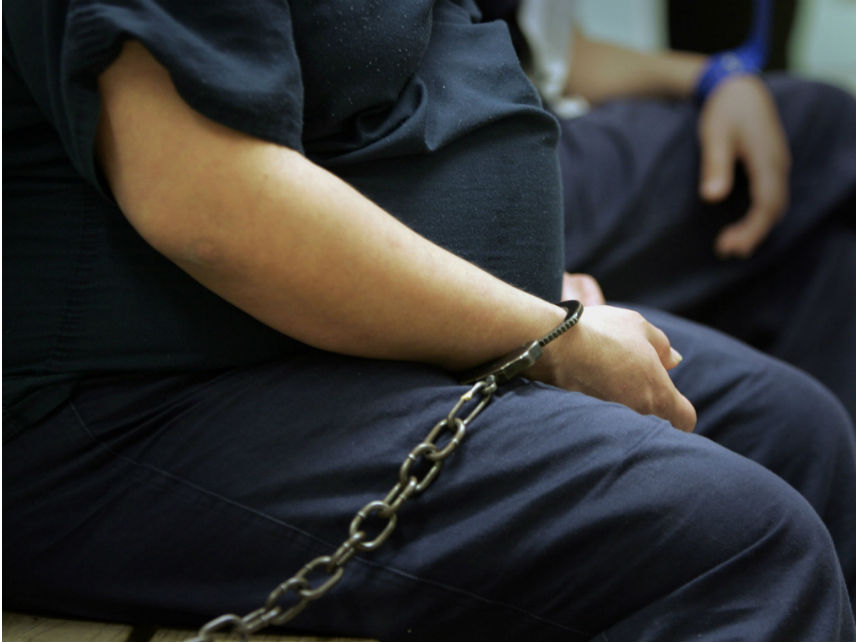 Utah just took a major step to improve the treatment of pregnant women behind bars. The state legislature has passed the Inmate Restrictions Standards Amendments, which aims to end the practice of shackling inmates' feet while they're in labor. As of Friday, the bill is currently in "enrolled" status, which means it is being prepared to reach the governor's desk.
The bill includes provisions for officials worried about violent inmates: Soft restraints during childbirth are permissible under certain circumstances, as is a certain degree of shackling during transportation to the hospital.
Amy Fettig, deputy director of the American Civil Liberties Union's National Prison Project, tells the Associated Press that restricting movement during labor is risky, since it can create blood clots or prevent doctors from having quick access to the patient during an emergency. Fettig says there have been no documented escape attempts during the very intense act of childbirth.
Several states have already prohibited this practice, though pregnant prisoners have still sometimes been subjected to it despite the anti-shackling laws already on the books. In at least one 2018 case, a woman in New York was forcibly restrained by her ankles and wrists during labor, even though the state had supposedly banned that nine years earlier. Unfortunately, the poor treatment of pregnant women behind bars is an issue that has reached all corners of the United States.
There have also been attempts to stop the practice on the federal level. In 2017, Democratic senators introduced and co-sponsored the Dignity for Incarcerated Women Act, which sought to additionally ban the use of solitary confinement on pregnant inmates. The Pregnant Women in Custody Act, introduced by Reps. Karen Bass (D–Calif.), Catherine Clark (D–Mass.), and Mia Love (R–Utah) in 2018, was similarly aimed at stopping the shackling. It also sought to create standards for the treatment of pregnant inmates.
2018 also saw passage of the FIRST STEP Act, which among other things called for a nationwide ban. Despite that law, and despite past changes to Utah prison policy, doctors in the state have still reported encountering laboring women in restraints.