Public Universities Are Paying NCAA Tournament Head Coaches $96 Million a Year
Here's how much each coach earns.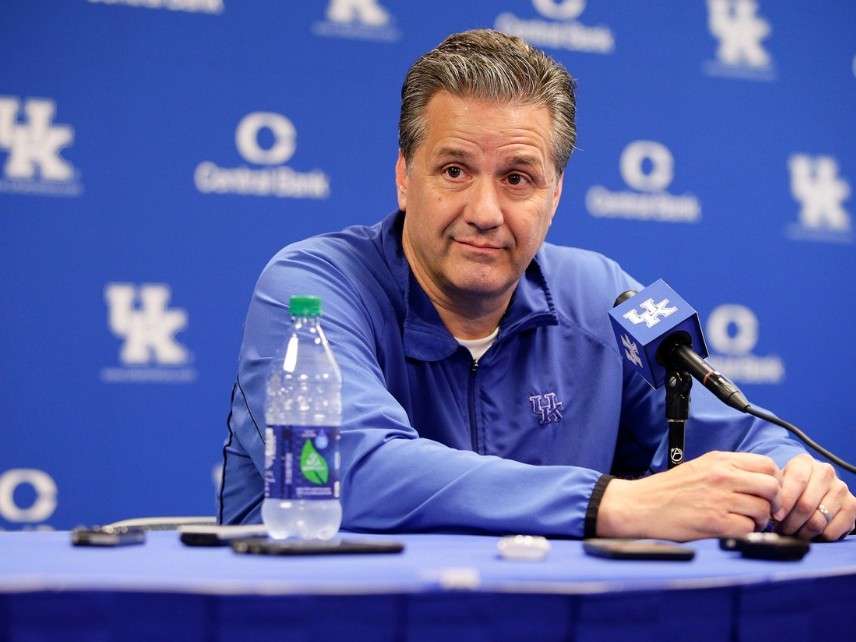 The nearly four dozen public universities with teams in the NCAA men's basketball tournament are paying their head coaches more than $96 million combined in annual compensation.
On average, each coach makes $2,139,107; the payouts total $96,259,815. Those numbers do not include benefits or outside income.
A few things to be aware of: In some cases, the pay includes money that comes directly from the school, as well as money from nonprofit organizations related to the school or specially allocated funds from private donors. For instance, Nevada coach Eric Musselman earns a base salary of $1 million per year, thanks to a five-year contract he signed in May 2017. But $600,000 of this comes from private donors and ticket sales, according to the Nevada Appeal.
It's also undeniable that some college coaches bring money into their universities. Kentucky's John Calipari, for instance, is considered to be one of the greatest recruiters in the men's college game. His skills are reflected in Kentucky's bottom line; the school's basketball program pulled in an average of $49.4 million per year between the 2014–15 and 2016–17 seasons and made an average profit of $22.9 million per year, reports Forbes.
That being said, coaches at public colleges and universities are still employed by, well, the public. Yet many of them are paid oodles more than the vast majority of other public employees. In 2017, men's college basketball coaches in Nevada, Kansas, Indiana, Kentucky, West Virginia, Maryland, Connecticut, and Rhode Island were the highest-paid public employees in their respective states, according to ESPN.
Back to the NCAA tournament. Of the 68 teams that made it to the Big Dance this year, 47 are public institutions. Here's how much those public schools' head coaches are making, ranked from highest to lowest. Unless otherwise noted, the information comes from USA Today, which has compiled a list of compensation packages for many NCAA men's basketball coaches. USA Today says its figures are based on salary and money from other contractual provisions, as well as "deferred payments earned annually," unaudited expense accounts, and "signing and other one-time bonuses earned in the current contract year."
John Calipari (Kentucky): $7,950,000
Tony Bennett (Virginia): $4,150,000
Chris Mack (Louisville): $4,007,494
Bill Self (Kansas): $3,881,857
John Beilein (Michigan): $3,800,000
Tom Izzo (Michigan State): $3,732,562
Rick Barnes (Tenessee): $3,250,000
Lon Kruger (Oklahoma): $3,200,000
Chris Holtmann (Ohio State): $3,013,750
Buzz Williams (Virginia Tech): $3,000,000
Mark Turgeon (Maryland): $2,847,232
Matt Painter (Purdue): $2,825,000
Dana Altman (Oregon): $2,800,000
Chris Beard (Texas Tech): $2,800,000
Michael White (Florida): $2,612,758
Bruce Weber (Kansas State): $2,600,000
Bruce Pearl (Auburn): $2,600,000
Kermit Davis (Mississippi): $2,500,000
Will Wade (LSU): $2,500,000
Bobby Hurley (Arizona State): $2,355,000
Greg Gard (Wisconsin): $2,350,000
Fran McCaffery (Iowa): $2,300,000
Roy Williams (UNC): $2,281,778
Leonard Hamilton (Florida State): $2,250,000
Mick Cronin (Cincinnati): $2,224,483
Ben Howland (Mississippi State): $2,200,000
Richard Pitino (Minnesota): $2,188,141
Steve Prohm (Iowa State): $2,050,000
Mike Hopkins (Washington): $1,900,000
Kelvin Sampson (Houston): $1,400,000 (Source: Houston Chronicle)
Francis Dunphy (Temple): at least $1,267,760 (That's how much he made in the 2016 calendar year, according to the school. It's highly unlikely he now earns less.)
Mike Rhoades (VCU): $1,200,000 (Source: Richmond Times-Dispatch)
Johnny Dawkins (UCF): $1,100,000 (Source: Orlando Sentinel)
Eric Musselman (University of Nevada, Reno): $1,000,000
Craig Smith (Utah State): $650,000 (Source: The Salt Lake Tribune)
Nate Oats (Buffalo): $612,000
Russell Turner (UC–Irvine): At least $535,000 (That's what he earned in the 2017 calendar year, according to the University of California website.)
Jeff Jones (Old Dominion): $506,974 (Source: WAVY)
Ron Hunter (Georgia State): At least $460,000 (Source: The Atlanta Journal-Constitution)
Chris Jans (New Mexico State): $429,000
Matt McMahon (Murray State): $400,000 (Source: WPSD)
John Brannen (Northern Kentucky): $370,000 (Source: The Northerner)
John Becker (Vermont): $309,000 (Source: University of Vermont)
Levelle Moton (NC Central): $250,000 (Source: The News & Observer)
Dave Richman (North Dakota State): $195,000 (Source: Argus Leader)
Travis DeCuire (Montana): $175,000 (Source: the Associated Press)
Byron Smith (Prairie View A&M): $107,000, as of April 2018 (Source: DI Coach Corner)