12 Republicans Join Dems To Block Trump's National Emergency at the Border
A clear rebuke of Trump, though mainly a symbolic one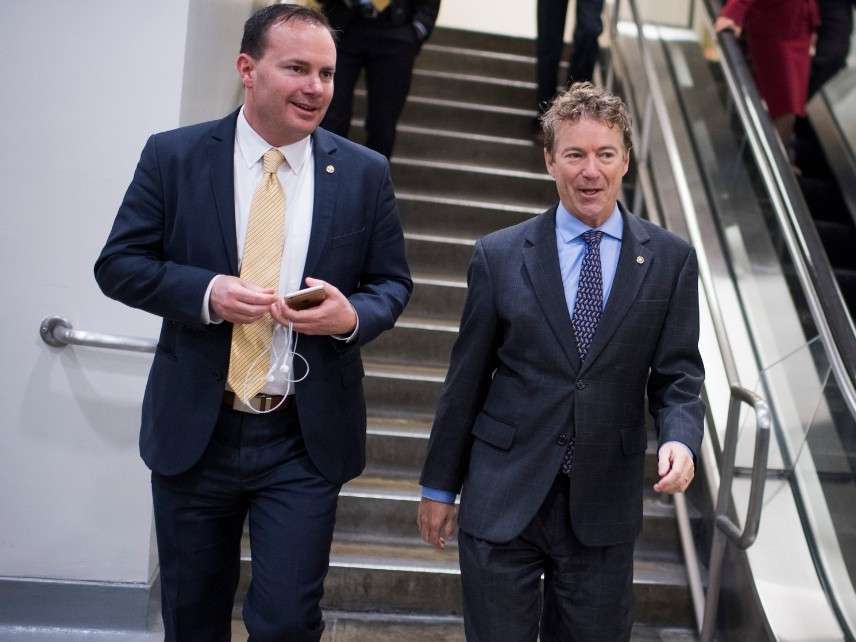 The Senate voted Thursday to terminate President Donald Trump's use of a national emergency to build a wall on the U.S.-Mexico border.
The final vote was 59-41 in favor of a joint resolution blocking Trump's emergency declaration, with 12 Republicans joining all 45 Democrats—as well as Angus King (I–Maine) and Bernie Sanders (I–Vt.), who caucus with Democrats—in voting yes. The resolution, originally introduced in the House by Rep. Joaquin Castro (D–Tex.), is fairly simple. "Pursuant to section 202 of the National Emergencies Act," it reads, "the national emergency declared by the finding of the President…is hereby terminated."
The resolution passed the House last month in a 245–182 vote. Just 13 House Republicans joined the entire Democratic caucus to vote in favor of the legislation; only one Republican congressman, Michigan's libertarian-leaning Justin Amash, co-sponsored it.
Trump's national emergency seeks to redirect $3.6 billion from the Pentagon's military construction budget toward construction of the border wall. He may have the legal authority to do so under the 1976 National Emergencies Act, which gives the president extremely broad powers, even if his reasoning leaves much to be desired.
Still, his use of emergency powers has raised concerns from those who are worried about the precedent of a president bypassing Congress, which only agreed to allocate $1.375 billion in wall funding, in order to accomplish his agenda.
"I have concerns about it," Sen. Kevin Cramer (R–N.D.) told Reason last month, referring to Trump's national emergency declaration. "I frankly think it's unnecessary, but we'll see."
The Senate's vote to reject the emergency declaration was not surprising. In the days and weeks leading up to the vote, Sens. Rand Paul of Kentucky, Lisa Murkowski of Alaska, Susan Collins of Maine, and Thom Tillis of North Carolina, all said they would vote to block it, citing concerns about Trump's action on constitutional grounds. Tillis reversed his stance from the Senate floor Thursday, though at that point enough Republicans had said they would vote yes to ensure passage.
"I can't vote to give the president the power to spend money that hasn't been appropriated by Congress," Paul explained in a speech. Those four senators' public comments essentially guaranteed the resolution's passage, as Republicans currently hold just a three-seat majority in the upper chamber of Congress.
"What is clear in the Senate is that there will be enough votes to pass the resolution of disapproval, which will then be vetoed by the president and then in all likelihood the veto will be upheld in the House," Senate Majority Leader Mitch McConnell (R–Ky.) said earlier this month, according to Politico.
Trump has indeed said he'd veto the resolution, reaffirming his intentions in a tweet Thursday afternoon:
VETO!

— Donald J. Trump (@realDonaldTrump) March 14, 2019
Trump's tweet came hours after a plan by Sen. Mike Lee (R–Utah) to limit Trump's national emergency powers seemed to fall apart. On Tuesday, Lee introduced legislation that would have kept Trump's current national emergency intact, while automatically terminating future emergency declarations within 30 days.
Lee's bill didn't deal with the problem at hand, and it would still allow the president to re-declare a national emergency every 30 days. But both Trump and House Speaker Nancy Pelosi (D–Calif.) opposed Lee's legislation, prompting the Utah senator to say he would vote to block the emergency declaration, according to The New York Times.
Later Thursday morning, Trump said in a tweet he would "support" congressional efforts "at a later date" to change the law regarding national emergency declarations. "But today's issue is BORDER SECURITY and Crime!!!" he said.
Lee's announcement, meanwhile, solidified chances that the resolution would pass in the Senate. Still, the Senate's move to reject Trump on this issue was largely symbolic. In order to override a presidential veto, two-thirds majorities in both houses of Congress are necessary. The 59 senators who rejected Trump's declaration are far less than the 67 needed. It's also highly unlike that enough House Republicans will vote to override the veto.
"It's not like this signals some big break from the president going forward," one GOP senator told CNN prior to the vote. "But it is an example, one maybe we've avoided the last few years, that we can push back and send a message when we need to."
Before the Senate voted, Sen. Mitt Romney (R–Utah) also said he would vote yes on the resolution. "This is a vote for the Constitution and for the balance of powers that is at its core," he said in a statement. "For the Executive Branch to override a law passed by Congress would make it the ultimate power rather than a balancing power." Sen. Lamar Alexander (R–Tenn) made a similar announcement from the Senate floor, and Sens. Pat Toomey (R–Pa.), Rob Portman (R–Ohio), Roy Blunt (R–Mo.), and Jerry Moran (R–Kan.) said they would vote yes as well. Sens. Marco Rubio (R–Fla.) and Roger Wicker (R–Miss.) also voted in favor.
The White House, meanwhile, has continued to defend the emergency declaration. "What we want to see the Senate do this week is stand with the president, to stand with the president's declaration of a national emergency," Vice President Mike Pence said in a Fox News interview that aired Thursday morning. "A vote against President Trump's national emergency is a vote against border security. A vote against the president's national emergency declaration is a vote to deny the humanitarian and security crisis that's happening at our Southern border."
This post has been updated with President Trump's response to the Senate vote.