Volunteers Sentenced for Leaving Food and Water for Migrants in the Arizona Desert
The humanitarian aid workers with No More Deaths say that helping someone who is dying shouldn't be a punishable offense.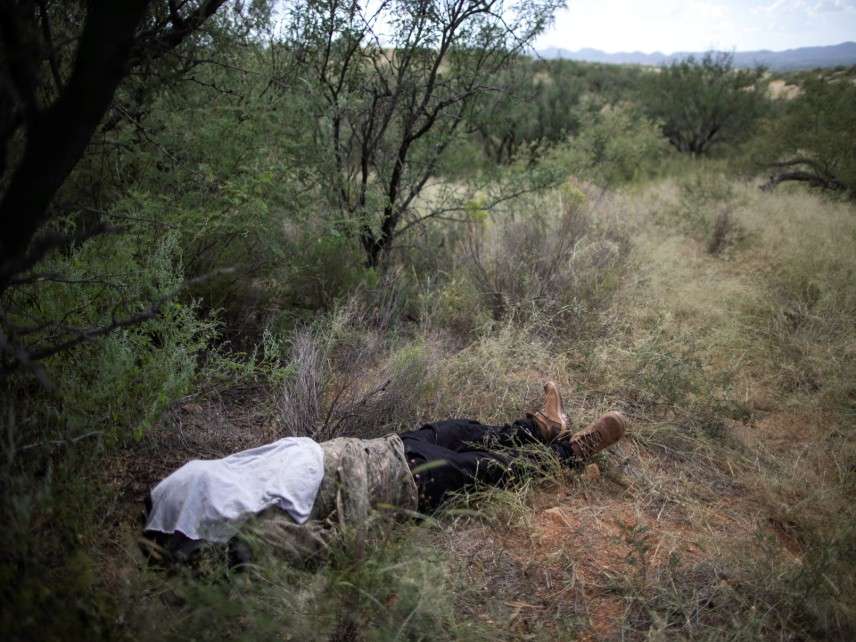 In August 2017, four humanitarian aid workers were seen trekking through the Arizona desert on a 104-degree day, as they scattered jugs of water and cans of beans.
Last week, a federal judge sentenced them to 15 months of probation in connection with the incident. Their crimes? The volunteers—Natalie Hoffman, Oona Holcomb, Madeline Huse, and Zaachila Orozco-McCormick—left food and water for migrants crossing the dangerous stretch of desert in the protected Cabeza Prieta National Wildlife Refuge near Ajo, Arizona. Each will also be required to pay a $250 fine.
Prosecutors said they gave undocumented immigrants "false hope."
The four women are members of No More Deaths/No Más Muertes, an advocacy group that works to halt fatalities that occur as migrants navigate hazardous conditions across the southern border. Whether it be through the Arizona Uplands or the South Texas brush, travelers confront threatening landscapes where falls are customary and temperatures can exceed 115 degrees. Those daily highs plunge to nightly lows, leaving migrants—dressed in sweat-drenched clothes—vulnerable to hypothermia, according to a report by the organization. Water is scarce, and what little exists is often polluted.
That undocumented immigrants are negotiating precarious paths in favor of accessible ports of entry is no coincidence, according to No More Deaths. It's tactical, they say—part of a Border Patrol strategy that concentrates enforcement resources in urban areas to divert travel to hostile, potentially fatal routes.
Known as "Prevention Through Deterrence," Border Patrol conceived the practice in 1994. Such unsafe conditions should dissuade large swaths of immigrants from making the journey, the thinking goes. No More Deaths says the strategy is synonymous with "death as a deterrent."
And based on the data, it looks like the second moniker may be right on target. Reason's Christian Britschgi notes that between 1998-2005, annual migrant deaths rapidly increased from 263 to 492, which so alarmed the Pima County Medical Examiner's office that they began keeping comprehensive files on the undocumented remains that came their way. Even more staggering were deaths in the Tucson Sector, the area which houses much of the perilous southern border terrain. Those fatalities jumped from 11 to 219—a near 1,900 percent spike.
It's with this in mind that a coalition of faith and community groups came together in 2004 to form No More Deaths. "Since 1998, over 8,000 human remains have been recovered in Southern Arizona," Justine Orlovsky-Schnitzler, a spokeswoman for the organization, tells Reason. But even that doesn't show the full picture. "Since we know bodies break down quickly in such harsh environmental conditions, we know the true death count is much higher," she says.
Many of the remains are never found or decompose so dramatically that a coroner can no longer identify the body. Greg Hess, the chief medical examiner for Pima County, tells PBS that Border Patrol finds approximately half of the discovered bodies, while locals find the rest.
"I've become a little more hardened to it," Gregg Ladd, a rancher who has found 14 corpses, said in an interview with the station. "But it's still an experience you don't want to go through because it's a dead body. It's a human."
Art Del Cueto, vice president of the National Border Patrol Council, tells NPR that the enforcement agency is the most "properly equipped" to address migrant emergencies and that they are "not out there mistreating anyone." But No More Deaths refutes that, pointing to footage showing officers dumping out water jugs, as well as seizing and destroying supplies left for migrants hiking through the desert.
The group has also documented Border Patrol's "chase and scatter" tactics. Those include using low-flying helicopters to pin people to the ground and all-terrain vehicles to pursue them through the obstacle-ridden environment, causing some to fall off cliffs or drown. The report includes allegations that migrants have been dragged and bitten by dogs, beaten with the butt of a gun, kicked, thrown to the ground, and struck with moving vehicles. In one instance, an individual was hit repeatedly over the head by a Border Patrol Officer. After landing in an immigrant detention facility, a doctor diagnosed him with swelling of the brain, which resulted in long-term vision damage.
"The agency of enforcement cannot also be the agency of humanitarian aid," Orlovsky-Schnitzler tells Reason. "U.S. border policy and enforcement is not compatible with the health and safety of migrant populations."
Another No More Deaths volunteer, Scott Warren, will go on trial this May. But this time, more is on the line, as he is charged with two felony counts of harboring undocumented immigrants and one felony count of conspiracy to harbor. If convicted, he faces 20 years in prison.
Warren is mounting a religious liberty defense, as he claims his deeply held faith compels him to assist those in need. "For me, we most definitely do unto others as we would want to have done unto us," Warren said at a court hearing last May.
Religious undertones aside, that mantra is core to No More Deaths' identity, with volunteers saying they are merely trying to provide some relief to those in mortal danger. They envision a country where helping someone that is dying of starvation isn't penalized by up to two decades in federal prison—and one where crossing the border illegally isn't punishable by death.
"The humanitarian work that has ultimately brought us here today will continue to address the border crisis until there are no more deaths," the four volunteers said in a statement after hearing their sentence. "We refuse to stand by and watch silently as the United States becomes more and more deeply authoritarian. This is something that affects and should concern us all."