Kirstjen Nielsen and John Kelly Keep Lying About 'Zero Tolerance' and Child Snatching, While Donald Trump Tells the Truth
The president, unlike his subordinates, admits that family separation was a deliberate policy aimed at deterring illegal border crossing.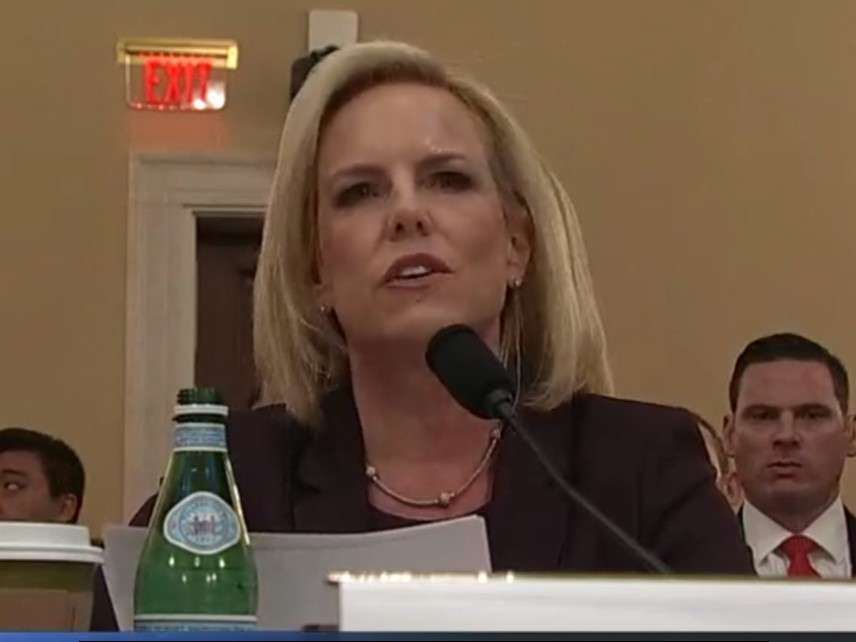 Last June the Trump administration abandoned its "zero tolerance" policy on illegal border crossing, which forcibly separated thousands of children from their parents, in response to widespread, bipartisan outrage at the practice. I am still writing about it, because current and former administration officials keep lying about it.
At a congressional hearing yesterday, Homeland Security Secretary Kirstjen Nielsen was repeatedly asked about the family separations, and she once again insisted that they were simply an unfortunate side effect of enforcing the law. The April 6 memo in which then-Attorney General Jeff Sessions announced the zero-tolerance policy "directed all U.S. attorney offices along the southwest border to prosecute all adults who were referred for prosecution," she said. "That's what it did….The consequence of any adult going to jail in this country is that they're separated from their child. That wasn't the point of it. The point was to increase prosecutions for those breaking the law and not except any class of aliens."
Even taking Nielsen at her word, the Trump administration surely was responsible for the completely forseeable consequences of refusing to make exceptions for families traveling together. Nor did Sessions seem much concerned about the suffering inflicted by the new policy. In a speech the following month, Sessions said migrants had no one to blame but themselves if their children were kidnapped by the U.S. government. "If you cross this border unlawfully, then we will prosecute you," he said. "It's that simple….If you are smuggling a child, then we will prosecute you, and that child will be separated from you as required by law. If you don't like that, then don't smuggle children over our border."
But why should we take Nielsen at her word when her mentor and predecessor, John Kelly, explicitly presented family separation as a deterrent to illegal immigration? In March 2017, CNN's Wolf Blitzer asked Kelly about rumors of "a new initiative that would separate children from their parents if they try to enter the United States illegally." Kelly said he "would do almost anything to deter the people from Central America [from] getting on this very, very dangerous network that brings them up through Mexico into the United States." Blitzer pressed him to clarify: "Are Department of Homeland Security personnel going to separate the children from their moms and dads?" Kelly's response: "In order to deter more movement along this terribly dangerous network, I am considering exactly that. They will be well cared for as we deal with their parents."
That December, after Nielsen had taken over from Kelly, her staff prepared a memo that presented her with three "short term" options for dealing with the "border surge of illegal immigration." Two of those options, "Increase Prosecution of Family Unit Parents" and "Separate Family Units," explicitly involved taking children away from their parents. Under the first option, "The parents would be prosecuted for illegal entry (misdemeanor) or illegal reentry (felony) and the minors present with them would be placed in HHS custody." Under the second option, Nielsen would "announce that DHS is considering separating family units, placing the adults in adult detention, and placing the minors under the age of 18 in the custody of HHS as unaccompanied alien children." Nielsen nevertheless told the House Judiciary Committee last December that "we've never had a policy for family separation."
After Sessions issued his memo, Kelly, who by then had become the White House chief of staff, again described family separation as a "tough deterrent" in an interview with NPR. "The laws are the laws," he said, and "a big name of the game is deterrence."
The president himself has described family separation in similar terms. "If they feel there will be separation," the president told reporters last October, "they don't come."
Two months later, Kelly blamed Sessions for this policy. "What happened was Jeff Sessions, he was the one that instituted the zero-tolerance process on the border that resulted in both people being detained and the family separation," Kelly told the Los Angeles Times. "He surprised us." Kelly, who left the administration in January, reiterated that claim yesterday during a forum at Duke University, saying the "zero tolerance" memo "came as a surprise" to him and other officials.
Nielsen can deny that family separation was official administration policy, just as she insisted yesterday that the fenced enclosures used to confine children and other unauthorized migrants are "not cages." And Kelly can pretend that a policy he publicly endorsed less than two months after taking over the Department of Homeland Security was actually Jeff Sessions' idea. But Donald Trump for once is telling the truth: Family separation was intended as a deterrent. Nielsen and Kelly have accomplished an impressive feat by managing to be less honest than the promiscuous prevaricator who currently occupies the White House.