Trump Says 'Senate Republicans Are Not Voting on Constitutionality' of Emergency Declaration
It's a problematic sentiment on several levels.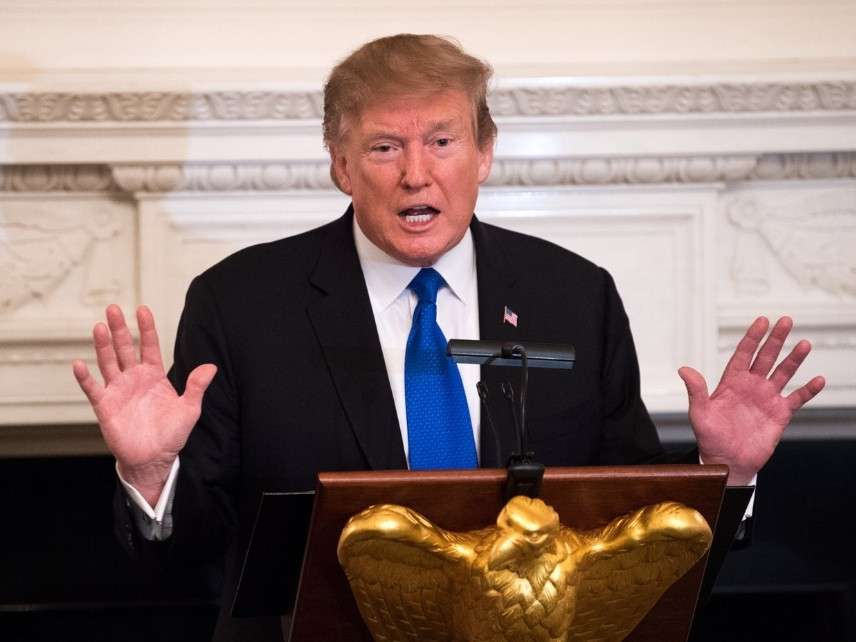 Referring to a resolution that would block his national emergency declaration, President Donald Trump claimed Wednesday that GOP members of the Senate "are not voting on constitutionality or precedent," but rather on border security.
Trump has declared a state of emergency at the U.S.-Mexico border. He plans to use that emergency declaration to take money from the Pentagon's military construction budget and the Treasury Department's drug interdiction fund to build a wall on the U.S.-Mexico border. Last month, the House of Representatives voted in favor of a resolution to block the national emergency.
The resolution now heads to the Senate, where it appears enough GOP senators have bucked their party to ensure it passes in the upper chamber as well. While the resolution challenges the constitutionality of Trump's actions, the president's tweet Wednesday suggest he believes constitutional questions are subordinate to his immigration preferences.
"Senate Republicans are not voting on constitutionality or precedent, they are voting on desperately needed Border Security & the Wall," the president wrote. "Our Country is being invaded with Drugs, Human Traffickers, & Criminals of all shapes and sizes. That's what this vote is all about. STAY UNITED!"
The four Senate Republicans who have said they'll vote to block the emergency declaration—Sens. Rand Paul (Ky.), Lisa Murkowski (Alaska), Susan Collins (Maine), and Thom Tillis (N.C.)—have each expressed concerns about Trump's action on constitutional grounds.
Essentially, Congress, which has power of the purse, has not approved the billions that Trump wants to spend on the wall, even after considering the issue. As Paul explained: "I can't vote to give the president the power to spend money that hasn't been appropriated by Congress."
Even libertarian-leaning members of Congress like Paul and Rep. Justin Amash (R–Mich.) have suggested they're not necessarily opposed to the idea of border security; they just want the president to obtain funding the right way (i.e. through Congress).
"If you think my job is to support the president one hundred percent, then you don't understand what it means to be a representative in Congress," he wrote at the time. "My job is to support the Constitution one hundred percent and to represent all the people of my district by protecting their rights."