Sacramento Police Detain Reporter Covering Stephon Clark Protests, Tie Hands Behind His Back
Police allegedly shoved a photographer to the ground with a baton as well.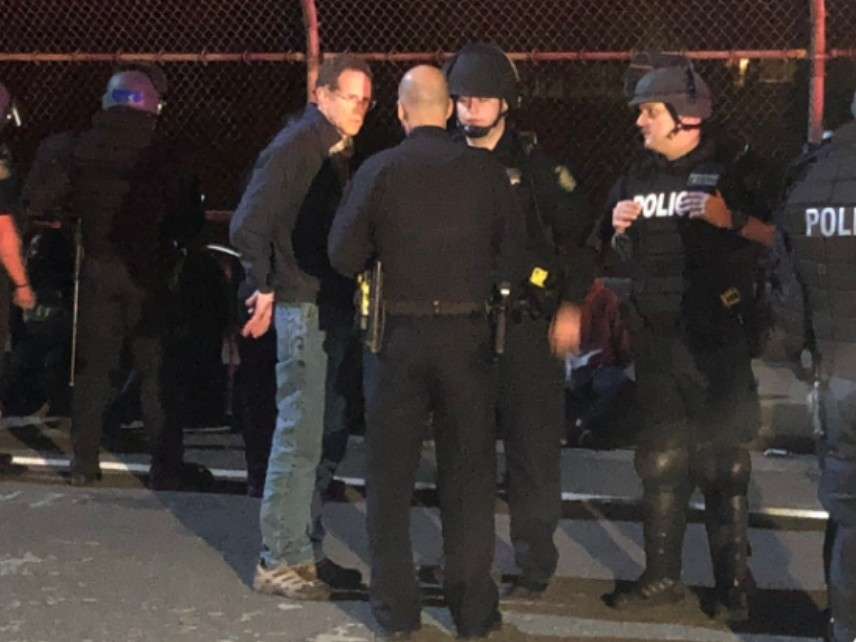 Police detained a reporter for The Sacramento Bee and allegedly forced a photographer to the ground Monday night as protesters took to the streets after learning there would be no charges filed against the officers who shot and killed Stephon Clark last year. The officers had followed Clark on foot, then opened fire after mistaking his cell phone for a gun.
Police made "80 plus arrests," Sacramento Police Captain Norm Leong tweeted. "Still processing it all," he added. According to police, many of the arrests were made because demonstrators wouldn't disperse when ordered to do so.
"We gave multiple orders to disperse," Sacramento Police Sergeant Vance Chandler told reporters, according to The Washington Post. "Ultimately, we made at least 10 announcements."
One of the people detained was the Bee's Dale Kasler, who was covering the protests and has been working for the paper for more than two decades. One of Kasler's colleagues, Sam Stanton, captured the moment when Kasler was detained:
"I guess [Kasler] ended up on the wrong side of the street," Stanton says on the Bee's livestream. "Dale Kasler has been handcuffed and is being led away along with the rest of the marchers. The police here don't seem to care they've arrested a reporter."
"Evidently if you were unlucky enough to end up on the west side of [the street], you get arrested," he added. "If you're on the east side like we are, you apparently don't."
There's nothing to indicate that Kasler was actually arrested. However, the reporter's hands were tied behind his back before police eventually let him go free. "I was following the marchers," Kasler told KXTV following his release. "It became apparent that there was nowhere to go, that the police had basically created a funnel-type situation and had sealed off any exit routes for the demonstrators," he said.
According to the Los Angeles Times, police would not let the protesters back to where they had parked the cars, so it would have been difficult for them to disperse. "Then they started arresting people," Kasler said.
Here is a picture of Sacramento Bee reporter @dakasler being detained by Sacramento police right now. He was put in twist-ties while covering tonight's Stephon Clark protest. Several pastors have been detained as well, and reportedly other journalists. No update from PD. pic.twitter.com/W8HTxJOs61

— Nick Miller (@NickMiller510) March 5, 2019
Kasler told police he was a member of the media, but that didn't initially work. "They said: 'We know that and you refused an order to disperse,'" he recalled to KXTV. "They also said, 'When we are doing these…a sweep of people, we don't play favorites, we just basically take everyone.'"
Police soon realized "I was just doing my job," Kasler added. "It took a while, and they let me go." He said he was given a release form that read: "Suspect exonerated."
According to the Bee, photographer Hector Amezcua "was shoved to the ground by an officer with a baton." Amezcua was not detained, though two pastors, as well as an administrative law judge, were, the Times reported.
Sacramento Mayor Darrell Steinberg said in a statement he has "many questions about what went on that precipitated the order to disperse and the subsequent arrests."
"No matter the reason an order to disperse was given, no member of the press should be detained for doing their job," he said.
For more on aftermath of the Stephon Clark shooting, read Reason's Scott Shackford here.