Why Immigrants at CPAC Like Donald Trump
The president is conflating closing the borders with tightening national security and it seems to be popular with many newcomers.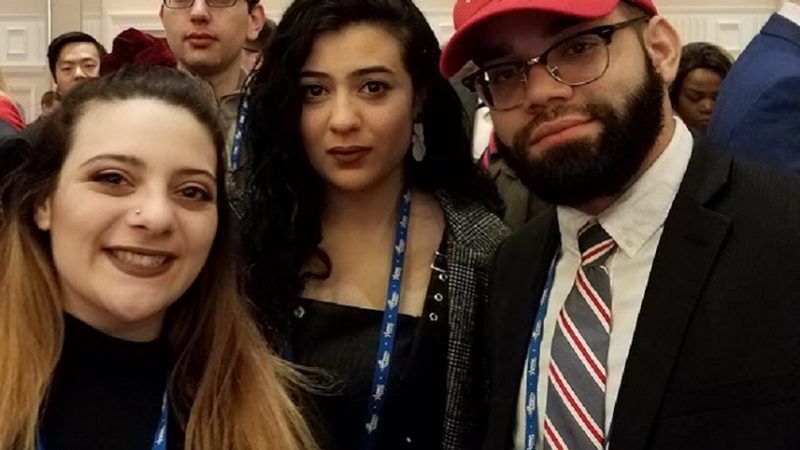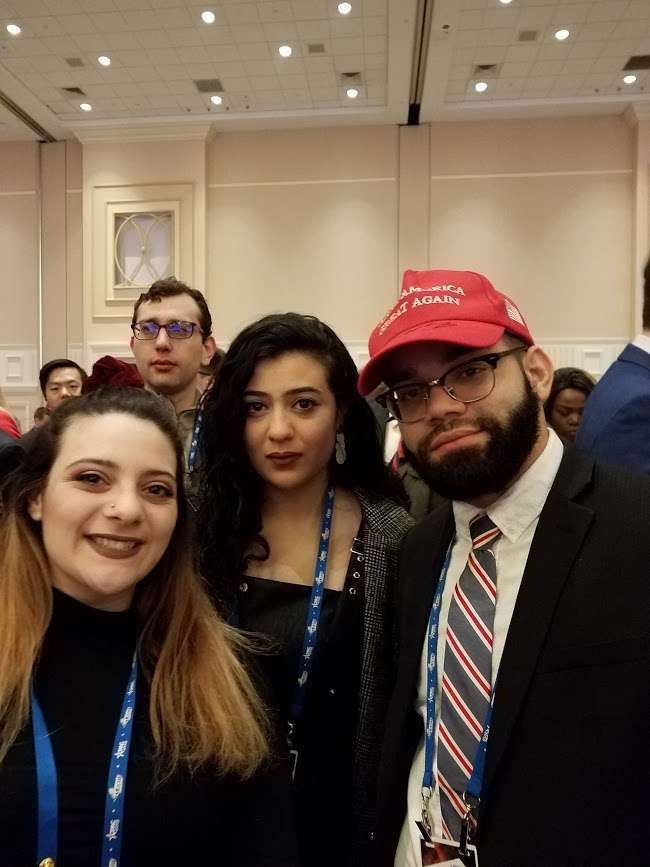 Today is the final day of the Conservative Political Action Conference (CPAC), the largest annual gathering of right-wing political activists, which is being held just outside of Washington, D.C. President Donald Trump is scheduled to speak at 11:30 A.M. and a massive crowd of several thousand people have already assembled at the Gaylord National Resort and Convention Center.
I spoke to a number of people waiting to hear the president to get a sense of what drew them to the event. If they were old enough to vote, they all voted for Trump in 2016. Dan, a middle-aged man, said Trump's top achievement was the economic growth since the president took office. His fellow attendee Gunther, also middle-aged, said his top issues were fiscal responsibility, family values, and faith, which he said was related to values but distinct. Gunther granted that deficits have increased under Trump and the Republican-controlled Congress but he said that the way to address that is through cuts to entitlements.
Nasim, a twentysomething Iranian American, was attending with her mother, who emigrated to the United States after the Islamic revolution in 1979. Nasim said she was a conservative pretty much across the board and wasn't concerned by Donald Trump's or Republican hostility toward immigration. "We want to help people, but we can't help everyone," she said. We should only be bringing in "top people," educated immigrants who are going to add to the economy. I asked Nasim and her mother what they thought of Trump's refugee and asylum policies—last fall, the president moved to cap refugee admissions at 30,000 in 2019, a recent low (and a reduction from an earlier stated cap of 45,000). Would Nasim's mother have been able to emigrate here after the Islamic revolution if Trump were president? She granted the point but talked about larger immigration issues in terms of "national security," which is a common refrain at CPAC. Discussions of immigration quickly become conversations about keeping the country safe from terrorism (this, despite essentially no link between immigration and terrorism). Indeed, a representative of the Log Cabin Republicans, a conservative gay-rights group, told me one of his organization's top priorities was calling for stricter immigration as a way of furthering national security.
I spoke with a group of girls named Katrina, Tori, and Katy, who were between the ages of 18 and 22. For Katrina, she liked Trump's positions toward abortion, immigration, and stopping drugs from entering the country. For Tori, border security was the top issue, again conflating the issues of immigration and national defense or security. She and Katy both also liked that Trump "doesn't back down" to Democrats or political opponents.
Finally, I talked with Amira, Batya, and Javier, who were between the ages of 18 and 26 and all were either immigrants or first-generation-born in America. Amira had an Israeli parent and for her, national security and immigration were again linked issues. She wasn't necessarily against more legal immigration but illegal immigration was a "big" problem (like some other people I've talked to here, she wasn't necessarily against allowing more people to enter here legally). Batya's family was from the former Soviet Union and while she liked that the economy was expanding under Donald Trump, she said she was growing increasingly skeptical of him.
Javier was of Dominican heritage and proudly sporting a "Make America Great Again" hat that been signed by both Sen. Ted Cruz (R-Texas) and Turning Point USA's Candace Owens. He was strongly pro-life and in favor of a border wall. While conceding that all Republicans are pro-life, Javier said that Trump had announced he would sign any legislation limiting abortion that crossed his desk and "he clearly meant it."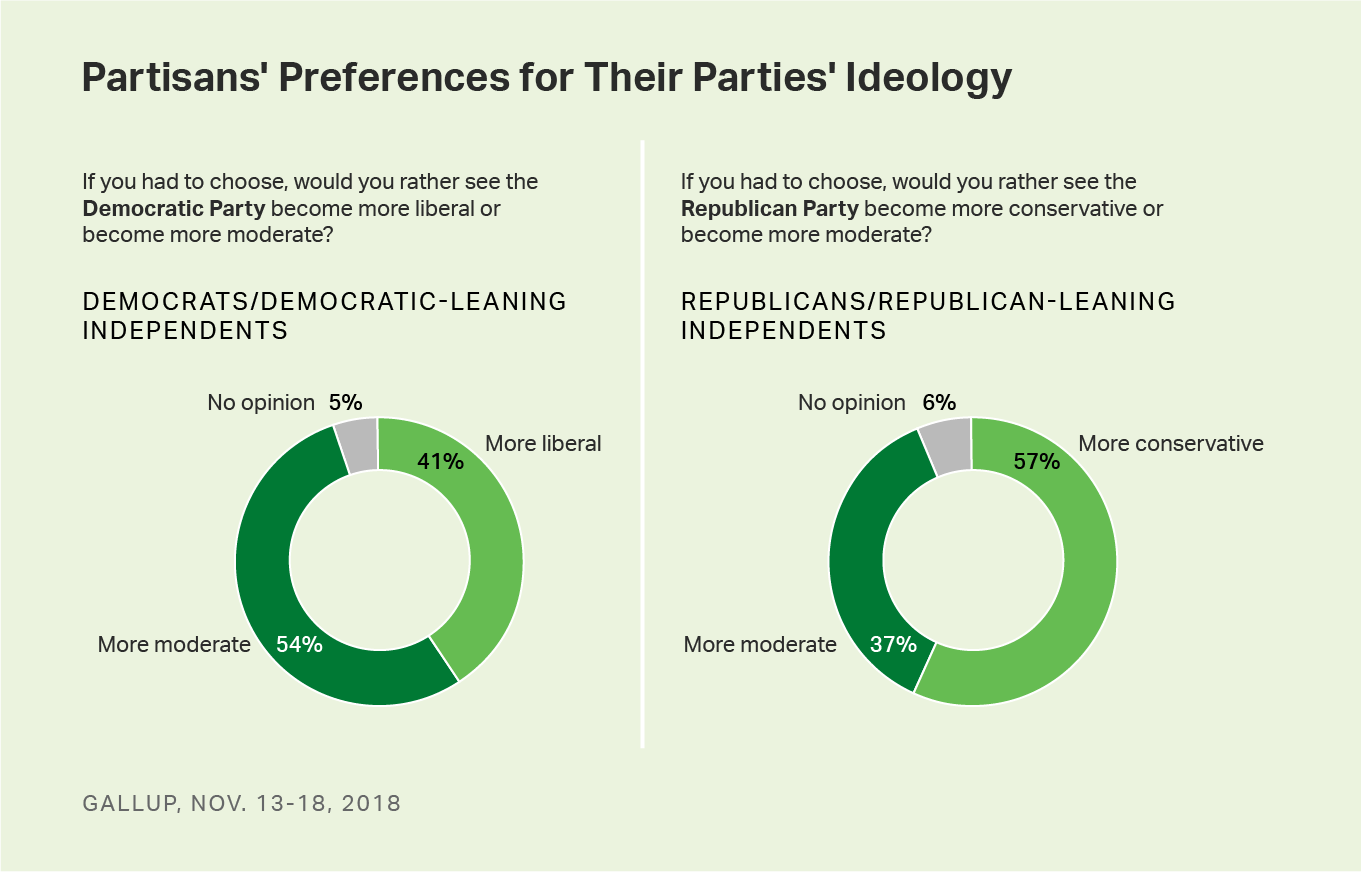 When I asked him about pervasive Republican hostility to immigration—apart from all the fearmongering over the declining number of illegal entries, GOP senators have introduced legislation to cut legal immigration by 50 percent—Javier invoked security issues but also added an argument I've heard from a number of other people at CPAC. It's bad for America to take too many educated and successful people from other countries, he said, because it will create a brain drain and vacuum in those sender countries. That's a strange sort of empathy to my ears, but it's a line of argument that conservatives are developing to bolster their anti-immigration policies.
More interestingly, Javier said that most of his relatives—"90 percent"—were Democrats but to him the Republican Party was more welcoming. "In 2016," he said, "people like Ted Cruz and Marco Rubio, people who looked like me were running for president." He said that what drew him to the GOP was that he believed its policies would help him succeed over the long run and in the long term. "I don't like to feel like I'm being controlled," he said, explaining what he didn't like about Democrats, especially people such as Bernie Sanders and Alexandria Ocasio-Cortez. Amira and Batya agreed that the leftward feint by contemporary Democrats turned them off too.
This is an obviously limited sample of people at CPAC, much less of Trump supporters more generally. But a pretty clear picture of what they care about and why is emerging. I find the linkage between immigration policy and anything related to national security genuinely unconvincing and troubling, but that's where Trump-supporting conservatives are. If libertarians want to engage them and change their minds, that's worth knowing. As I noted yesterday, these are essentially cultural issues, not policy ones—nobody is interested in what sorts of facts are real or what sorts of policies might be effective.
In a short period of time, Trump has radically altered the character of the Republican Party and the character of the conservative movement. In the wake of the midterm elections, Gallup found Republicans want their party to become even more conservative while Democrats actually want a more moderate party. Oddly enough, even as the most-visible Democrats (Bernie Sanders, Alexandria Ocasio-Cortez) talk more openly about democratic socialism, they may be unrepresentative of where their party is going (hell, Beto O'Rourke just came out as a "capitalist"). And Donald Trump, even as he pulls the Republican Party away from its historical associations with free trade, being friendly with immigration, and being pro-military intervention, may simply be getting warmed up.