No Deal for Trump in North Korea: Reason Roundup
Plus: a disturbing DOJ report on juvenile immigrant detention, and National Review & Weekly Standard alums launch a new media company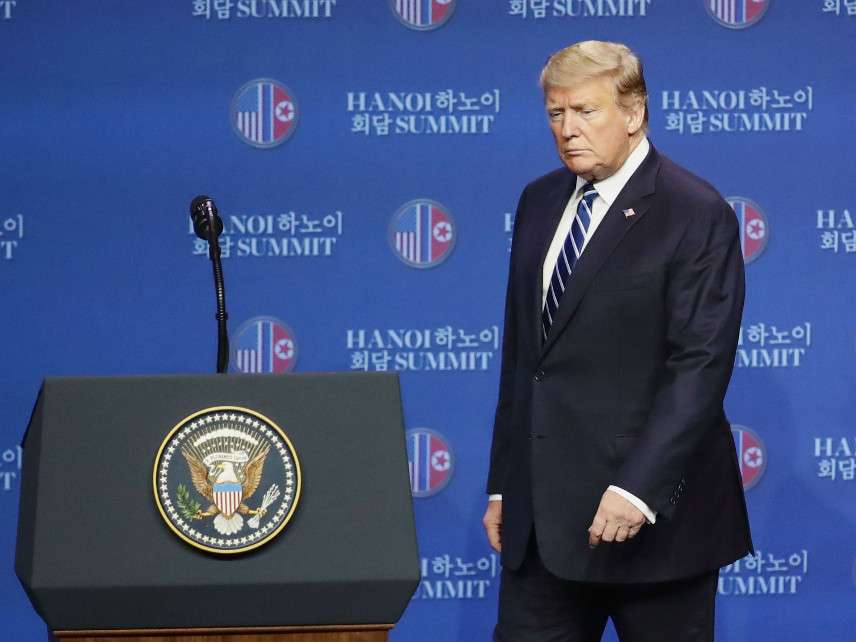 A "friendly" departure but no agreement. This time yesterday, President Donald Trump was being heralded for his meeting with North Korean leader Kim Jong Un, the second in a series meant to seal Kim's approval for nuclear disarmament and other good deeds. That didn't pan out.
Instead, talks between Trump and Kim "abruptly ended" Thursday morning, The New York Times reports, "with the two leaders failing to agree on any steps" toward any of U.S. goals.
"Sometimes you have to walk," Trump told reporters at a press conference afterward. "It was about the sanctions. Basically they wanted the sanctions lifted in their entirety, but we couldn't do that."
But the exit wasn't in anger, Trump said. "This wasn't a walkaway like you get up and walk out. No, this was very friendly. We shook hands."
This was probably the best media report about the inner workings of the Trump-Kim summit before it ended over the issues of sanctions (probably thanks to Bolton)—@willripleyCNN in Hanoi. https://t.co/dtsD4JLg0Q

— Tim Shorrock (@TimothyS) February 28, 2019
"Context matters," tweets Will Ruger, research and policy VP at the Charles Koch Institute. "U.S.-North Korean relations are in a better place than they have been historically and certainly better than 2017 when there was talk of conflict. Good to see that we are meeting and talking rather than fighting. Diplomacy > war with NK." He continued:
Twitter
QUICK HITS