He Was Part of a Twitter Mob That Attacked Young Adult Novelists. Then It Turned on Him. Now His Book Is Canceled.
Kosoko Jackson, a gay black author writing about a gay black protagonist, gets taken down by the YA Twitterati.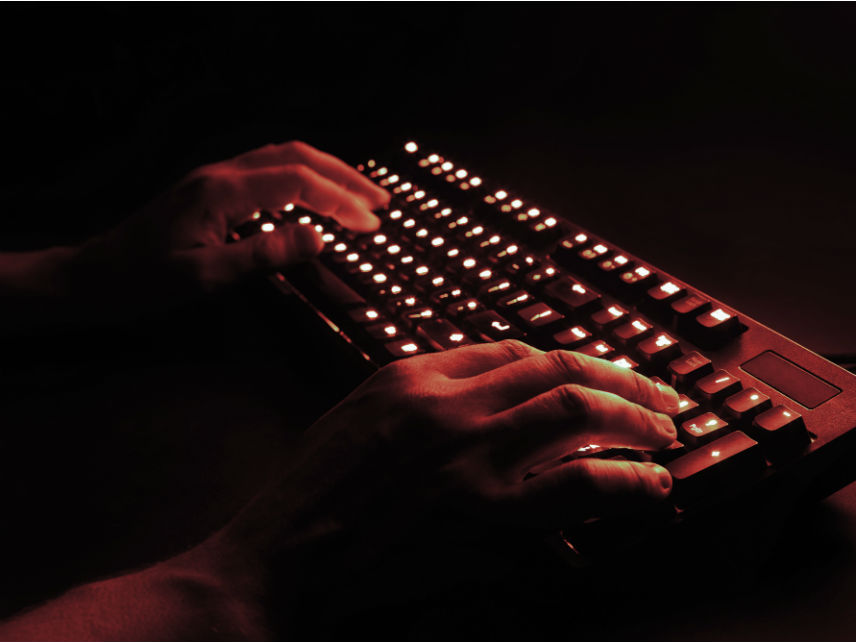 UPDATE: Shortly after this story was published, Sourcebooks announced that A Place for Wolves, the debut YA novel by Kosoko Jackson, will be withdrawn from publication, at the request of the author.
Until recently, Kosoko Jackson's website described him as "a vocal champion of diversity in YA [young adult] literature, the author of YA novels featuring African American queer protagonists, and a sensitivity reader for Big Five Publishers." Jackson is black and gay—this matters here, a lot—and was preparing for the release of his debut young adult novel, A Place for Wolves, an adventure-romance between two young men set against the backdrop of the Kosovo War. "Aristotle and Dante Discover the Secrets of the Universe meets Code Name Verity in this heartbreaking and poignant story of survival," read the publicity materials. The book is slated for release on March 26.
Jackson had amassed some enthusiastic blurbs from established names in YA fiction, and he seemed poised for a successful debut, in part because Wolves was going to be a so-called #ownvoices release—#ownvoices being a "hashtag that was created by Corinne Duyvis to highlight books that are written by an author that shares a marginalized identity with the protagonist."
While the motivations of the movement for more diverse voices in young adult fiction is commendable—YA fiction, like many other areas of publishing, has its fair share of access problems with regard to class and race—the manifestation of this impulse on social media has been nothing short of cannibalistic. The Twitter community surrounding the genre, one in which authors, editors, agents, and adult readers and reviewers outnumber youthful readers, has become a cesspool of toxicity.
"Young-adult books are being targeted in intense social media callouts, draggings, and pile-ons—sometimes before anybody's even read them," Vulture's Kat Rosenfield wrote in the definitive must-read piece on this strange and angry internet community. The call-outs, draggings, and pile-ons almost always involve claims that books are insensitive with regard to their treatment of some marginalized group, and the specific charges, as Rosenfield showed convincingly, often don't seem to warrant the blowups they spark—when they make any sense at all.
But surely Jackson, an enforcer of social justice norms and a gay black man writing about gay black protagonist should have been safe, right?
Instead, it all came crashing down quite quickly. As with any internet outrage, it's hard to know exactly what sparked it, but a major turning point came in the form of a quote-retweet. "HEY HOW ABOUT WE DONT PROMOTE OR SUPPORT BOOKS ABOUT A ROMANCE BETWEEN AND THE VICTIMIZATION OF 2 AMERICANS, SET DURING A REAL LIFE HISTORICAL GENOCIDE WHERE THE VILLAIN IS PART OF THE DEMOGRAPHIC THAT WAS ETHNICALLY CLEANSED," read the tweet, which was published on February 25 and which, as of when I screencapped it, had 164 retweets—a sizable number for YA Twitter, which generally consists of relatively low-follower accounts. (The quote-retweeter subsequently protected his account.)
The quote-retweet pointed to a review on Goodreads. Many YA authors and readers and reviewers maintain accounts there, and it is the site of many an attempted YA kneecapping. (After authors get targeted, they are often flooded with one-star reviews.) "I have to be absolutely fucking honest here, everybody," the review starts. "I've never been so disgusted in my life."
The author proceeds to argue that because of the horrific bloodshed that occurred during the Kosovo War—large numbers of Albanians were displaced and murdered by Serbian forces—it's insensitive to center a story set during that war around two Americans. One character particularly grated on on the reviewer: "And don't even get me started on the well-educated Muslim man, Professor Beqiri, who turns out to be a coldblooded terrorist who's [sic] only purpose seems to be to murder and torture and commit harm, even killing his own men," she wrote. "Why, exactly, did the author choose to make the main villain in this story an Albanian Muslim, when it was ALBANIAN MUSLIMS WHO WERE ETHNICALLY CLEANSED?" (I'm not going to link directly to the review—it became a part of the story thanks to its circulation on Twitter, but the author doesn't appear to be a professional writer or to have a high-profile platform.)
It's of course possible that Jackson's book is genuinely offensive. But the review doesn't come close to making a compelling case that it is: I doubt most people would agree that it's inherently unacceptable to write a story centered around characters of a certain identity in the context of a tragedy perpetrated against people with another identity. The review—like many outrage-focused YA fiction reviews, which are a veritable subgenre at this point—also includes none of the context one would require to make an informed discussion about whether and to what extent Jackson handled his narrative task responsibly, including in his portrayal of the Beqiri character. There's one brief quote from an author's note included in the book, but nothing from the novel itself.
But once established, YA Twitter outrage-narratives tend to take on a momentum of their own, and that's what happened here—a Twitter search for Jackson's name shows that certain ideas about his book's prima facie insensitivity quickly set in, with many in YA Twitter accusing him of having erred horribly.
On Wednesday, Jackson shut down his author website, replacing it with a brief note:
Maintenance mode

While dealing with the hurt my debut has caused and coming up with a plan of action of how to fix the pain I've caused with my words, my site is currently under maintenance. I'll have an update soon.

Thanks for your patience and for those who I hurt with my words, especially the Muslim readers, teens, and community members, I'm sorry.
Part of what makes this story so interesting is that Kosoko himself has been on the other side of these online attacks on authors.
He was outspoken during a particularly intense recent example, when a campaign based on misunderstanding and exaggeration led the author Amélie Zhao to take the unusual step of agreeing to cancel the publication of Blood Heir, her hotly anticipated debut novel, which was set to be the first in a trilogy. Advance reading copies had already been sent out. But an angry and underinformed subset of YA Twitter decided that a racially ambiguous character in Blood Heir was black, or this fictional universe's equivalent of black—the character had "bronze" skin and "aquamarine" eyes—and that therefore certain things that character said and did constituted harmful tropes. (YA Twitter has very conservative norms pertaining to what characters of different ethnicities are allowed to say or do.) The fact that Zhao is ethnically Chinese, is an immigrant to the U.S., and had written Blood Heir in part as a commentary on present-day indentured servitude in Asia didn't offer her much protection.
As Rosenfield wrote in her Vulture article, "Many members of YA Book Twitter have become culture cops, monitoring their peers across multiple platforms for violations." This policing includes keeping a close eye on who is liking or retweeting whom. Earlier this month, during the Zhao controversy, Kosoko accused an account named KidLitCon of having retweeted an "attack on"—read: a pointed but civil and informed disagreement with—Elle McKinney, another big-name YA author with a social-justice bent. (Full I-got-sucked-into-this-vortex-too disclosure: On Wednesday, the morning after I started tweeting about the Jackson situation, McKinney tweeted that "History will place Jesse Singal in the same category as Trump, Bannon, the KKK, Neo-Nazis, and all the other bigots currently coasting on the media's obsession with humanizing some of the worst meat sacks to ever tumble into existence." As a liberal Jew, I respectfully disagree with McKinney's assessment.)
Thanks to pressure from Jackson and others, the "keys" to KidLitCon were taken away from one of its co-owners, a woman of color who authored the tweet questioning McKinney, and full control was given to a white woman with the "correct" stance on the Zhao controversy: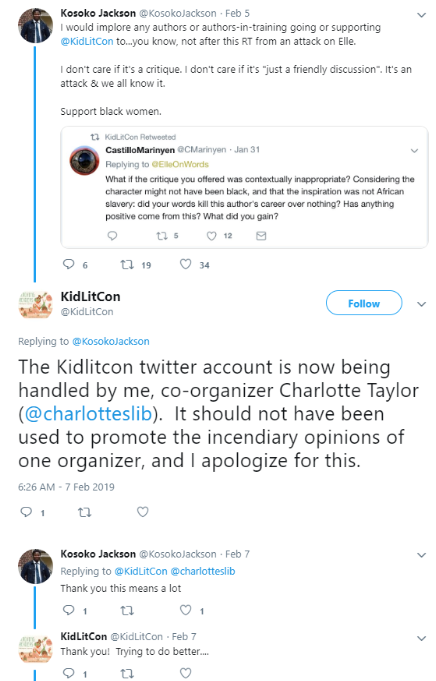 Jackson has also been an outspoken proponent of a very narrow conception of who is allowed to write which stories: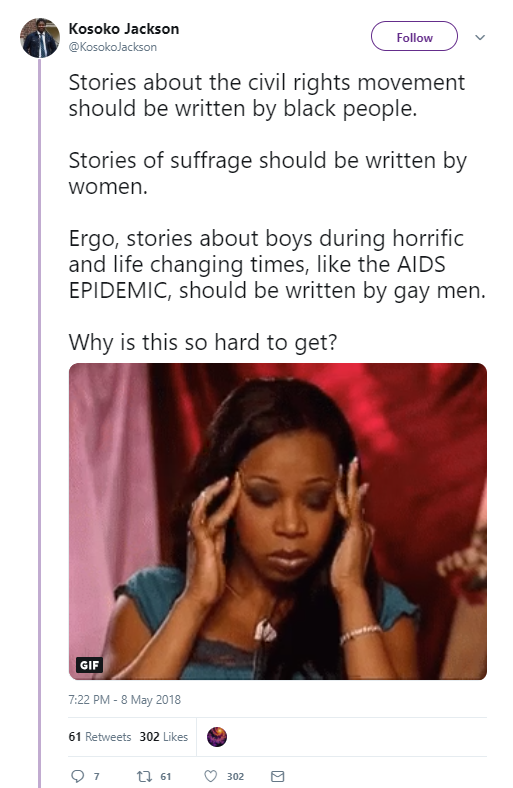 The controversy over A Place for Wolves has rippled outward. Most notable, perhaps, was the reaction of Heidi Heilig, another successful YA author. Heilig provided A Place for Wolves with a very favorable blurb, which Jackson had on his website before it entered Maintenance Mode: "An intricate, rich story about two boys fleeing the mounting unrest in Kosovo, caught between the reality and the sublime of love, death, and family during times of war."
Heilig also apologized—and speculated that maybe the offensive material had been inserted after she had provided the positive blurb. "As discussions of this book evolve, it becomes clear to me that the book i blurbed while on submission years ago is either different from the version that went out in arcs, or i have areas of ignorance i need to work on (or both, considering i'm quite ignorant about a great many things.)," she wrote in an amendment to what had been a very short and very positive Goodreads review. "I am always working to do better, clearly i need to work harder."
Schadenfreude is an easy reaction here: The guy who helped contribute to a stifling climate of plot-policing and paranoia received the same treatment he had doled out to others. But the key takeaway here shouldn't be Nelson Muntzian. It should be the recognition that these online social dynamics will constrain and distort young adult literature in unfortunate ways. First, they make it harder to evaluate which sorts of writing really might have certain shortcomings, biases, or myopic character renderings. Because so many people reacted so strongly and on the basis of such little information to A Place for Wolves, a huge amount of smoke was created. Maybe there's some actual fire here, but determining that would require a close read of the sort that sociopathic social-media dogpilings rarely afford.
Zooming out, these episodes will inevitably affect YA publishing, and perhaps other areas of publishing if the fever spreads. Jackson's publisher, Sourcebooks Fire, is now in a difficult position: It's extremely rare to make changes to a book this late in the game—doing so would likely be quite expensive and disruptive given that we are less than a month from "pub day"—but how the publisher not make changes given that Jackson has already apologized and admitted wrongdoing?
This is now a pattern. It feels increasingly possible that at least some publishers, rather than adopt common-sense, liberal-minded approaches to the worthy goals of increasing diversity and representation in YA fiction, will instead adopt norms in line with Jackson's tweet about gay stories: Only Xs can write about X, and only Ys can write about Y. All because of an extremely small but incredibly loud group of Twitter users insatiable in their outrage. Imagine what a pointless, depressing loss that would be for the readers of the future.