'No Allegations of Human Trafficking' and 'Women Could've Walked Out' In Florida Massage-Parlor Prostitution Stings
Authorities are walking back big claims about an international human-trafficking ring involving Patriots owner Robert Kraft.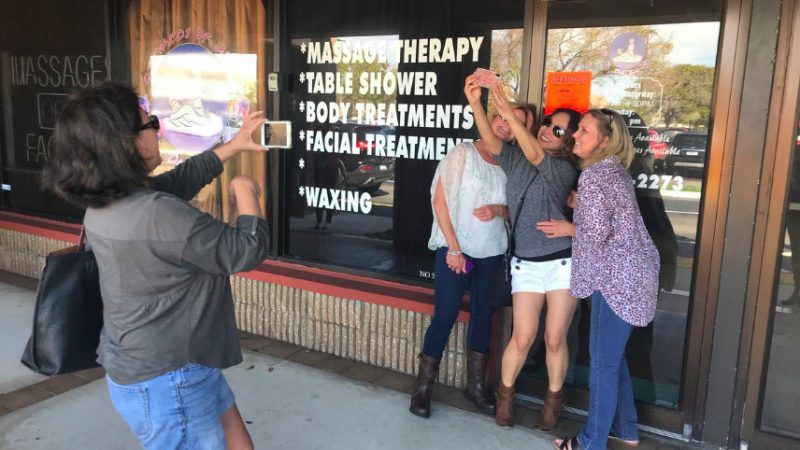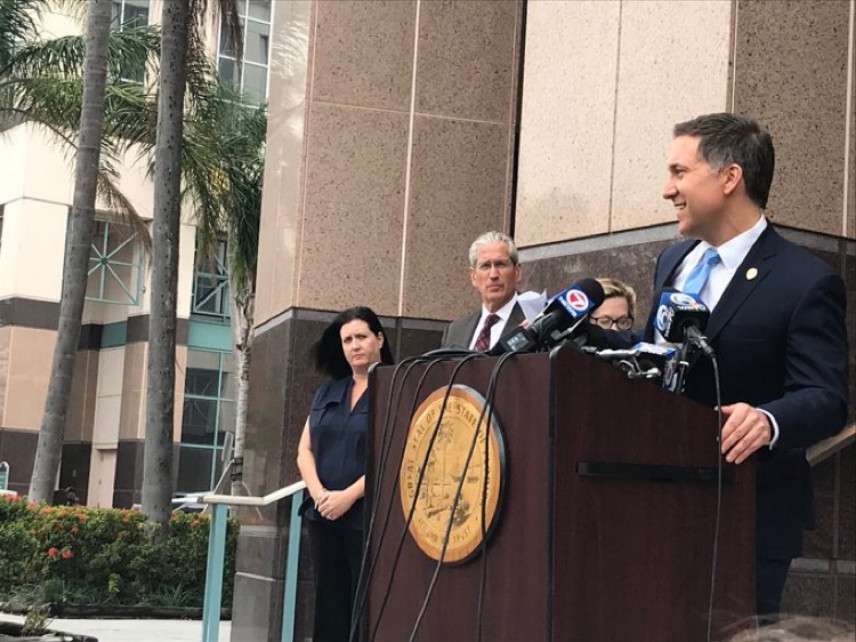 It's been nearly a week since Florida police started bragging about their big "human trafficking" bust, an operation that pulled in professional football owner Robert Kraft, more than 150 other men, and several Chinese immigrant women associated with Asian spas in Palm Beach County. Police say the spas were fronts for prostitution, that the workers there were victims of sex trafficking, and that their six-month long investigation was time well spent.
Six months is a long time, however, and it's hard to reconcile the cops' timeline with their heroic rhetoric. If the women employed at these businesses were really the victims of "modern slavery," why did police take six months to get them out of that situation? Why did it require repeat intimate undercover visits and building misdemeanor prostitution charges against all sorts of random men before these "heroes" decided to intervene?
It's one of many elements that don't add up with what prosecutors are saying in public and what's actually happened in the case.
At a press conference (partially aired on CNN) today, Palm Beach District Attorney Dave Aronberg spent most of his time talking about the theoretical horrors that could occur in situations like this. "Modern day slavery," as Aronberg called it, "can happen anywhere, including in the peaceful community of Jupiter."
However, no human trafficking charges were filed among the hundreds of (current and coming) prostitution charges, he admitted, adding that first-time offenders (like Robert Kraft) are "very unlikely to get any significant" time behind bars.
"There's no allegation that any defendant engaged in human trafficking," said Aronberg.
Police keep calling the women that worked at Orchids of Asia and the other spas that were part of the sting "trafficking victims." But most have declined to cooperate with police as such.
Martin County Sheriff Snyder told CNN today that police were having trouble getting one woman in custody to "cooperate" in explaining why they would "go and allow themselves to be trafficked."
"They had the ability, they could've walked out into the street and asked for help," he continued, noting that they often worked long hours and cooked food on a hot-plate instead of leaving for meals. "But they didn't."
Instead of taking this as a sign that these women were willingly engaging in this work, police continue to seek ways to explain away this evidence. (And the CNN host asked why they wouldn't "speak their truth.") Snyder claims that one woman said she was afraid people might hurt her family if she cooperated.
This type of claim is made regularly by police in these sorts of investigations. That is convenient, considering they're the only ones allowed to talk to any of the alleged victims and it's an explanation no one can verify, unlike initial claims from law enforcement—now countered by Synder—that massage parlor workers weren't allowed to leave.
Patriots owner Robert Kraft is accused of getting a blow job from one of these women, which the Jupiter Police Department caught on camera during its weeks-long video surveillance of Orchids of Asia Day Spay.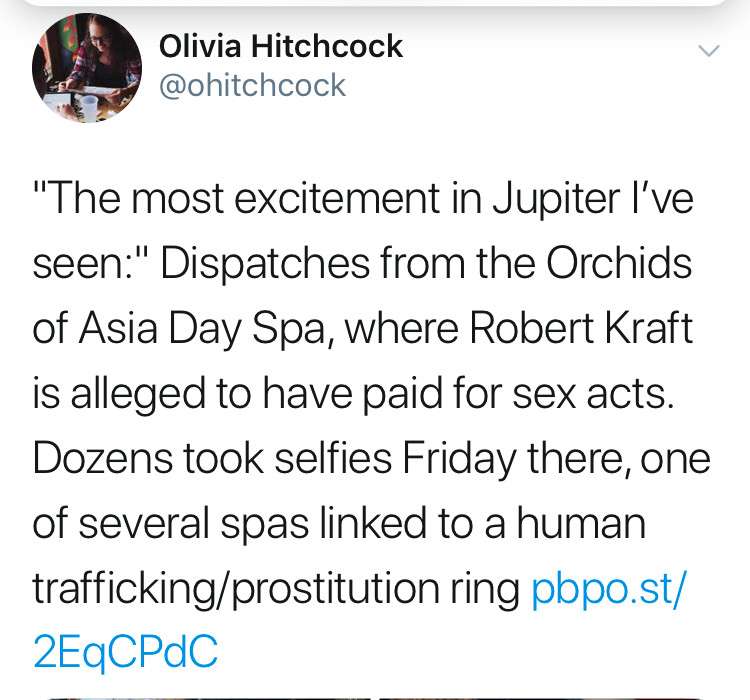 Kraft and 24 others originally named were each charged with one or more misdemeanor solicitation charges (top punishment: one year in jail, up to 100 hours of community service, "john school," and a mandatory fine). More than 100 more men are to be charged with solicitation, Palm Beach authorities say. Additionally, an operation in nearby Indian River County yielded at least 138 charges for solicitation.
Several women connected to the spas were also arrested. Lei Wang, 36, was arrested last Tuesday on charges of "maintaining a house of ill fame" and getting proceeds from prostitution. She's being held in Palm Beach County Jail. "Circuit Judge Dina Keever-Agrama told Wang through a Mandarin interpreter that she must prove that any money she posts for her release was not derived from illegal activities," reports the Palm Beach Post.
Another woman from Orchids of Asia, 58-year-old Hua Zhang, is also being held in Palm Beach County Jail on related charges. According to police, Zhang was both the owner of the spa and a sex worker there.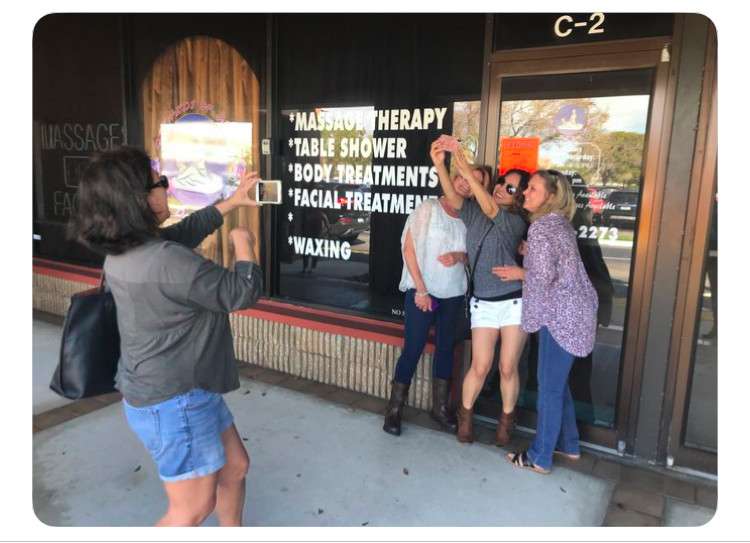 Two other women were also arrested on charges of engaging in prostitution, money laundering, deriving support from the proceeds of prostitution, operating a house of prostitution, and permitting prostitution.
Early reports from local news said that all of this was "tied to an international human-trafficking and prostitution ring," but police have offered no evidence of that so far. The whole case is reminiscent of a 2016 sting in Seattle, announced with similarly dire fanfare but yielding nothing but prostitution findings (and a lot of misery for those targeted by police).
Residents of Jupiter seem to be having fun with all of this. Local reporter Olivia Hitchcock shared multiple pictures of people posting for smiling selfies in front of the store.
But beyond Florida busybodies and national-media-courting cops, it's unclear that anyone else has benefited from all of this.
Law enforcement has yet to back up the serious claims their massive operation was premised on. They've also backed down from some of the more shocking assertions offered at the start—even as more media have run with the sex-slavery ring narrative. Whatever comes, it's clear this story has already developed meme-like proportions that obscure the reality of the situation. Perhaps the truth lies somewhere between dens of captive sex slaves and totally empowered and free workers, but we'll never get there by treating this as a movie-style rescue fantasy.