Lawmakers Across the Country Propose Outlawing Cashless Businesses
They say it discriminates against those without checking or savings accounts.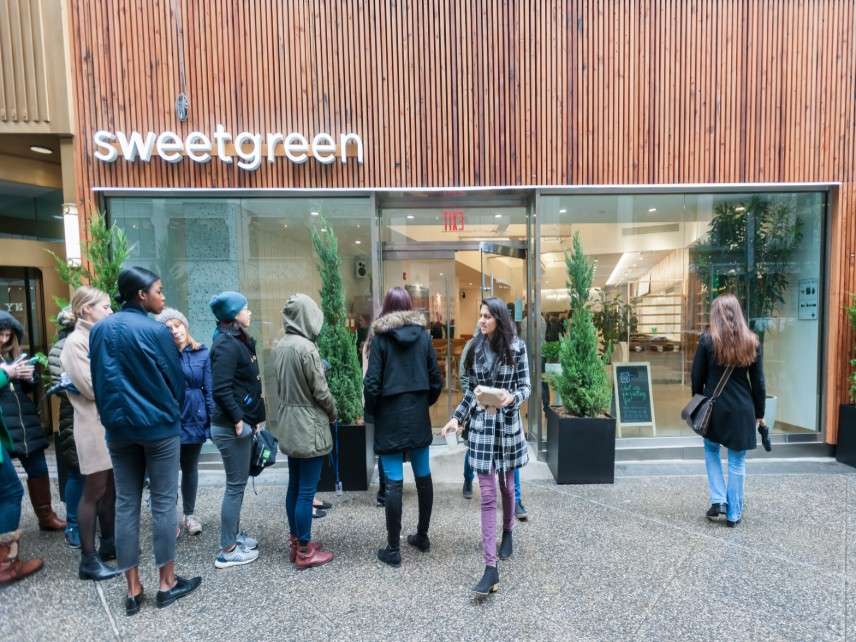 Pass by Sweetgreen—the popular fast casual salad chain—and you'll see a sign that says NO CASHEW, with the latter two letters conspicuously crossed out. It's a cheeky homage to their no cash policy, a relatively new trend drawing ire from lawmakers across the country.
New York, Washington, D.C., Chicago, and San Francisco are all mulling legislation that would outlaw the practice on grounds that it unfairly discriminates against the poor and unbanked. Philadelphia successfully passed such a bill last week, although Mayor Jim Kenney has yet to sign it. If he does, violators will face a fine of up to $2,000.
"You don't have a credit card, well you can go to 7-Eleven," said Councilman Bill Greenlee, who supported the legislation. "With all due respect to 7-Eleven, that salad might have been sitting there for two days in a carton but that's OK for you because they'll accept cash, but we don't. If it's not discrimination, its elitism and government has a place to get involved in it."
Greenlee cites Philadelphia's poverty rate—which is the highest in the country—as proof that businesses shouldn't implement policies that potentially exclude the impoverished. But in the same breath, he acknowledges that the menu choices at Sweetgreen are hardly affordable. "If they choose to pay for a high-priced salad [with cash]," he says, "they should be able to buy it."
Cashless businesses across the country say the reasons for eliminating greenbacks are multifold. According to Sweetgreen, the company can process as many as 15 percent more sales per hour, and burglaries have all but stopped. Bo Blair, a Washington, D.C. restauranteur, told The Washington Post that going cash-free allowed him to cut down on a slew of operating costs that don't often come to mind, like the armored vehicles required to transfer cash to the bank, or the extra hour he had to pay employees to close up shop at the end of the day.
The D.C. City Council is considering a bill—introduced last summer by Councilman David Grosso—that would outlaw cashless businesses, although they have yet to vote on it.
Proposed legislation in New York, spearheaded by Councilman Ritchie Torres, also aims to ban the practice, as Torres says he worries "deeply" about a cashless economy's impact on the unbanked.
Torres reportedly joined a protest last week at an Amazon bookstore, as the shopping behemoth's brick-and-mortar spots are cash-free. "The purpose of the bill is to educate people about the racism of a cashless business model," Torres told The Brooklyn Eagle. "It's deceptively benign. But what we have happening is the delegitimization of cash, and I worry about the ramifications of that."
Stephanie Martz of the National Retail Federation argues that such assertions blow the problem out of proportion. Only a "handful" of businesses are cashless, she says. And even as the trend picks up steam, there will certainly always be a market for those who wish to pay with cash, as businesses stand to gain from swiping cash-loving customers.
Meanwhile, the bills that Torres and others have proposed will inevitably eliminate opportunities—not create them. Amazon recently warned Philadelphia lawmakers that they will reconsider plans to build a retail location there if the cashless proposal becomes law, which would scrap new job opportunities for low wage workers.
A 2015 survey by the Federal Deposit Insurance Corporation found that approximately 7 percent of households nationwide are without a checking or a savings account. That's certainly worrisome. But some are taking a more direct approach to the problem, like Bank on DC—a partnership between financial groups, nonprofits, and the city government—which has opened more than 11,000 bank accounts since 2010. Lawmakers, take note: Helping the unbanked does not have to be synonymous with punishing retailers.