Court Rules Against NYPD Union: Body Cam Footage Can Be Made Public
The NYPD's largest union was dealt a defeat in its attempt to make body cam footage confidential, but it says it might appeal.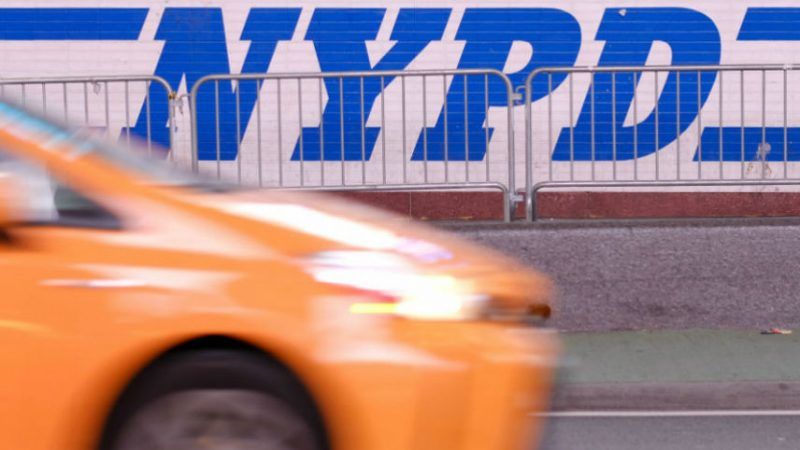 (Kevin Kurek/dpa/picture-alliance/Newscom )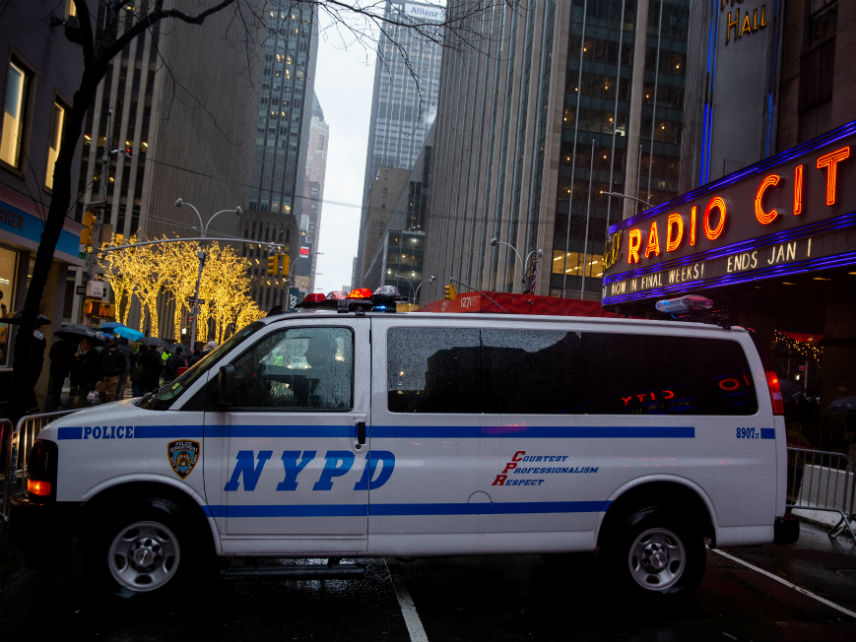 A panel of New York appellate judges ruled today that New York Police Department (NYPD) body camera footage can be made public under state law, denying an attempt by a police union to make such footage confidential.
The Patrolmen's Benevolent Association, the largest NYPD union, sued New York City Mayor Bill de Blasio and the NYPD last year to block the public release of body camera footage, arguing that the video was confidential under a New York law that exempts "personnel records" of police officers, correctional officers, and firefighters.
As Reason reported earlier this month, that statute, Section 50-a of New York's civil rights law, has been used to hide a vast array of records about police misconduct. A coalition of civil rights groups, community activists, and families of those slain by police officers are pushing the New York legislature to repeal the law this year.
The PBA's lawsuit was the most brazen in a long string of attempts to expand Section 50-a. Not even the NYPD—which until quite recently took a nearly unlimited view of the law—supported the PBA's interpretation of 50-a, and neither did a three-judge panel on New York's Supreme Court.
"While we recognize petitioner's valid concerns about invasion of privacy and threats to the safety of police officers, we are tasked with considering the record's general 'nature and use,' and not solely whether it may be contemplated for use in a performance evaluation," the court wrote. "Otherwise, that could sweep into the purview of 50-a many police records that are an expected or required part of investigations or performance evaluations, such as arrest reports, stop reports, summonses, and accident reports, which clearly are not in the nature of personnel records so as to be covered by 50-a."
Numerous media outlets and press freedom groups opposed the PBA's efforts. In a statement, the New York Civil Liberties Union (NYCLU) applauded the court's ruling.
"As the court recognized, the whole point of police body cameras is to promote police accountability and transparency," NYCLU Legal Director Christopher Dunn said in a statement. "The police union's extreme attempt to use section 50-a to block public access to body camera footage is a perfect example of why the law must be repealed."
Then NYPD itself celebrated the ruling, although the PBA says it might appeal. The New York Daily News reports:
"This ruling is an important step forward for transparency and affirms what the NYPD believes — not only is the public entitled to this information, but this footage overwhelmingly shows just how brave, skilled and dedicated our cops are every single day in the service of the people of New York City," [NYPD Commissioner James O'Neill] said in a statement.

PBA President Patrick Lynch said the union might appeal.

"We believe that the court's decision is wrong, that it will have a negative impact on public safety and on the safety or our members," Lynch said.