Is Another Government Shutdown Imminent? Only Trump Knows!
Congressional leaders have reached a compromise. But Trump will have the final say.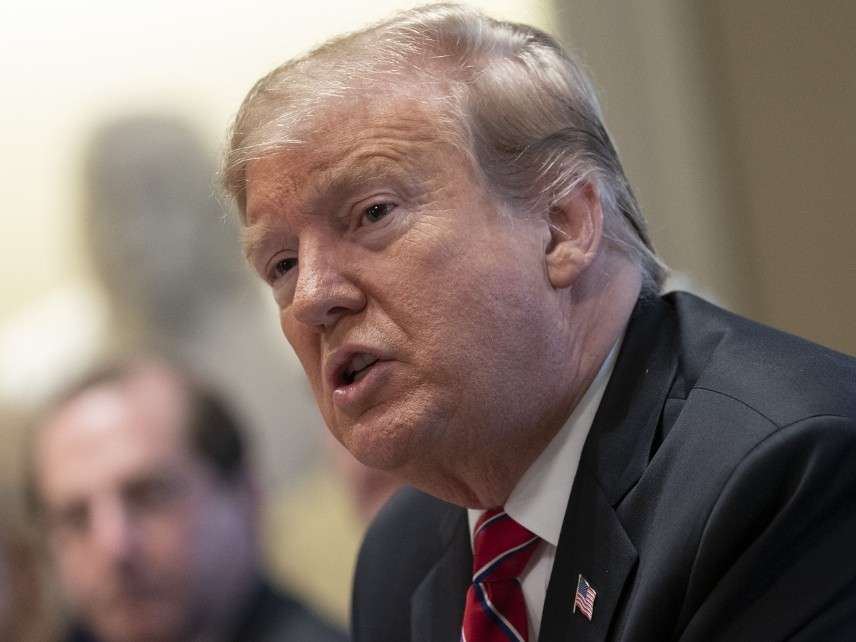 President Donald Trump today said he's "not happy" with a compromise reached by Democratic and Republican negotiators that would prevent another government shutdown. As was the case in the lead-up to and during the last government shutdown, it all comes down to Trump, and it remains unclear exactly what he plans to do.
News broke last night that negotiators from both chambers of Congress had reached a deal to keep the government fully funded after Friday. Republicans and Democrats have been at an impasse over border security funding since late last year. Trump and his allies in Congress want $5.7 billion to build a wall on the U.S.-Mexico border; Democrats don't want to give it to them. When the president refused days before Christmas to sign seven remaining spending bills—including one that would fund the Department of Homeland Security, where the wall funds would come from—roughly one-quarter of the government shut down. More than a month later, Trump finally gave in, signing a continuing resolution that would reopen the government for three weeks.
Which brings us to the present day. The deal lawmakers reached last night does not give Trump anything close to the $5.7 billion he had demanded. While the bill's text has yet to be released, the agreement reportedly includes $1.375 billion for physical barriers on the border, according to Politico. It also caps the number of beds (i.e. detention slots) for immigrants held by Immigration Customs and Enforcement (ICE) at roughly 40,500. That's about a 17 percent decrease from the current limit of 49,000, but it's still a win for Republicans. That's because Democrats originally wanted to lower the cap to 34,000, The New York Times reported, citing Democratic aides. However, as USA Today notes, it wouldn't be all that difficult for ICE to exceed the cap imposed by Congress, which it regularly does.
At a rally last night in El Paso, Texas, Trump wouldn't weigh in on the deal until he had been briefed on the details. But speaking to reporters prior to a cabinet meeting today, he expressed his displeasure with the compromise.
"Am I happy at first glance?" he said. "I just got to see it. The answer is no, I'm not. I'm not happy."
"It's not going to do the trick, but I'm adding things to it and when you add whatever I have to add, it's all going to happen where we're going to build a beautiful big strong wall," the president added. Trump also said he's "using other methods" to get his wall money.
What about the possibility of another partial government shutdown? "I don't think you're going to see a shutdown," Trump said.
A White House official told CNN's Jim Acosta, meanwhile, that despite his misgivings, Trump will likely sign the compromise.
This is Trump we're talking about, though, and as always, it's almost impossible to predict his next move. The current situation draws some parallels to December, when Trump, after saying he'd be "proud" to shut down the government over border wall funding, appeared to temporarily shift course. Then, after the Senate approved a bill with $1.3 billion in border security funding (though none for an actual wall) that would keep the government open through February, Trump revealed he wouldn't support it.
As was just as true then as it is now, it all comes down to Trump. If the president decides to reject any proposal that doesn't include $5.7 billion, then the government will probably shutter again, as the chances are slim that two-thirds of both the House and the Senate could come together to override a presidential veto. Ultimately, Trump will have the final say.
However, it's within the realm of possibility that Trump could sign the compromise legislation and still get his way. While the bill funds just 55 of the 215 miles of border wall that the administration wants, Trump could conceivably take executive action to divert Defense and/or Treasury Department funds to build the wall, according to CNN. Some of these options would require him to declare a state of emergency; others wouldn't.
Of course, it's important to note that building the wall would actually cost tens of billions of dollars and would involve seizing private property to provide an ineffective solution to a problem that doesn't really exist.