Trump's State of the Union Will Probably Be About a Border Wall That 60% of Americans Say They Don't Want
The president has devoted himself to a pointless, self-defeating project.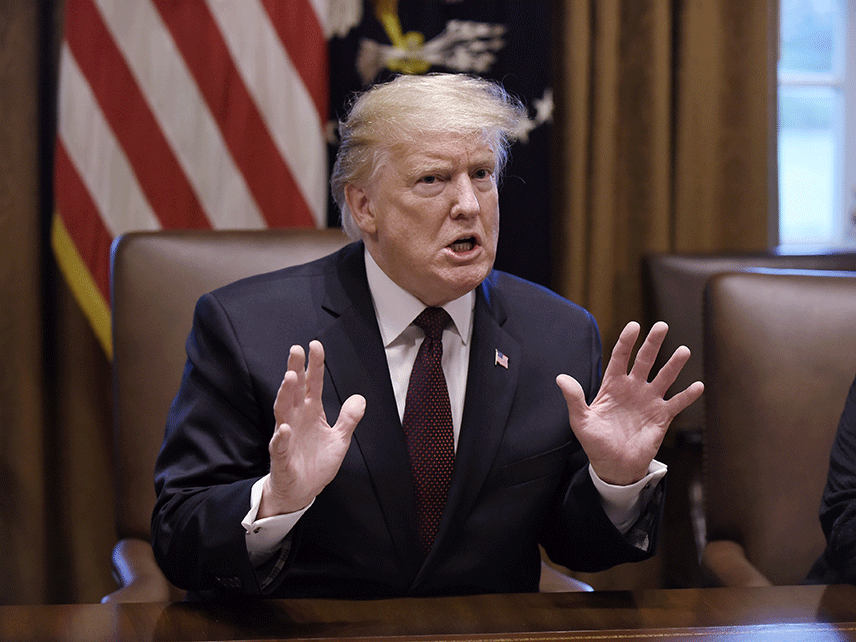 If the last month is any guide, President Trump will devote much of his State of the Union Address tonight to demanding that congressional Democrats acquiesce to his request for $5.7 billion in federal funding to build hundreds of mile of wall along the southern border.
In the process, he will probably harm the political fortunes of himself, his cause, and his party. The State of the Union will become a spectacle of self-defeat.
Over and over, Trump has linked his calls for the wall to crime, drugs, and human trafficking, repeating bizarre and baseless stories about women dragged into the U.S. while bound with duct tape. Although exaggerated fears of immigrant criminality have been a key feature of Trump's politics since the beginning of his presidential campaign, in the aftermath of last year's midterm election, the president has become obsessed with the need for a wall, tweeting and talking about it extensively, and, of course, shutting down the government in a failed effort to force congressional leaders to provide funding.
For Trump and his inner circle, the wall has become the dominant policy concern, to the exclusion of nearly all else: As an administration official told The New York Times last month, it has become a one-issue White House.
That obsession has already cost the president politically, pushing down his approval numbers while leaving his primary political antagonist, House Speaker Nancy Pelosi, more popular. There is every reason to believe that continuing to dwell on wall demands tonight would have a similar effect. If he builds his State of the Union around the wall, he will be building it around an issue with little constituency outside the most pro-Trump factions of the Republican party.
According to a Gallup poll released yesterday, Americans are broadly opposed to the wall, with 60 percent against it and 40 percent in favor. Those numbers are slightly worse for Trump's cause than when Gallup polled the same question last June and found 57 percent opposed and 41 percent in support. The percentage of respondents who say they are "strongly" opposed has risen from 34 percent to 39 percent. If anything, the president's emphasis on the wall has made the public less enthusiastic about it; his use of the bully pulpit to advance a signature issue has been counterproductive
Trump's failure to convince congressional Democrats to fund the wall has led him to threaten a more drastic step—circumventing Congress entirely by declaring a state of emergency at the border.
There is, of course, no actual border security emergency, nothing that justifies a questionable executive branch power grab. The emergency declaration is designed for instances in which Congress does not have time to act; by threatening to declare an emergency at some eventual point only if Congress does not act, Trump is thus making clear that an emergency declaration would be inappropriate. The only emergency that exists is the political emergency of a stubborn president who is not getting his way. It is an emergency that exists entirely inside Trump's mind.
Declaring a state of emergency at the border might resolve Trump's personal frustrations, but it would put his allies in Congress in a difficult position. Congressional Republicans largely escaped political blowback for the shutdown, and so far they have generally supported Trump's wall demands, while letting the president lead on the issue. But the emergency declaration might be a step too far, in part because it would force congressional Republicans to go on record with either support or rebuke for the idea, via a vote that Senate Majority Leader Mitch McConnell would not be able to block. That is probably why McConnell has reportedly warned Trump that the move would divide and harm his own party.
An emergency declaration would also be wildly unpopular—even more so than the wall itself. Although 73 percent of Republicans favor using an emergency declaration to get around Congress, according to a CBS News poll, 66 percent of Americans oppose a declaration of emergency to obtain wall funding. It is an idea that appeals almost exclusively to Trump's dwindling support base.
The unpopularity of the wall and of strong-arm tactics to secure its funding has never been any secret. Yet Trump has pursued it with increasing fervor anyway, despite the obvious consequences. Even more amazingly, he has done so as immigration restrictionists have signaled that the wall is a largely symbolic measure rather than a substantive achievement. Trump has devoted his presidency to an own goal. The wall is both a massive loser in the court of public opinion and a pointless policy objective, and Trump is the only one who doesn't seem to know it.