The Libertarian Party State of the Union: 'Americans deserve better' than 'Republicans and Democrats careen[ing] toward socialism and fascism'
Riverside County Supervisor Jeff Hewitt delivers the L.P.'s prebuttal to tonight's SOTU, while the L.A. Times asks whether Hewitt can "make a fringe party mainstream."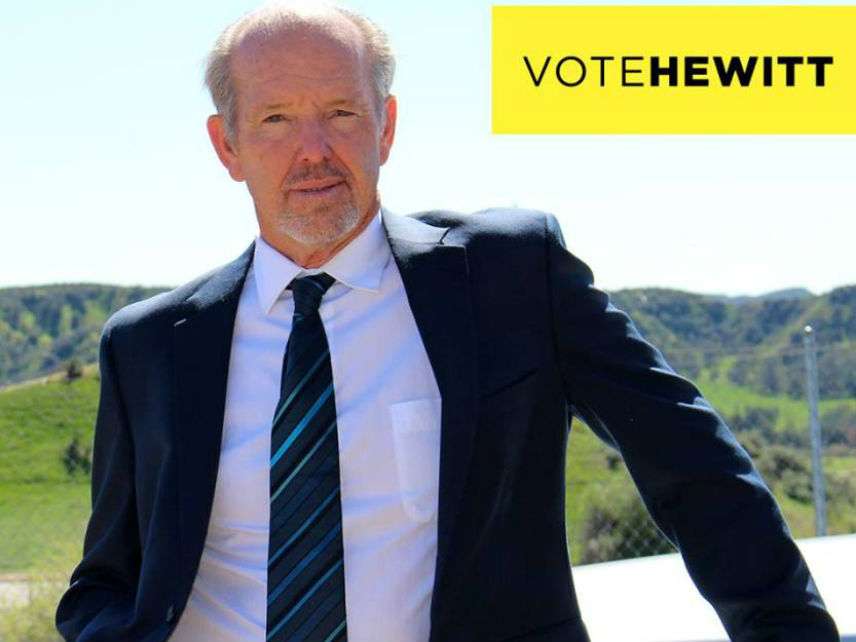 While Democrats bicker over who should give responses to tonight's State of the Union Address, Libertarians have gone the prebuttal route, delivered by the party's biggest star, the recently elected Riverside County Supervisor Jeff Hewitt.
Hewitt, the pension-reforming former mayor of tiny Calimesa, California, who now represents 438,000 constituents, starts off the message from America's third-largest party by reciting piles of contextual good news that "you won't hear in the torrent of doom and gloom from our nation's capital"—one billion people lifted out of extreme poverty in just three decades, plummeting crime, miraculous advances in technology, and so forth.
But lest you think this a Ron Bailey or Steven Pinker recital, the mood does turn darker. "Our national debt has skyrocketed to almost $22 trillion," Hewitt laments. In jails and prisons, "hundreds of thousands are behind bars for no just reason at all." And: "Our sons and daughters have been deployed to far-flung, never-ending wars without constitutional authorization."
And on the political conflict du jour, Hewitt comes out foursquare in favor of immigration, and against what immigration-prevention policies have turned America into:
At our southern border, government agents have committed acts of cruelty that shock the conscience in pursuit of the counter-productive and futile goal of controlling the free migration of people. America's immigration bureaucracy has become an authoritarian monstrosity, aimed not just outward to would-be immigrants but also inward at American citizens. The prohibition of immigration requires an extensive apparatus for mass surveillance and government intrusion into our daily lives. Libertarians say: The United States should welcome immigrants.
Hewitt's political talent lies less in reading speeches, and more in charming rooms (and talking ears off), as this Los Angeles Times profile today by occasional Reason contributor Gustavo Arellano illustrates.
Before swearing in Hewitt [to the Board of Supervisors], [L.P. National Chair Nicholas] Sarwark lectured the packed chamber about pension reform — a Libertarian battle cry ­­— and how his candidate was "one of maybe a handful of people around the country" who understood the issue.

Then Hewitt won the room over with an off-the-cuff speech speckled with jokes, asides, and praise of the board's ethnic and ideological diversity. He didn't offer much in terms of a vision, saying only that he would bring "fresh ideas" and a promise to always say the truth "the way I see it." But his audience rewarded Hewitt's folksy delivery with loud applause.
In a region and state where Republicans are growing rapidly extinct, Hewitt's success has not escaped the notice of Golden State politics-watchers. Republican strategist Mike Madrid told Arellano that:
Hewitt "seems to have the recipe" for how the Libertarian Party can carry the mantle of conservatism in California as the Republican Party continues its decline: Focus on local issues and stop "being a hater."

"It may be more unique than not, but that's how these trends start," he said of Hewitt's upset victory. "It's like baseball stats: It's not a thing until it's a thing. And then it's a thing to watch."

Jodi Balma, a political science professor at Fullerton College, said Hewitt's success shows that Libertarian candidates could "build a pipeline to higher office" by first winning nonpartisan local races for school boards, city councils and other local positions.
Related: Read Steven Greenhut's "California Libertarian's Victory Could Be a Roadmap for Others."