Here's the Cocktail You Should Drink During Trump's State of the Union Tonight
The Last Word is what every politician wants. It's better in boozy form.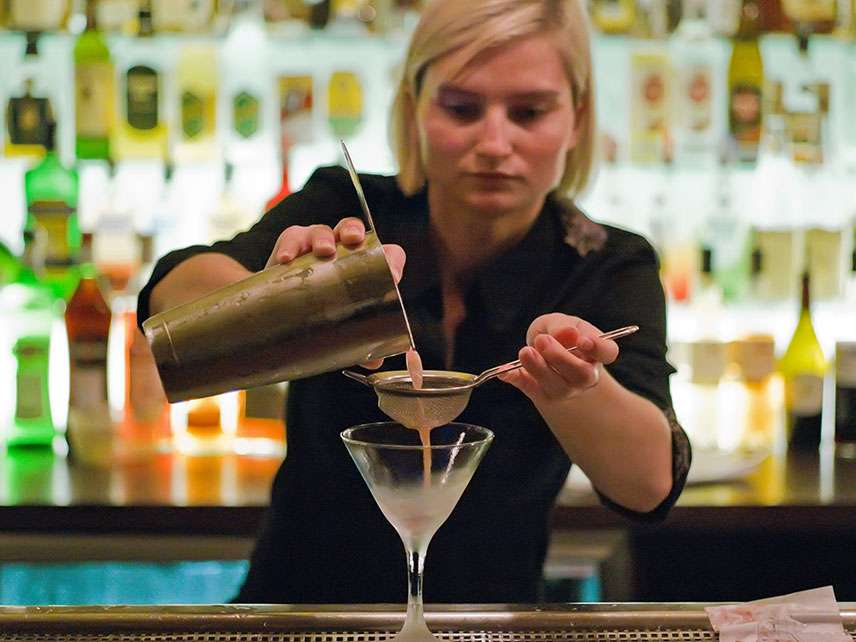 For many years, I wrote Reason's State of the Union drinking game, which typically included a list of likely phrases and topics, and instructions to drink if and when they came up during the speech. The idea, generally speaking, was to predict as much of the speech as possible, offer a few links to relevant Reason stories, and—within limits—to drink accordingly.
But as I have grown older (if perhaps not wiser), I have come to appreciate the pleasures of drinking well rather than drinking more. So this year I'm going to try something a little different. Instead of suggesting when to drink, I'm going to suggest what—in this case, a thematically appropriate pre-Prohibition cocktail called The Last Word. Because tonight, that's what everyone—from Donald Trump to Stacey Abrams to Bernie Sanders—will be trying to get.
In its classic form, The Last Word is a deceptively simple cocktail made up of equal parts gin, green Chartreuse, maraschino liqueur, and freshly squeezed lime juice—typically three-fourths of an ounce of each—shaken vigorously over ice and then strained into a coupe or martini glass. You might think of it as a bookish, retro riff on a gin sour (typically two parts gin to about one part citrus and one part simple syrup), but with the Chartreuse splitting the gin portion and the maraschino replacing the sugar portion.
The drink, which dates to 1915, was unearthed by Seattle bartender Murray Stenson in 2004. Since then, it has become part of the modern cocktail canon, the sort of drink you can order off menu at most competent cocktail bars. Like most of today's most successful drinks, it has become a template, spawning an array of variations and imitators, typically (though not always) involving a spirit, a citrus, a sweetener, and a bitter or herbal modifier in equal parts. Among my favorites are the bourbon-based Paper Plane, the clever all-booze riff Oh, My Word!, and, for those who want to pay tribute to Reason's current editor-in-chief, the rye-and-lemon-juice variant, The Final Ward. (Fittingly, Last Word riffs are among Katherine Mangu-Ward's favorite cocktails.) You can also substitute mezcal for the gin, making for an easy, smoky variation that is, if anything, more complex than the original.
I've been making and drinking Last Words for years, but even though I'm quite familiar with the flavor profile, it's a drink that still has the capacity to surprise and delight me. Made properly, it's herbal, botanical, citrusy, and delicately sweet, a complex yet perfectly balanced chord of flavors that rewards slow sipping and a little bit of contemplation (but not too much).
The Last Word is the sort of all-purpose tipple that works just as well on a warm spring afternoon as on a chilly winter night—or, in this case, on a surprisingly warm winter evening. It's a drink that will always make you feel good, even if politics makes you feel bad.
The Last Word
¾ oz London dry gin (preferably Tanqueray)
¾ oz green Chartreuse
¾ oz maraschino liqueur (preferably Luxardo)
¾ oz fresh squeezed lime juice (roughly the juice from one small lime)
Combine all ingredients in a cocktail shaker over ice, then shake vigorously until chilled—10 to 20 seconds (ideally you should use a single large cube for shaking; if you're using small ice cubes from a refrigerator ice-maker, err on the side of a shorter shake). Double strain through a cocktail strainer and a conical mesh strainer (to avoid ice chips) into a chilled coupe, martini, or Nick & Nora glass. Sip, enjoy, roll your eyes at whichever politician happens to be talking, and know that The Last Word in your hand will be far more enjoyable than any of the words that come out of their mouths.
(A few tips for preparation: Make sure to use fresh squeezed juice and to measure your ingredients—guesswork pouring will leave you with an unbalanced drink. Also, this is a drink that you have to shake, not stir. The goal is to both chill and aerate the drink. You should shake until the exterior of your shaker is cold, and a layer of bubbly foam should be visible at the top of the drink.)