Brickbats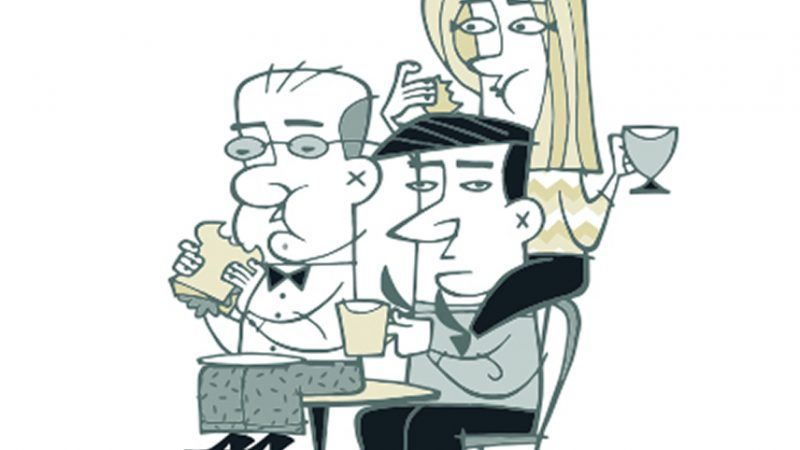 The town of Bannockburn, New Zealand, has just one café, and the owners say it may go out of business if the city council insists on enforcing an ordinance limiting the establishment to 12 chairs for customers. The restaurant has been around for many years and easily seats more than 12 people at a time. One of the previous owners says she was unaware of any limit. It only became an issue when the new owners applied to renew their alcohol license and a neighbor complained.
The Los Angeles City Council has unanimously voted to require those who do business with the city to disclose any ties—contracts or sponsorship—to the National Rifle Association.
David Gabbard thought he'd been improperly pulled over by a Kentucky State Police trooper, so he complained about his stop on Facebook. The next day, the trooper who stopped him and two others showed up at Gabbard's home. According to a federal lawsuit Gabbard has filed, when the woman who lives with Gabbard tried to record the confrontation, one of the troopers grabbed her phone. The trooper who stopped Gabbard then pulled off his badge and challenged him to a fight. The three troopers left only when one noticed video cameras attached to the front of the house.
The South Korean government says its citizens must comply with its strict drug laws even when in other countries. Officials have warned South Koreans living in and visiting Canada not to partake of marijuana, which is newly legalized there. Police say they will charge anyone they catch under South Korean law. Those found guilty face up to five years in prison.
Prosecutors in Louisiana dropped sex and drug charges against people arrested following a raid on a St. Helena Parish strip club after finding one police officer digitally penetrated a dancer's vagina and another had a dancer squirt breast milk on him during an undercover investigation. Tangipahoa Parish Sheriff Daniel Edwards initially defended his deputies, saying such tactics are necessary in a prostitution sting. He subsequently said he would have the officers retrained.
This year, San Francisco spent about $310,000 trying to register noncitizens to vote in school board elections. They signed up exactly 49 people.
Pat Baker, 80, got a phone call from the contractor building a patio at her Goderich, Ontario, home. Workers had uncovered a skull. Police quickly figured out that the skull was about 130 years old, not a recent murder victim. But that triggered a provincial law requiring Baker to obtain an archaeological assessment of her property, at her own expense. It took more than a year and cost almost $70,000 to complete the study and repair all the damage to her yard from the dig. Baker was then required to properly bury the skull, also at her own expense.
Officials at North Carolina's Harnett Central High School told students they should wear patriotic garb to an October football game because it was "USA America Night." So one student wore a red, white, and blue jersey with "USA" on the front and "Trump 45" on the back. His father says the principal told the boy he would have to remove the shirt because others were complaining about it. The student left the game instead.
This article originally appeared in print under the headline "Brickbats".