Can Cory Booker Be Our First Vegan Bachelor President?: Reason Roundup
Plus: Congress defends unauthorized war and a genetic-testing company is opening up its records to the federal government.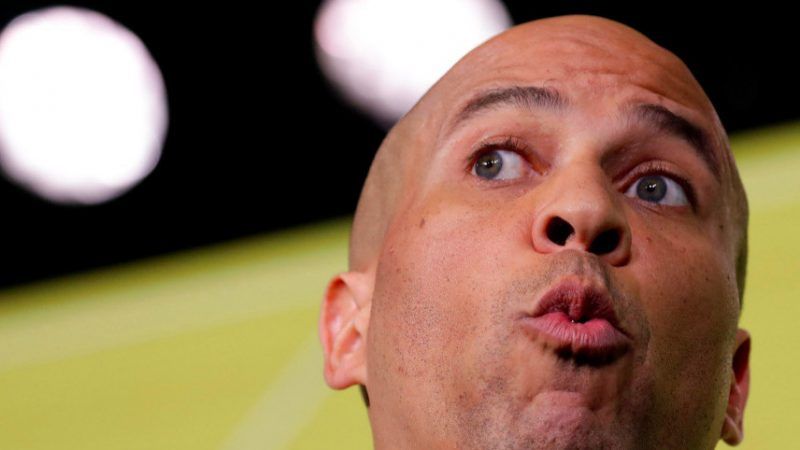 (YURI GRIPAS/REUTERS/Newscom)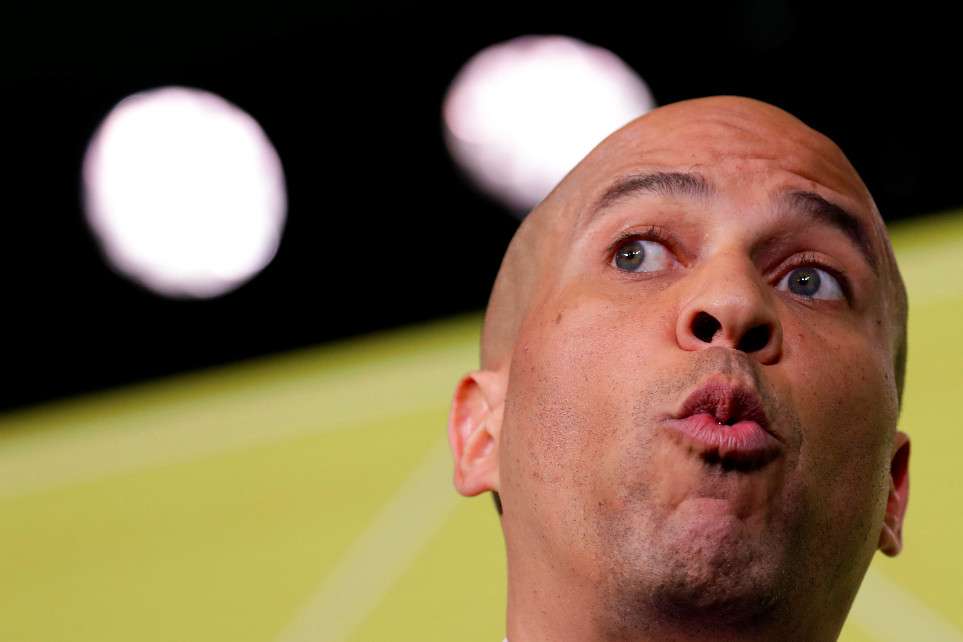 Another day, another Democrat running for president. New Jersey Sen. Cory Booker announced this morning that he'll be competing for the Democrats' 2020 presidential nod. So what do we know about Booker? "Is he a vegan? Is he really Spartacus? Did he really save a guy from a fire?"
Those last three questions come courtesy of NJ.com, and the answers are yes, no, and yes. The paper also notes that Booker is a bachelor, and that he would be our first unmarried president since Glover Cleveland in the 1880s.
Booker was mayor of Newark, New Jersey, before being elected to the U.S. Senate in a special election in 2013. He won a full six-year Senate term the following November. Black, relatively young, and a gifted orator, Booker quickly drew comparisons to Barack Obama.
In Congress, he's prioritized criminal justice reform (good) and grandstanding against Republican colleagues (not so good). He also introduced legislation to decriminalize weed at the federal level (good) and was "the only current or potential 2020 Democratic presidential candidate to sign onto legislation preventing American companies from supporting a boycott of Israel" (not so good).
As mayor of Newark, he was on the board of the Alliance for School Choice.
I'm running for president. Join me on this journey. https://t.co/fEDqOVIfwh pic.twitter.com/h1FTPUYRzo

— Cory Booker (@CoryBooker) February 1, 2019
Another thing we know about Booker is that he likes the spotlight. The senator is a frequent guest on TV, and he spoke on the Senate floor 31 different days during the 2017–18 Congressional session. NJ.com notes that this is less than potential Democratic presidential candidates Elizabeth Warren (88 days) and Benie Sanders (56 days), but more than Kirsten Gillibrand (28 days) or Kamala Harris (11 days).
In other 2020-related matters…
People say I would be tough on the Russians. Nonsense. I long to have a drinking contest with Putin, and I have already registered with the 2020 Vladivostok public dick measuring contest, where, due to an extremely rare genetic deformity, I will, unquestionably win

— John McAfee (@officialmcafee) February 1, 2019
FREE MINDS
A genetic-testing company is opening up its records to the federal government. Law enforcement has already been using publicly available DNA test results in investigations, including one high-profile murder case where a family match led to the killer. But Family Tree DNA is the first company to willingly open up all of its data to the FBI.
"While the FBI does not have the ability to freely browse genetic profiles in the library, the move is sure to raise privacy concerns about law enforcement gaining the ability to look for DNA matches, or more likely, relatives linked by uploaded user data," writes Buzzfeed's Salvador Hernandez.
FREE MARKETS
Soda warnings are out in San Francisco.
BREAKING: Federal appeals court blocks San Francisco law requiring health warnings on soda advertisements. https://t.co/De8UgaatVn

— The Associated Press (@AP) January 31, 2019
FOLLOWUP
Congress defends unauthorized war. The Senate voted to condemn President Donald Trump for moving to withdraw troops from Afghanistan and Syria. I'll leave the commentary to Rep. Justin Amash (R–Mich.) on this one:
What an embarrassing move for the Senate—condemning "the precipitous withdrawal" from one war that is the longest in U.S. history and another war that Congress never authorized. It doesn't get much more pathetic. Do your jobs and vote *for* war if that's what you want. https://t.co/qPV9qxEFL0

— Justin Amash (@justinamash) February 1, 2019
More info here.
QUICK HITS
• The FDA's almond-milk fussing could be a First Amendment violation.
""If a consumer is confused about the source of a product labeled 'almond milk,' then he has bigger problems than being confused about which milk to buy"
— @JustinPearsonIJ https://t.co/tOk8RS4pAZ cc @SGottliebFDA

— Shoshana Weissmann, Sloth Committee Chair (@senatorshoshana) February 1, 2019
• France's Supreme Court just upheld the country's ban on paying for sex.
• The U.K. is finally ditching its antiquated obscenity law.
• Meet the man behind one third of Wikipedia.