San Francisco Wants to Tax Vacant Shopfronts to Attract New Business
Supervisor Aaron Peskin is pitching his bill as a way to help out small business and crackdown on speculating landlords.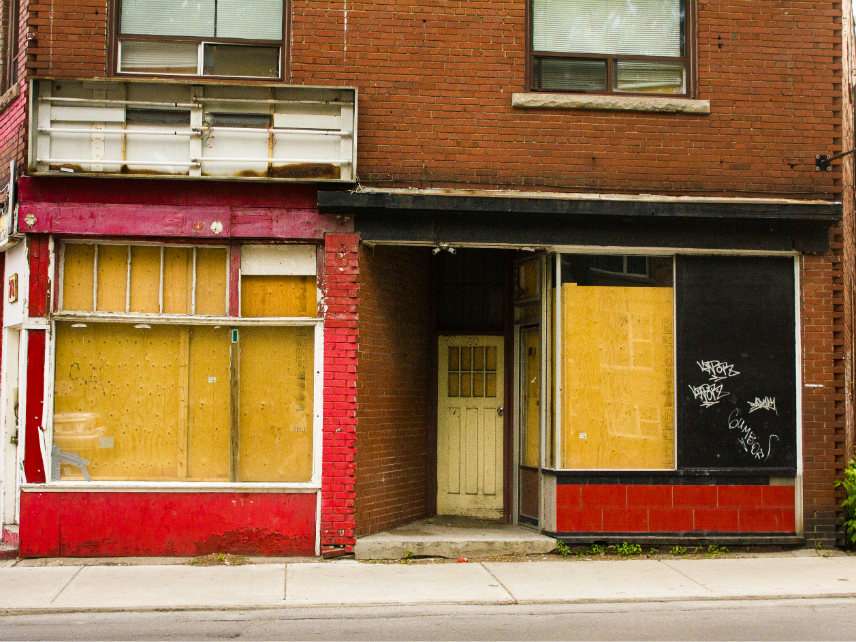 San Francisco politicians have a plan to attract tenants to the empty storefronts and apartments popping up around the city: tax the vacant units. On Tuesday, The San Francisco Chronicle reported that Supervisor Aaron Peskin plans to put a vacancy tax on both residential and commercial properties on the city's November ballot.
A lot of the specifics still need to be worked out, but according to the Chronicle, Peskin's proposal would put a $250 fee on commercial buildings that have sat empty for over six months in designated Neighborhood Commercial Districts. The $250 fee would also apply to residential buildings that've had three or more units vacant for more than six months citywide.
"This is by no means meant to be a revenue generator. It's meant to be a behavior changer," said Peskin on Tuesday, saying the bill was about going after landlords who sit on vacant properties while waiting for rents and property values to increase.
Under his proposal, the city's Department of Building Inspection would be responsible for determining which landlords are keeping their buildings vacant as some sort of speculative bet, and which have legitimate reasons for maintaining an empty unit.
Given that real estate speculators are about as popular as Donald Trump in San Francisco, Peskin's proposal has been well received so far. A number of local merchant associations have signaled their support, saying vacant shopfronts next door reduce foot traffic to existing businesses. The city's pro-development YIMBY faction likes the idea as well, according to The San Francisco Examiner.
However, there are a number of problems that arise from the tax code and line drawing from administrative agencies to crack down on undesired behavior, says Joan Youngman of the Lincoln Institute for Land Use Policy.
"It's very hard for us to know what is the cause for a change in behavior or why properties are being kept vacant," says Youngman. "We know landlords are not making profits while a property is vacant, so there's a natural question there."
Sometimes properties are vacant while undergoing renovations. A 2018 survey of vacant commercial properties in the city's North Beach Neighborhood Commercial District, for example, found that 20 percent of these units were empty because of ongoing city-mandated seismic retro-fitting.
Depending on city bureaucrats to identify which renovation-induced vacancies are "legitimate," and which are being done to game the system, says Youngman, is going to be a difficult, error-prone mission.
Other times, properties are left vacant due to difficultly finding a suitable tenant, which is something that San Francisco's proscriptive zoning laws make more difficult. That same North Beach study noted that nearly 80 percent of vacant shops were zoned for non-restaurant use, meaning those landlords are cut off from a large pool of potential renters.
It's also the case that more retail shopping is moving online, decreasing demand for physical commercial space even more. Taxing empty shopfronts could end up penalizing property owners who are already losing out to their online competition.
And even if there are a large number of landlords holding on to empty properties with the hope of renting them out at higher rates in the future, the fact that this would even be a profitable activity suggests something is off with San Francisco's real estate market
In a healthy real estate market, one would assume that property owners would want to lease out their buildings now before another developer constructs competing units that steal their potential tenants or lower the rents they can charge.
In San Francisco, where new development is exceedingly expensive, time-consuming, and rare, incumbent property owners are protected against that price-lowering competition. That could indeed create an economic incentive to hold on to empty properties, particularly when strict state and city tenant protection laws—which increase the risks of renting out a property—are considered.
A more direct response to that would be to simply allow for more development, not to impose another blunt tax on property owners.
So perhaps instead of reflexively turning to taxes to solve the problem of vacant storefronts and apartments, politicians like Peskin should try to tackle some of the underlying issues that drive these vacancies in the first place.