Anti-Wall GOP Rep. Will Hurd: 'There's a Thing We Care About in Texas Called Private Property Rights'
Some members of Congress still care about private property.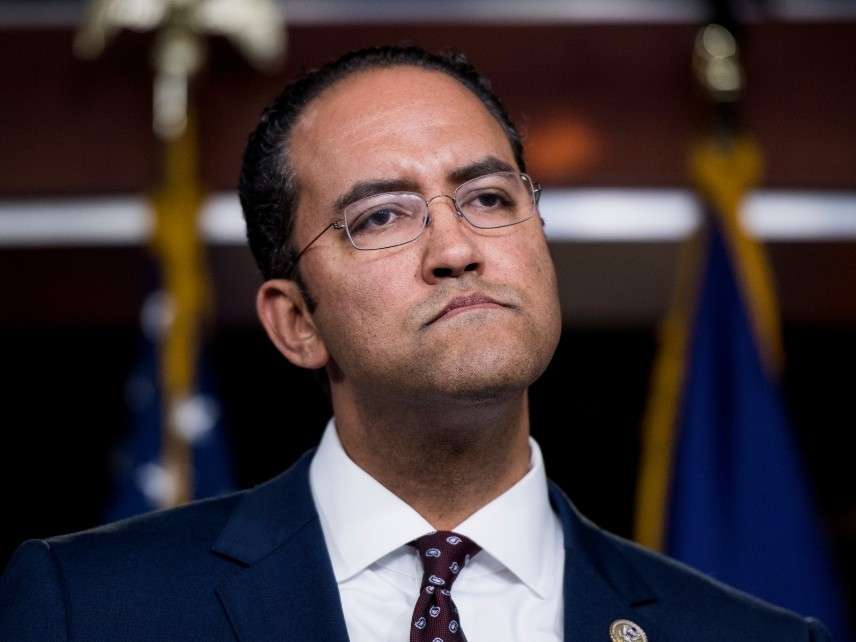 In an interview published today with Rolling Stone, Rep. Will Hurd (R–Texas) poked holes in President Donald Trump's proposed wall on the U.S.–Mexico border.
A wall would be "the most expensive and least effective way to do border security," said Hurd, whose congressional district runs along the southern border from El Paso to San Antonio. Among Hurd's concerns is that building the wall would require lots of land seizures. "There's a thing in Texas we care about called private property rights," he told Rolling Stone. "To get the property rights with eminent domain," he said, "would impact 1,000 property owners in Texas."
There are indeed significant private property concerns when it comes to building a wall, particularly in Texas, where most of the border land is private property. "You have the people who have farms that go up against the Rio Grande because the Rio Grande is a source of water for agriculture and ranching," Hurd told Rolling Stone. "In some areas where there has been a proposal for a wall, in my district alone there's the potential of ceding 1.1 million acres of land to Mexico."
Many landowners aren't happy. And as some have explained to Reason TV, The Washington Post, and the Associated Press, they don't plan to go down without a fight.
President Donald Trump, for one, doesn't seem to have a problem with seizing land to build the wall. "You have to use eminent domain," he declared earlier this month. "If we had one person that wouldn't sell us…then we wouldn't be able to build proper border security because we'd have that big opening," he added, before calling it "a fair process."
But what happens if people won't comply? "[Lawsuits are] not going to hold [the wall] up because under the military version of eminent domain and under, actually, homeland security we can do it before we even start," he said. This is technically legal under federal law, which allows for military department secretaries to "acquire any interest in land" if "the acquisition is needed in the interest of national defense." Whether building a wall on the southern border is really an issue of national defense is another question.
Aside from Hurd, not very many GOP House members have expressed concern over the private property ramifications of building a wall. The exception is Rep. Justin Amash (R–Mich.), who last week introduced a bill that would likely stop Trump from using the "military version of eminent domain."
"It is unjust for the government to seize someone's property with a lowball offer and then put the burden on them to fight for what they are still owed," Amash said in a statement. "My bill will stop this practice by requiring that a property's fair value be finalized before DHS takes ownership."
The bill has zero cosponsors, and its passage is uncertain, if not unlikely. Still, it's encouraging to see that some members of Congress, like Amash and Hurd, still care about private property.