Trial Begins for Aid Workers Accused of Leaving Food, Water in Desert for Migrants
Federal officials are doing their best to criminalize No More Death's efforts to stop immigrants from dying while crossing into the U.S.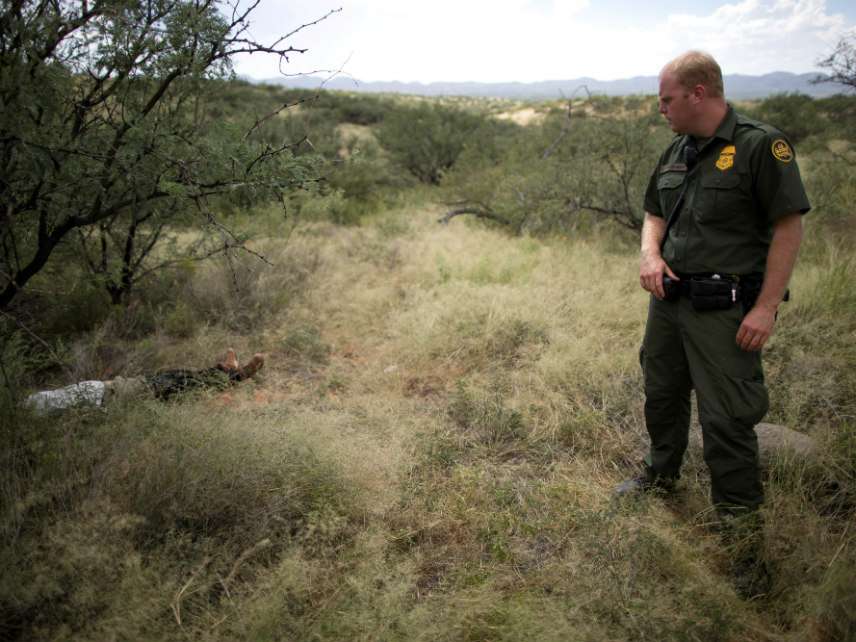 Today marks the beginning of the federal criminal trial of four volunteers from the immigrant-aid group No More Deaths. They face federal charges for their work assisting migrants crossing through the Cabeza Prieta National Wildlife Refuge in the arid southern Arizona desert.
The four each face three misdemeanor charges: entering a wilderness area without a permit, operating a vehicle in said wilderness area without a permit, and leaving behind personal property, in this case jugs of water and tins of beans intended for people passing through the desolate terrain. Each charge comes with penalties of up to six months in jail and $5,000 in fines.
"Members of our organization are being criminally prosecuted for placing water in areas where hundreds of people have died of thirst," said Paige Corich-Kleim, a No More Deaths volunteer in a press release. "Anybody who has visited the refuge understands the harshness of the terrain and the need for a humanitarian response."
No More Deaths (whose activities Reason has covered in the past) was founded in 2002 in response to an explosion in the number of migrants dying in the deserts of the southwestern United States. Since then, the group has left water, food, blankets, and other supplies at selected "water drops" in remote areas of Arizona known to be frequented by migrants.
Three years ago the group expanded its aid work to the Cabeza Refuge, a particularly remote and hazardous portion of southern Arizona where the bodies of 32 deceased border crossers were found in 2017.
The criminal charges faced by the four No More Deaths volunteers on trial today stem from activity in the refuge.
In August 2017, these four volunteers were spotted by Michael West, an officer with the federal Fish and Wildlife Service, walking back to a truck they had left unattended along a trail inside a restricted portion of the refuge. That truck had crates full of portable water and tins of beans in the back.
West, according to an affidavit written by him, approached the four who admitted to not having permits to enter the refuge or operate a motor vehicle in it—permits they said they intentionally did not get as it would have required them to agree to not leave supplies in the desert.
They also told West that they were responsible for leaving behind jugs of water and tins of beans that West had spotted earlier in the day. West did not arrest any of the four at the time, but did instruct them to leave the park, which they reportedly did.
This encounter came at a time when federal authorities was ramping up their interference with No More Deaths' humanitarian aid activities. For example, the group has reported an uptick in the number of supply caches they've found sabatoged or destroyed. In 2017, Border Patrol agents raided the group's desert aid station near Arivaca, Arizona.
Then in January 2018—one day after the group released a lengthy report documenting Border Patrol agents destroying water and other supplies left by the group—No More Deaths volunteer and Arizona State University instructor Scott Warren was arrested and charged with a felony for providing food and water at an aid station operated by the group in Ajo, Arizona.
Within days, eight other No More Deaths volunteers were charged with misdemeanor offenses tied to their work in the Cabeza Refuge, including the four No More Deaths volunteers whose trial started today.
Border Patrol insists that its goal on the southern border is the same as that of No More Deaths—to save lives.
"Nobody here in the Border Patrol wants to see anybody die out there or suffer in the desert," Steven Passement, acting special operations supervisor for the Tuscon Sector of Customs and Border Protection (CBP), told Reason in January 2018, mentioning his agency's placement of emergency beacons in the desert that migrants can use to call for help.
No More Deaths has argued that blending medical care with the threat of arrest and deportation for illegal immigrants crossing the southern border is inherently contradictory. Moreover, the group has argued that the U.S. government's increased use of border security barriers and personnel has only incentivized people to cross into more dangerous areas like the Cabeza Refuge.
The trial that starts today for the No More Deaths volunteers is expected to last a week.