Michigan Taxpayers Spent $30 Million on Legal Fees for State Employees Involved in Flint Water Crisis
When the government screws up, the people pay for it.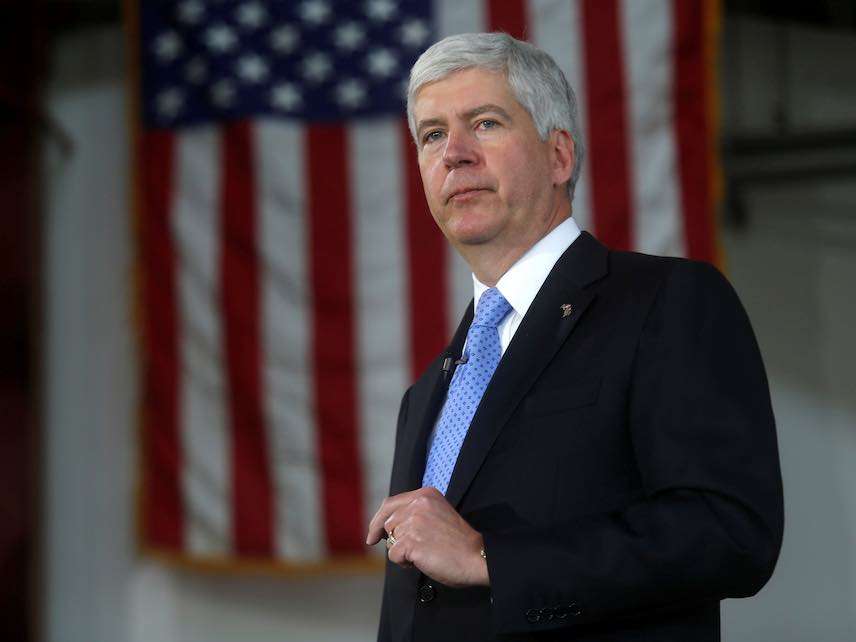 State employees accused of wrongdoing in the Flint water crisis have racked up an impressive tab: Defending and prosecuting these officials has cost Michigan taxpayers more than $30 million so far.
That's according to MLive.com, which obtained the relevant documents from a variety of state offices:
… the bills aren't stopping anytime soon.

Eight criminal cases remain on court dockets in Genesee County and $2 million appropriated for special prosecutors remains in the bank.

The totals don't include expenses like expert witness fees or payments to attorneys representing current and former city of Flint employees or to former state-appointed emergency managers here.

In total, the spending has topped $8.5 million for the Governor's Office, $8.1 million for the DEQ, $7.1 million for DHHS and $6.9 million for the AG.
These include criminal and civil charges. The entity that's spent the most in attorney's fees is the governor's office, though former Gov. Rick Snyder (R) was never charged. (One also pays lawyers to help avoid going to court, of course.) In June of 2017, a federal judge ruled that Flint residents could sue some state and local employees for their roles in the crisis, but not the state of Michigan itself.
The Flint water crisis first captured the national public's attention in late 2015 after the decision to use the nearby Flint River as a water source for the city led to increased levels of lead in the water supply, which may have contributed to an outbreak in Legionnaire's disease. (Note that many Flint authorities supported changing the water source on grounds that the new treatment plant would create jobs and serve as a form of fiscal stimulus.)
The crisis revealed a staggering level of incompetence on the part of public officials: especially Flint's emergency financial manager (appointed by former Republican Gov. Rick Snyder) the Flint City Council, and the Michigan Department of Environmental Quality. In fact, the state government ensured that public employees in the Department of Technology, Management, and Budget received safe drinking water—in the form of water coolers—a year earlier than Flint citizens did.