Please, TSA Workers, Don't Come Back
And take the rest of your federal colleagues with you.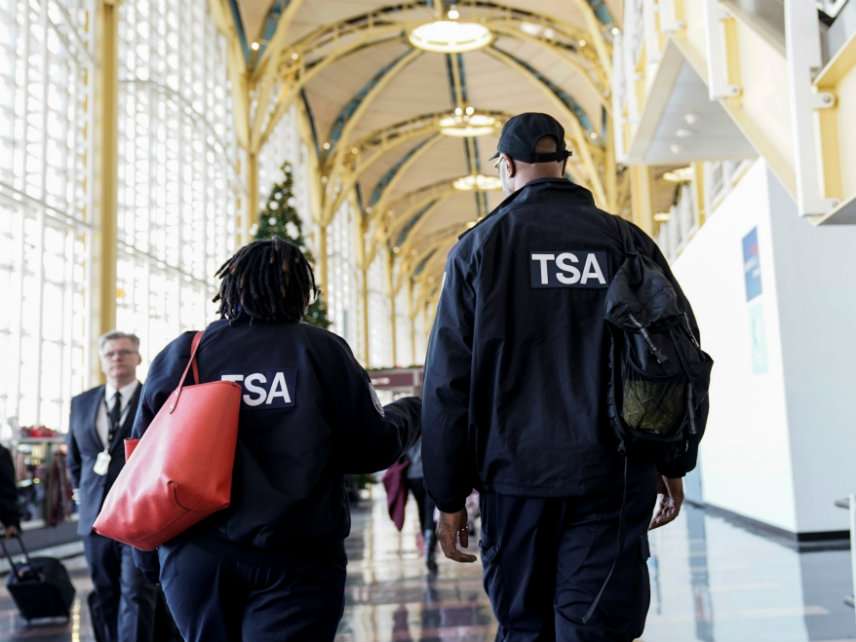 Understandably, Transportation Security Administration (TSA) employees are no more enthusiastic about working when their paychecks are delayed than is anybody else on the planet. That's why they've been calling-in sick in increased numbers—some to seek temporary work elsewhere in order to pay their bills—as the more-theater-than-reality "government shutdown" drags on. But, isn't this an opportunity for us all? Given that the world is a better place when TSA employees and other government minions don't do their jobs, and some are already seeking alternative employment, what a great opportunity to shut down their agencies, shrink the government, and make everybody's lives a little better!
"If you don't have a check to pay your bills, what are you going to do?" complains Rudy Garcia, president of the chapter of the American Federation of Government Employees that represents Dallas TSA employees, many of whom have been calling in sick in as they seek part-time employment. "You will look for something outside of what you're doing now."
And who can argue with that? Nobody wants to work for an employer who holds off on cutting paychecks until a more convenient moment, and that's just what the federal government is doing during its "shutdown"—a spectacle that almost seems crafted to demonstrate how easy it is to live without the leviathan in Washington, D.C.
Along those lines, it's nearly ideal that the federal sick-out has begun among TSA employees, since their agency is so astoundingly incompetent and abusive at its assigned tasks and is skilled only at angering travelers of all political persuasions. The Drug Enforcement Administration (DEA) and Bureau of Alcohol, Tobacco, Firearms, and Explosives (ATF) may be more explicitly malevolent, but their fans and detractors tend to break down along ideological lines. Even the Internal Revenue Service can find boosters among whoever it is who keeps weeping over those regurgitated press releases about how hard it is to be a tax collector. But sharing vicious comments about the TSA clowns squeezing people's junk is a game we can all play while suffering in line at the airport.
Not that there's any point to all of that groping beyond the purely recreational aspect. Undercover investigators were able to smuggle weapons and explosives past TSA agents 95 percent of the time, according to a 2015 Homeland Security Investigator General report. Maybe that's because agents are relying on dowsing rods or Spidey sense—they're certainly not depending on the expensive equipment they make travelers and baggage file through.
"Because TSA does not adequately oversee equipment maintenance, it cannot be assured that routine preventive maintenance is performed or that equipment is repaired and ready for operational use," The Inspector General office also noted.
Given the pointless hassles inherent in passing through the security checkpoints at airports, I'm not sure why we don't all get ourselves those security badge backstage passes that let airport workers wander hither and yon through secure areas; TSA oversees the issue of those badges and they don't seem that hard to get.
"An official from the Hartsfield-Jackson Atlanta International Airport said that, over 2 years, more than 1,400 badges were lost or stolen," the Inspector General added in 2016. "Some members of Congress expressed concern that these missing badges would allow an unauthorized person access to an airport's secured areas."
TSA agents aren't getting paid? Are they sure? Maybe they just misplaced the checks.
I kid. They really aren't getting paychecks at the moment, but I can't really think of a good reason why their jobs should exist at all.
"Security theater" is what security expert Bruce Schneier, a lecturer at Harvard University's Kennedy School of government, calls most of what the TSA does. They're "measures that make us feel safer without improving security… I've repeatedly said that the two things that have made flying safer since 9/11 are reinforcing the cockpit doors and persuading passengers that they need to fight back. Everything beyond that isn't worth it."
If it isn't worth it, why pay for it?
And now many TSA agents are looking for alternative employment. Most of them are probably landing gigs in the private sector (we know the feds aren't paying at the moment) for employers willing to exchange their own money for what the sometime federal security agents have to offer. That suggests a good chance that their new jobs may well be worth something more than what they do for the government. So let them go!
And maybe they could take their federal colleagues—including those at the ATF and the DEA—with them.
"ATF operations nationwide employed rogue tactics, including tapping those with mental disabilities … then charging them with gun crimes," the Milwaukee Journal-Sentinel reported in 2013 as part of a series of horrifying stories on the federal agency. Among the failures of the agency tasked with regulating firearms, "ATF agents lost track of dozens of their own guns."
The DEA "has existed for more than 40 years, but little attention has been given to the role the agency has played in fueling mass incarceration, racial disparities and other drug war problems," the Drug Policy Alliance notes. That's what DEA agents do when they're not enjoying "'sex parties' with prostitutes hired by local drug cartels," as The Washington Post puts it.
Without even turning to the larger federal apparatus, isn't a widespread sick-out among government workers sounding like a pretty attractive idea right about now?
So, TSA agents, I wish you good luck in finding new jobs as you try to cover your bills. And once you land those new gigs, please, don't come back.