2018 Brought a Bumper Crop of Bad Gun Laws to Disobey
Control freaks have turned to dishonest rulemaking and outright censorship in doomed but still dangerous efforts to take people's weapons away.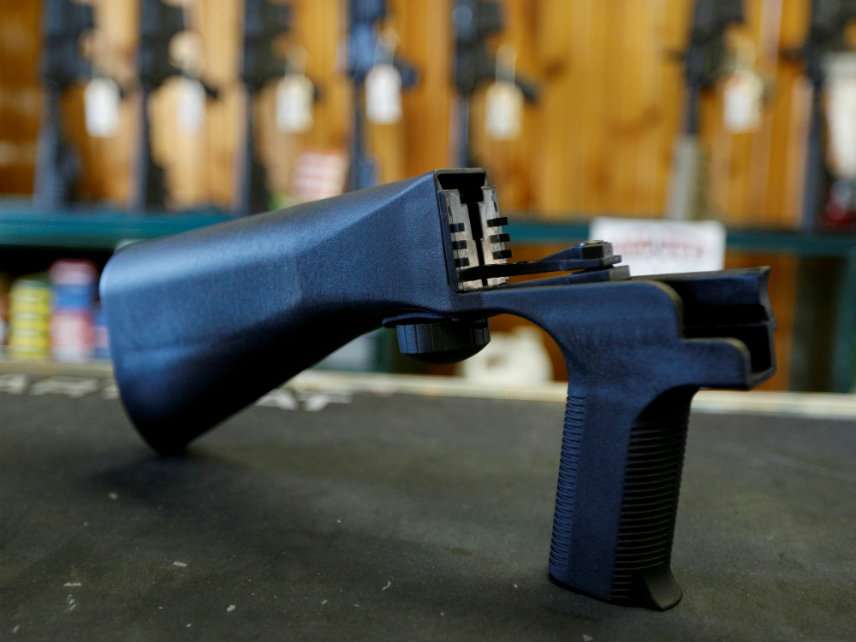 Control freaks who want to disarm you doubled-down last year on bad legislative ideas that have a long history of failure. They've also turned to dishonest rulemaking and outright censorship in their doomed but still dangerous efforts to take weapons away from people they don't like and reserve such tools for themselves. (You didn't think the control freaks planned to personally disarm, did you?) A good example is provided by Chicago Alderman Ed Burke, whose office yielded 23 guns to FBI raiders prior to his indictment last week for attempted extortion.
"From outlawing cell phone cases shaped like guns to bans on concealed weapons in places that serve alcohol and broadening the gun offender registry in Chicago, Ald. Ed Burke's aldermanic record has defined him as an ardent supporter of gun control," noted CBS News. "That's why many people did a double take when federal prosecutors announced that investigators had found nearly two dozen guns not in his home but in his offices."
Burke may not have broken any laws by amassing the sort of armory that he would deny to mere mortals, since Aldermen are designated by law as "peace officers" with special privileges.
Burke's behavior calls to mind former California State Senator Leland Yee, who advocated for more gun regulations while peddling them on the black market himself. "As a legislator, Yee supported strict gun control laws and was named to the Brady Campaign's Gun Violence Prevention Honor Roll," The Washington Post reported after the one-time lawmaker was sent to prison for weapons trafficking in 2016. It turned out that his advocacy of legal restrictions on firearms sales and ownership was just a slap at the competition.
Not all gun control advocates are trying to disarm their intended victims or cripple competitors. Many are just fearful and controlling.
Through legislation and ballot measures alike, they imposed wider background-check requirements, tighter restrictions on ownership, limitations on magazine capacity, waiting periods, eased rules for seizing guns from owners, and other changes in roughly half of U.S. states in 2018.
Ever-hopeful authoritarian commentators suggest that the political environment for gun restrictions became more welcoming in the wake of the mass shooting in Parkland, Florida, last February. There a homicidal shooter compounded by "failures by the Broward County Sheriff's Office and school district cost children their lives at Marjory Stoneman Douglas High School," as the South Florida Sun Sentinel concluded. The newspaper's extensive investigation found government officials "unprepared and overwhelmed" when it came to protecting people against criminal action—and gun controllers want to respond by stripping private citizens of their ability to defend themselves.
That's pretty much par for the course when it comes to calls for restrictive laws, sad to say. Control freaks repeatedly want to deny people the legal authority to do for themselves what governments can't be trusted to do.
Another thing that hasn't changed is the cluelessness and/or dishonesty of those who would limit our freedom. Washington state's anti-gun ballot initiative ostensibly imposed new restrictions on "assault weapons," but it used a definition so broad that it "includes not just scary-looking, military-style rifles like the AR-15 but a wide range of firearms commonly used for hunting, target shooting, and competitions," as Jacob Sullum wrote last week. Drafters of the initiative either didn't know or (more likely) didn't care that their language was far wider-reaching than they pretended.
So don't be surprised if Washington's new gun restrictions meet with the same defiance that greeted the state's earlier effort to require background checks for private transfers of firearms. Of three states with new background check requirements that were studied by University of California researchers, "only Delaware showed an overall increase in firearm background checks. Washington and Colorado had no changes." The researchers ruefully conceded that "one plausible explanation for our findings is low compliance in our study states." It was a conclusion underlined by very loud and public efforts to kneecap the law in both Colorado and Washington.
A similarly cold reception met New Jersey's recent ban on gun magazines with a capacity of greater than 10 rounds.
"Two sources from within the State Police, who spoke to AmmoLand on condition of anonymity, told AmmoLand News that they both do not know of any magazines turned over to their agency and doubted that any were turned in," wrote John Crump for the publication. "All the local police departments that AmmoLand contacted stated that they have not had any magazines turned into them."
Under the law, the many New Jersey residents owning the millions of magazines affected by the ban are now felons.
Then again, this too is nothing new. "Only four military-style weapons have been turned in to the State Police and another 14 were confiscated," The New York Times reported of the aftermath of New Jersey's 1991 "assault weapons" law. "The state knows the whereabouts of fewer than 2,000 other guns" of the estimated 100,000-300,000 firearms affected by that law.
Now New Jersey officials are desperately floundering, looking to outlaw even sharing information about firearms. The state has banned the distribution of computer design files that would make it easier to make guns at home using 3D printers, CNC machines, or traditional tools, in a move that has clear free speech implications. And yes, state officials would happily apply the ban to books.
"Posting this material online is no different than driving to New Jersey and handing out hard-copy files on any street corner," huffed New Jersey Attorney General Gurbir S. Grewal, in as open an endorsement of explicit censorship as you're likely to see from an American official. "The federal government is no longer willing to stop Defense Distributed from publishing this dangerous code, and so New Jersey must step up."
When your authoritarianism is thwarted again, and again, and again, you either concede defeat or you try to tighten the screws. And control freaks almost never concede defeat.
They also never expect the rules to apply to them, as Alderman Burke and Sen. Yee so effectively demonstrate. They see themselves as special, and above whatever rules they would inflict on the rest of us.
The end result will be jail for a few, some broken lives, and increased conflict between people who want to be left alone and officials to whom that's an entirely alien concept. It certainly won't be a population any more inclined than in the past to obey intrusive laws inflicted by crooks and control freaks.