Coach Nick Saban Could Get a Huge Pension, Courtesy of Alabama Taxpayers
America's highest paid public employee might win another college football national title, but he's also a good argument for pension reform.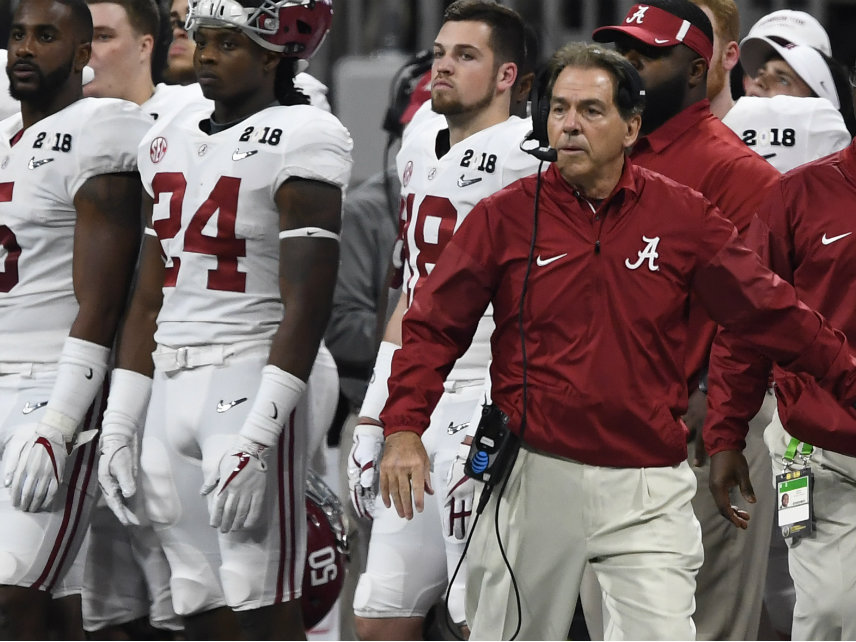 Correction: This post originally stated that University of Alabama head football coach Nick Saban was eligible for a $2.4 million annual pension, based on analysis from Open The Books that was erroneous. Under a 1996 state law, pensionable income for Alabama state workers is capped at $270,000 and income in excess of that amount does not factor into pensions.
University of Alabama head football coach Nick Saban is America's highest paid public employee, pulling down a cool $11 million from the publicly funded college this year.
On its own, that fact is probably not too surprising. College football coaches are the highest paid public employees in most states, and Saban is the best college football coach in the country. When his Crimson Tide take the field on Saturday in one of the national semifinal games, he will be two wins away from a second consecutive national championship (and a sixth in just 12 seasons at Alabama).
Yes, $11.25 million is a heck of a lot of money for a public employee, especially since Alabama's football program is $225 million in debt. In the fundamentally corrupt world of college sports, however, Saban is at least a winner.
But what about when he retires? Long after the glory of Saban's national championships fade, it turns out, the taxpayers of Alabama will continue to pay for his pension. That's according to Adam Andrzejewski, founder and CEO of Open The Books, a nonprofit that claims to have the largest database of state and federal spending records. In an article for Forbes, Andrzejewski notes that Saban qualifies for a maximum pension under the state's 1996 law that caps pensionable income at $270,000. The specific pension for Saban would depend on his years of service before retirement.
That large sum reveals one of the major flaws with the so-called "defined benefit" structure used by most public pension systems. Under a defined benefit plan, an employee is guaranteed an annual pension that's based on an employee's years of service, final salary (or, as is common, an average of the employee's salary during his or her last three or five years on the job), and a multiplier that's a special bonus for employees with special status (cops will generally have a higher multiplier than desk clerks in the Department of Motor Vehicles, for example).
Plug in the numbers, do the math, and the pension amount is set. An investment portfolio's earnings don't matter, and neither does the state's contributions to the pension plan. This largely why some states have fallen so far behind in their pension obligations: because the benefits keep accumulating even though they aren't being adequately funded.
One of the problems with a defined benefit system is that, for employees at the very top of the earnings scale, the pension plan becomes a massive transfer of wealth rather than a retirement safety net. It's certainly not in the best interest of Alabama taxpayers to continue funding Saban's post-retirement life. And with a state pension system that's already more than $16 billion in the red, it's also not in the best interest of Saban's fellow government pensioners.
But Alabama's decision to cap pension income was a wise one that may have prevented the state from falling farther behind while financing generous retirement packages. As I've previously covered, California has more than 62,000 retirees getting six-figure salaries and seven retirees getting $1 million annually—led by Earl Paysinger, a former deputy police chief in Los Angeles.
Defenders of traditional, defined-benefit pension systems will often argue that the average pension is far less than what these outliers receive. That's true, of course, but the outliers are still a problem, even if they're a lesser concern than the overall structure of public pensions. As America slowly reckons with its massive pension liabilities, means-testing retirement payments for recipients with seven-figure net worths should be a no-brainer.
Put another way: Alabamans might worship Nick Saban for what he's accomplished on the gridiron, but that doesn't mean they should be forced to add to his already astounding personal wealth with their own hard-earned money.