EXCLUSIVE: Read Desperate Emails From People Scammed by A.G. Matt Whitaker's Business Associates
"My husband, who is a retired veteran, allowed me to use our savings. My fear of course, they have taken my money and never intended to file the patent."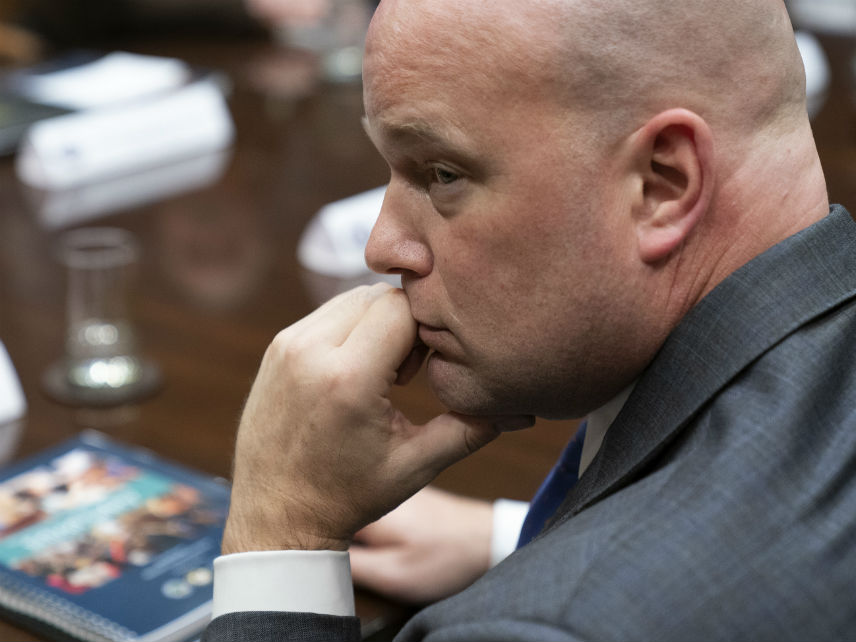 When current acting U.S. Attorney General Matt Whitaker joined the advisory board of a Florida patent firm in 2014, he was quoted in a company press release saying he "would only align myself with a first class organization."
Three years later, the company was shut down, but not before it bilked hundreds of customers, some of them elderly veterans, out of millions of dollars.
In response to a public records request to the Florida Attorney General's Office, Reason received 47 pages of consumer complaints regarding World Patent Marketing. The complaints date from 2014, when Whitaker joined the firm's advisory board, to 2017, when the Federal Trade Commission (FTC) shut the firm down for deceptive business practices.
Read the consumer complaints here.
An FTC investigation concluded that the Miami patent firm, which claimed to patent and market promising inventions, scammed 1,504 customers out of more than $26 million in its three years of existence.
"After stringing consumers along for months or even years, the defendants did not deliver what they promised," the FTC wrote in a press release announcing its May court settlement in its case against WPM, "and many people ended up in debt or lost their life savings with nothing to show for it."
Whitaker received quarterly payments of $1,875 for his role on the board.
Whitaker, who was not named in the FTC complaint, told agency investigators that his role at the company was minimal. However, in at least two instances Whitaker sent emails to irate customers invoking his experience as a former U.S. Attorney to threaten them.
WPM used Whitaker's name to both burnish its credentials and scare the many customers who said the company took their money and never delivered on its promises. The complaints to the Florida Attorney General show dozens of victims, some of them elderly, who fell prey to the company's tactics.
"My husband and I sent this company a lot of money," a woman from Beardstown, Illinois, who paid WPM $14,000, wrote to the Florida attorney general. "We do not have a lot of money. My husband has been very very stressed about this situation since January 15, 2015. We understand it is now in receivership and we are unsure what that means. Can you help us? My husband is a disabled Vietnam veteran."
"I've given them $25,000 of a $35,000 aside from the initial fee of $1995 and haven't sent the balance because I asked for my money back about a dozen times for lack of services and all I get are empty promises," a man from Ormond Beach, Florida, wrote. "I look forward to hearing from you regarding this unamerican act against a 75 year old veteran."
"My husband, who is a retired veteran allowed me to use our savings for a product we still believe will benefit this country, including globally," a woman from Tacoma, Washington, wrote. "My fear of course, the have taken my money and never intended to file the patent. I have made numerous phone calls and they don't respond."
One customer forwarded a letter sent to him by WPM threatening legal action after he repeatedly contacted the company trying to get his money back.
"I am writing to you on behalf of World Patent Marketing ('WPM')," an email from the "fraud department" of WPM reads. "This is a cease and desist letter, directing you to stop your defamation and libel of the company on Facebook and/or other forms of media. Should you continue, we will have to seek legal action against you for claims that include breach of contract, extortion, defamation, and tortious interference."
It was a common tactic. The FTC claimed in court filings that WPM CEO Scott Cooper, in an apparent attempt to intimidate people, would brag about how his company's security team was made up of ex-Israeli special forces trained in Krav Maga. "The World Patent Marketing Security Team are the kind of guys who are trained to knockout first and ask questions later," he wrote in one email filed in court by the FTC.
The terms of the FTC settlement require Cooper to pay $975,000 in restitution to his victims, a fraction of what WPM ultimately took from people.