Will Trump's Stubborn Demand for Wall Funding Keep the Government Shut Down Forever?
No, but it's nice to fantasize.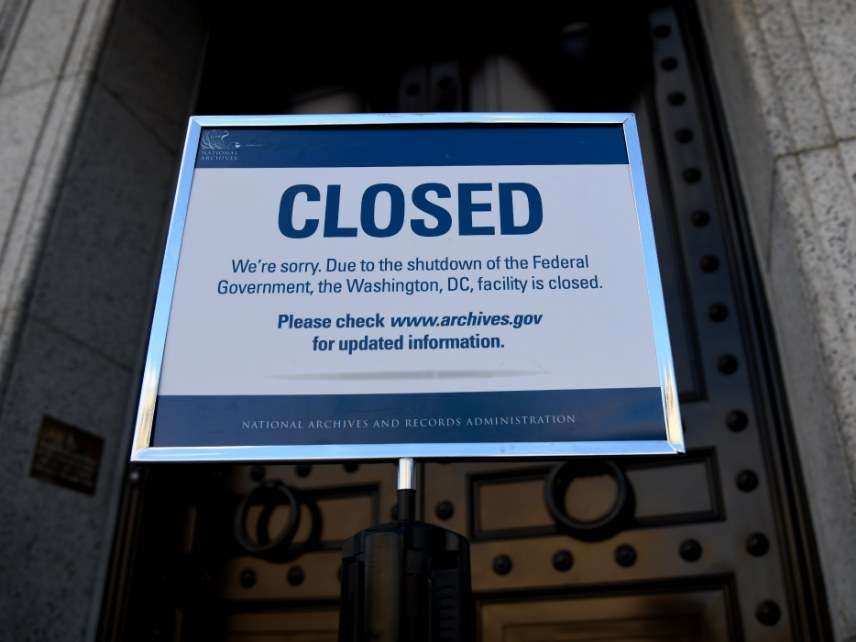 President Donald Trump is declaring that the federal government shutdown will last until he gets $5 billion for his border wall.
"I can't tell you when the government is going to be open," Trump told reporters on Christmas. "I can tell you, it's not going to be open until we have a wall, a fence, whatever they'd like to call it. I'll call it whatever they want."
Trump said many of the federal workers who were furloughed told him to keep the government shut down until he gets his wall money. He also claimed on Twitter to have handed out a contract to build 115 miles of a border wall in Texas, except the president doesn't award construction contracts. The Associated Press noted that Congress approved funding for 33 miles of border wall construction in Texas earlier in the year, and that might be what Trump is referring to. The "great price" Trump claims he got for that contract: $22 million per mile.
Trump has been quiet today so far on Twitter.
The government shutdown affects about 800,000 of the federal government's two million employees. Some have been furloughed, while others are still working without pay until the shutdown ends. The shutdown is the result of a failure to fund several agencies because Trump wanted $5 billion for his wall. Nearly $1 trillion of the budget for fiscal year 2019 has already been approved. But among the agencies that haven't been fully funded are the Departments of Justice and Homeland Security, because Congress will not agree to include the $5 billion Trump is demanding.
As always, when the government shut downs, media coverage seems to focus entirely on people not getting paid and national parks being closed. This coverage creates the impression that the only thing the federal government does is pay hundreds of thousands of people to clean the bathrooms at Yosemite National Park.
Trump is now trying to pin the blame for the shutdown on the Democrats for not giving him the money he wants. The Democrats, meanwhile, do not seem terribly concerned. If the only reason the government shut down is over spending that Democratic voters don't support (polls show that most Americans don't think funding a border wall should be a high priority), it's hard to visualize how this is going to hurt the party.
If this shutdown rolls into January, when Democrats take control of the House, it seems very unlikely that Trump will get wall funding in 2019. But you can never be certain what lawmakers might agree to in exchange for some pork for the folks back home.
The best outcome for fiscal responsibility would be for Trump to give up, and he might! But a face-saving negotiation seems more likely. Trump gets some more border security funding, but no wall, and House Democrats get some spending they want in exchange.
Stay tuned.