Bringing Troops Home From Syria and Afghanistan Also Brings Fits of Bipartisan Rage: Reason Roundup
Plus: United Nations goes to bat for Julian Assange and Slack censors chat with Iranians.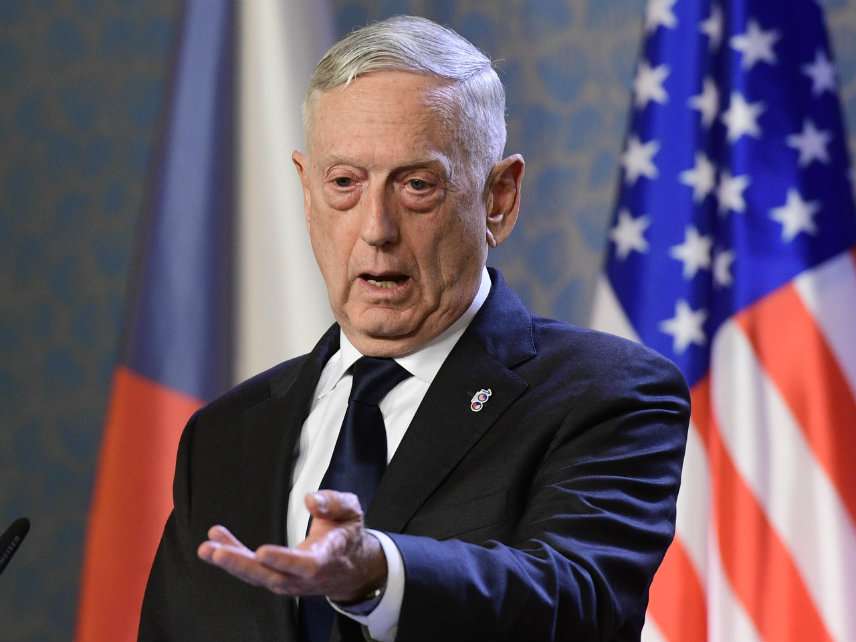 Chaos. That's the word that elected officials and Very Serious thinkers keep throwing around this week—a week in which President Donald Trump has announced the withdrawal of U.S. troops from Syria and from Afghanistan and Congress OK'd a (minor, but positive) bit of criminal justice reform. From a libertarian standpoint, it's hard to see where all consternation is coming from. But coming it is, from all sides of the political establishment.
"Morale has never been lower at the Pentagon," says Fox News.
Bill Kristol tweeted that he has "never been more alarmed for the nation since coming to D.C. over three decades ago."
"Today is the day that Never Trumpers warned was coming," crowed Tom Nichols.
Former outspoken Iraq War critic Howard Dean suggested we should keep our troops in Afghanistan to exert social control there:
By withdrawing our troops from Afghanistan you are condemning millions of women to the Stone Age. No education, no choice about who they marry. They will become property when the Taliban takes over. Is that what you really want Ro? https://t.co/7VR9ZJUz8W

— Howard Dean (@GovHowardDean) December 21, 2018
Sen. Chris Murphy (D–Conn.) said we're in a "national security crisis," while Rachel Maddow and others in liberal TV news land insinuated in no uncertain terms that Trump's decisions were guided by Russia.
Here is what happened when Trump announced US troops would leave Syria: Putin applauded and the secretary of defense resigned.

— Dafna Linzer (@DafnaLinzer) December 21, 2018
Yes, she connected Putin to Afghanistan, not Syria (although has intimated Syria is part of a corrupt plot as well). Her operating premise is that every Trump geopolitical action should be understood as dictated by his desire to thwart Mueller, or something. Common Dem pathology.

— Michael Tracey (@mtracey) December 21, 2018
It's all been a bit beautiful and a bit disheartening to watch.
Beautiful, because sheesh—you would think Trump just launched new wars in Syria and Afghanistan, or perhaps everywhere, from the reactions on right and left. That so much scorn, rage, and paranoid conspiracy-mongering can be spawned by removing some U.S. troops from harm's way is really a marvel to behold.
Establishment media, pundits, and politicos have been trotting out every trick to make it seem like curtailing endless and unapproved American intervention in the Middle East is some sort of fringe lunacy. They say it's something only Trump would do because he's epically insecure and unserious. (He cares more about what Ann Coulter thinks than General Mattis!) Or it's because he's beholden to foreign interests. And so on…
It's been a nice reminder that—aside from schmaltzy civility cooing whenever an ex-president dies—one of the few things that can really bring Republicans and Democrats together is a commitment to imposing America's version of good globally and by force.
That's a vision that Defense Department chief Jim Mattis was staunchly committed to, and the discrepancy between this and the president's recent actions led the general to announce his resignation yesterday, effective at the end of February.
#Mattis was an archetypal American warrior, the man w/ a plan to kill everyone he met

But as he said in his resignation letter, a President deserves a Sec Def who supports his policies

Trump & Mattis were never a fit
My FOX OpEdhttps://t.co/rTW7QG4sUx

— Jim Hanson (@Uncle_Jimbo) December 21, 2018
Good riddance. And while we're on good riddance…today is the last day Congress is in session before the new year. And thankfully, some of the worst members—like "sex trafficking"–obsessed Sen. Claire McCaskill (D–Missouri)—will be leaving.
Granted, we've got more than a few certain duds replacing them. The FIRST STEP Act has quite the small footprint. Congress has been busy with other nonsense (like passing a "massive, wasteful spending bill," as Michigan Rep. Justin Amash put it, and authorizing a national plan to "end demand" for prostitution). And Trump could change his mind tomorrow on bringing troops home. But it's so rare to find any anti-war, anti-carceral, limited-government bright spots these days that we shouldn't downplay them when they do occur.
Between troop withdrawal, watching warmongers on the left and right cry, momentum around sentencing reform, and the still-looming possibility of a partial government shutdown, it's beginning to look a lot like libertarian Christmas!
Happy holidays.
FREE MINDS
The United Nations is calling on the U.K. to let WikiLeaks founder Julian Assange go free.
BREAKING: UN issues statement demanding UK immediately cease trying to arrest Julian Assange pic.twitter.com/MUxWufcOZg

— WikiLeaks (@wikileaks) December 21, 2018
QUICK HITS
• Bless the Electronic Frontier Foundation (EFF):
Wow. @maassive and @eff sued the DEA to get AT&T's Hemisphere records — and won. It's a good job they did, because the newly unredacted documents reveal rampant parallel construction by law enforcement to keep the program secret. https://t.co/Ap001EW5TD

— Zack Whittaker (@zackwhittaker) December 20, 2018
• Slack is apparently shutting down the accounts of people who talk with too many people in Iran:
So @SlackHQ decided to send me this email. No way to appeal this decision. No way to prove that I'm not living in Iran and not working with Iranians on slack. Nope. Just hello we're banning your account. pic.twitter.com/giqYQcMJYz

— Amir Omidi (@aaomidi) December 20, 2018
• Good rule of thumb—always pay attention to the immigration stories that Dara Lind writes and recommends:
I NEED EVERYONE TO STOP TALKING ABOUT THE #$#$ WALL FOR THIRTY SECONDS
THE WALL DOES NOT MATTER
PPL COMING TO US ARE INCREASINGLY SEEKING ASYLUM, WHICH IS LEGAL & CAN BE DONE AT PORTS (official crossings)
AND THOSE PPL NOW HAVE TO GO BACK TO MEXICO ANYWAYhttps://t.co/1vPecwE1Ii

— Dara Lind (@DLind) December 20, 2018
Reason Roundup will be on a holiday hiatus next week. See you again on December 31.