New York's Public Transit Head Says the Subway Needs $40 Billion to Save it From a Death Spiral
The nation's most transit-dependent city has one of its worst performing transit systems.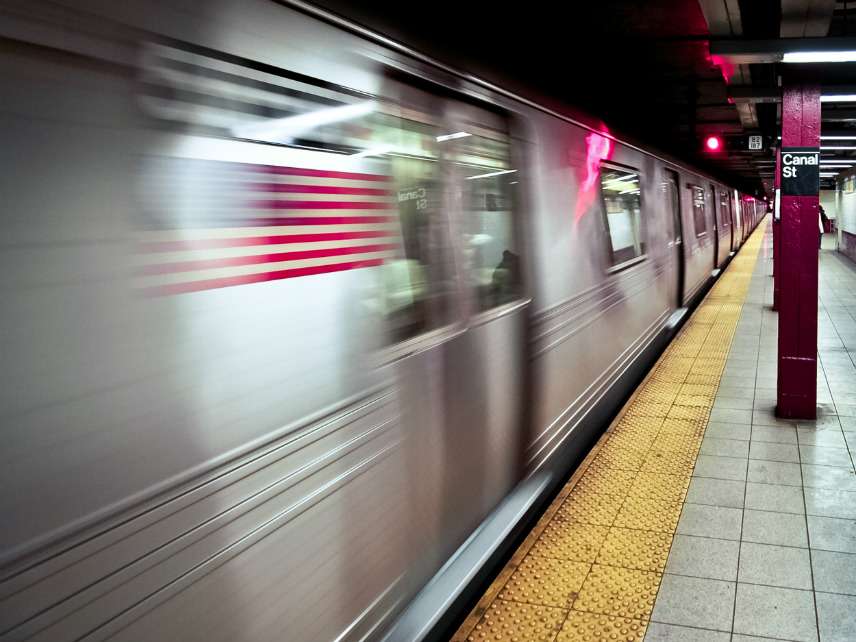 New York City's public transit is facing a "death spiral" according to the person in charge of running it.
According to a recent Bloomberg report, Andy Byford—CEO of the New York City Transit Authority, a subunit of the state's Metropolitan Transportation Authority (MTA)—has been telling anyone who will listen that the city's subway needs an infusion of $40 billion over 10 years to buy new trains, new signals, and otherwise shore up a system in a desperate state of disrepair.
Without that money, Byford argues, MTA will have to cut service and raise fares, leading to a self-perpetuating cycle of exiting riders and higher fares that could bring the whole transit system down—you know, a death spiral.
And while some 8 million New Yorkers still ride MTA-operated public transit each day, the doom and gloom from Byford is not a bad description of where the agency in charge of buses and trains in the densest, most transit-dependent city in the country finds itself.
Since 2015, ridership on New York's subway system has fallen precipitously as commuters have become increasingly frustrated with rising delays, worsening service, and overcrowded trains. That decline in ridership—which has come at a time when the city is adding both jobs and people—has led to a steadily worsening fiscal situation for MTA.
Starting in 2020, the agency predicts it will be running a budget deficit of roughly $500 million, which will rise to some $990 million come 2022.
And that rosy picture is only if Governor Andrew Cuomo—who has ultimate responsibility for the state-run MTA—allows a planned fare increase to go forward, something he says he won't do. Without the fare hike, New York's public transit system will be $244 million in the red next year, rising to about $1.6 billion by 2022.
Riders, as you can imagine, are not happy about this state of affairs.
"Riders have been paying more every two years for almost a decade. But in that time, public transit service has deteriorated," said John Raskin, head of the city's Riders Alliance, to The New York Times in November."I don't know of any business model where people can charge more money for worse service," said one woman to Byford at a recent townhall, according to Bloomberg.
MTA's response to this death spiral has largely been to throw in the towel.
Absent a huge infusion of new state and local tax dollars, the agency has said it will start cutting service even more in addition to its plans to raise fares, neither of which is a good way of getting people back on the subway.
The state and local politicians holding the purse strings have, for their part, proposed a mix of new revenue streams for the subway. Some of these are sensible. Others are not. All will be controversial.
Cuomo has proposed a congestion pricing plan that would charge drivers a flat fee to enter portions of Manhattan, and then spend that money on subway operations. This is not a bad idea, but is bound to piss off suburban commuters.
Mayor Bill De Blasio has suggested a tax hike on the city's millionaires that would pay for a mix of subway operations and fare subsidies for low income riders, an idea I criticized when it was first proposed. A few New York City politicians have gotten behind the idea of the state legalizing and taxing marijuana to pay for the subway.
Whatever the merits of these proposals, none will generate enough revenue to pay for the subway's badly needed renovations. At best they'll keep the MTA operating in the black for a few more years. All rely on people who don't generally use the subway paying more for its operation.
Something that might address that problem would be the increased use of value capture financing, whereby a slice of increased property values near mass transit stops are taxed to pay for the subway. Indeed, Cuomo has proposed doing just that, taking a slice of New York City's real estate taxes and devoting it to mass transit. It's an idea that Baruch Feigenbaum, a transportation expert with the Reason Foundation (which publishes this website), endorsed as a way to fund the subway with money from people who actually receive value from it.
Whether these prove politically palatable enough to be implemented—De Blasio has already come out strongly against an increased use of value capture financing—remains to be seen. In their absence however, a shrinking number of New Yorkers will continue to suffer the same poor service, while paying more for the privilege.