FIRST STEP Orders Federal Prisons to Stop Shackling Pregnant Women While They're In Labor: Reason Roundup
Plus: Russian propaganda almost as laughable as U.S. response to it and the "party of the 2nd Amendment" just banned bump stocks.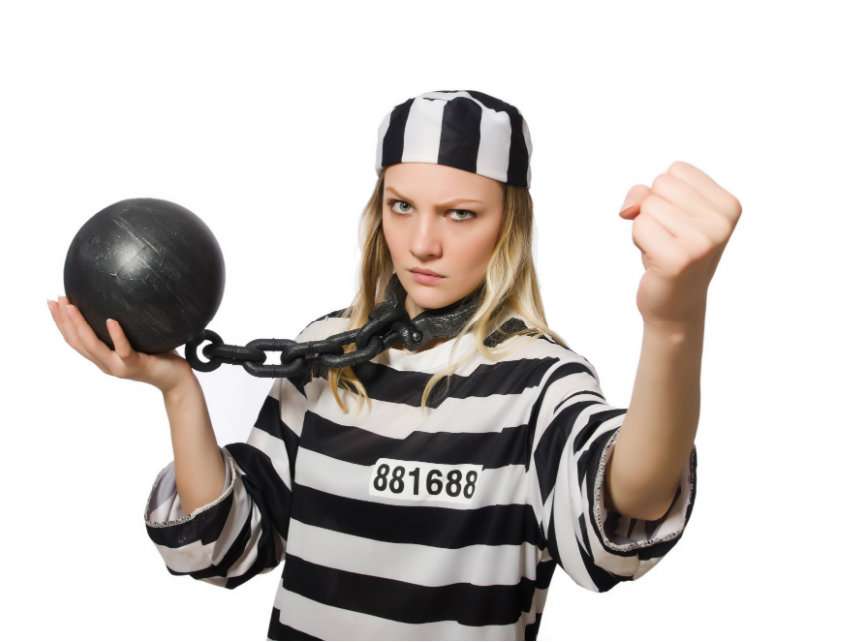 A modest—and much fought over—win for justice. Arkansas Republican Sen. Tom Cotton's attempts to sink a sentencing reform bill by adding toxic amendments has failed. The FIRST STEP Act passed the U.S. Senate yesterday by a vote of 87-12. It passed the House of Representatives last week by a vote of 360-59, with only two Republican representatives voting against.
One of the most overlooked but A+ parts of the FIRST STEP Act is a mandate to stop putting pregnant prisoners in shackles as they give birth. A number of states have also recently moved to put an end to this inhumane practice (though that doesn't always mean that authorities actually follow through).
The centerpiece of FIRST STEP is that it allows the removal of sentencing disparities for cocaine and crack offenses to apply retroactively. The measure would also expand job-training and re-entry programs for federal inmates and require prisoners to be housed within 500 miles of their families when possible.
The FIRST STEP Act is being touted as a major move for criminal justice reform, but that's more a matter of how difficult it is to get any reforms passed than a measure of how far the bill goes.
"In reality, the FIRST STEP Act is large but modest, and filled with numerous exceptions to gain the backing of law enforcement organizations, whose support was critical in gaining Trump's endorsement," explains C.J. Ciaramella. Yet "among some Senate Republicans, though, the bill was radical, and so it seemed somewhat miraculous when McConnell voted to retroactively reduce the sentences of an estimated 3,000 federal inmates serving time for crack cocaine offenses."
The drama, animosity, and long-slog involved in passing even these modest reforms illustrates just how hard it is to get bad laws off the books once they're there, especially when it comes to bad laws labeled as anti-crime, anti-exploitation, or anti-drug measures. And yet so many illiberal progressives forget this when it comes to the creation of new crimes and the ratcheting up of criminal penalties. Confronted with the possibility of unintended consequences and abuse by police and prosecutors, people insist that if the new tactics don't work out, we'll simply fix or repeal the bills behind them. But rallying political momentum around Doing! Something! is always much easier and more popular than getting lawmakers to admit they (or their predecessors) were wrong, since doing so means they risk being tarred as "weak on crime."
FREE MINDS
Russian propaganda almost as laughable as U.S. response to it.
According to the New York Times, these are some "top" posts the Russians used to hack the election. Does any one who is not suffering from Trump hysteria actually believe Russia "hacked" the election with these posts? #RussiaCantMeme pic.twitter.com/5MUy35PW7X

— Paul Sacca (@Paul_Sacca) December 19, 2018
Read Nick Gillespie's excellent take on the topic here.
FREE MARKETS
The "party of the Second Amendment" just banned bump stocks.
Obama knew a bumpstock ban was executive overreach, but Trump is doing it. Trying to wrap my head around this. The current administration was duped into this so Congress could avoid the whole discussion and pretend to support the 2nd Amdt. The WH needs better advisors.

— Thomas Massie (@RepThomasMassie) December 19, 2018
QUICK HITS
• Shocker—government shutdown was once again all a big bluff.
• Coinbase will start allowing users to buy cryptocurrency with other cryptocurrencies.
• Paypal shuts down another alternative platform:
PayPal's power scares me https://t.co/O6hKtwVZ5T pic.twitter.com/m5cJHzuPCh

— Elizabeth Nolan Brown (@ENBrown) December 19, 2018
• Heads up:
Amazing funding opportunity for an organization willing to take on #FOSTA / #SESTA. https://t.co/GiFg7wNeqB

— Alex Frell Levy (@alexflevy) December 19, 2018
• It's been a very bad year for a lot of media, but Politico is thriving.
• Why does the FDA want to drive kids to smoking?
Hey, FDA: research "strongly suggests that young people who would otherwise be smoking are vaping instead, which represents a huge improvement in terms of health risks." #ecigs @reason https://t.co/MSF5LOWXwJ pic.twitter.com/Y342vdqen1

— vanessa brown calder (@vanessabcalder) December 18, 2018
• Playboy's upcoming Freedom of Expression issue will feature Stormy Daniels:
I am beyond excited and honored to share this news! I am in the new issue of Playboy (Winter 2019 Freedom of Expression) that hits newsstands this week. This is such a dream come true… https://t.co/2gObyVpZ3t

— Stormy Daniels (@StormyDaniels) December 18, 2018
• Trust in media is starting to rise again.
• Will the ceasefire in Yemen work?
• "Foreign influence" prosecutions are up.