D.C. Bans Plastic Straws, and One Local Bar Celebrates With a Straw-Ban Themed Pop-Up Bar
DC9's Garbage BARge touts straw bans, sea turtles, and a few inaccurate statistics.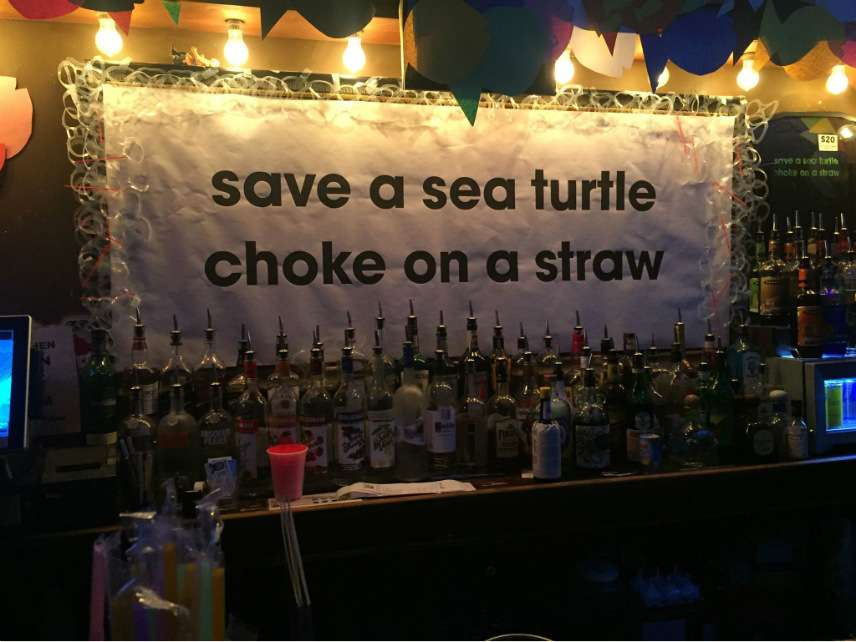 A straw ban has come to Washington, D.C., and with it, a pop-up bar celebrating the plastic suckers' demise.
Starting this week and running until December 30, local watering hole and concert venue DC9 has turned its lower floor into a plastic-themed Garbage BARge that bids good riddance to soon-to-be prohibited plastic straws.
"The idea started as something that was 90 percent funny," said Lauren McGrath to Washington City Paper, who said it took a more serious flavor after the bar started working with local non-profits and anti-straw businesses who've organized themselves into the Our Last Straw campaign.
The idea behind the campaign is to get businesses in the D.C. area to give up on plastic straws, and cut down on plastic use overall, through partnerships with local governments and heavy hitting environmental non-profits like the Ocean Conservancy.
Evidence of this professionalism was everywhere when I visited the DC9's Garbage BARge last night.
Sitting on the bar next to the nautical themed specialty cocktails menus was messaging material and branded coasters from Ocean Conservancy's Skip the Straw campaign, which encourages participating businesses to adopt a straw-on-request policy, and strive to reduce their overall plastic use.
The voluntary approach will be moot in D.C. come 2019, when the city's straw ban goes into effect. The new policy prohibits handing out plastic, non-compostable straws even if a customer requests one. (The one exception is for disabled people, who can still have the straw of their choice.)
Starting in July 2019, the city will start issuing fines of anywhere from $100 to $800 to businesses for handing out plastic straws.
Instead of plastic, bars and restaurants will have to make do with paper, bamboo, or even wooden straws that have slowly been popping up in bars around the District over the last year.
DC9's Garbage BARrge was itself handing out metal straws with their 'Last Straw' cocktail. Attached to the straw was yet another informational flyer declaring that Americans use 500 million straws a day.
The source of that number—which has appeared in countless news articles, press releases, government websites, legislation, and gimmicky marketing campaigns—was revealed earlier this year to be the product of a 9-year-old's research.
Despite this revelation, that stubborn statistic keeps popping up in unexpected places, helping to advance the cause of straw bans wherever it goes.
This includes Washington, D.C., which as it turns out, has actually been a secret leader in the war on straws. They were technically banned in the District back in 2014 by the city's Sustainable Omnibus Amendment Act.
That straws have stuck around is mostly a bureaucratic oversight. That 2014 law requires the mayor to issue a list of containers and materials acceptable for serving food in public. Until 2018, that list included straws.
Starting this year, though, the movement to ban straws became a global phenomenon. Not wanting to miss out on the action, D.C. politicians decided they should start enforcing their ban.
In July, two D.C. City Council members introduced a bill that explicitly outlaws businesses from using non-compostable plastic straws. In October, Mayor Muriel Bowser updated the list of allowed food service ware to exclude straws, and announced that enforcement would start in 2019.
DC9's plastic pop-up bar thus serves two purposes: giving plastic straws a ceremonious good bye, and helping the bar get rid of all its plastic straws before the ban goes into effect.
Should you visit the Garbage BARge, you'll find numerous plastic straws (some of which even come wrapped in more plastic!) around the bar. Those sucking their last plastic straw are encouraged to stick them in a collage of used straws on the wall. It was a nice touch on a theme that manages to turn loathsome straw bans into a fun and topical drinking experience. In an increasingly strawless world, I suppose that's all we can ask for.