A GoFundMe Has Raised More Than $1 Million for Trump's Border Wall
It's a bad idea in more ways than one.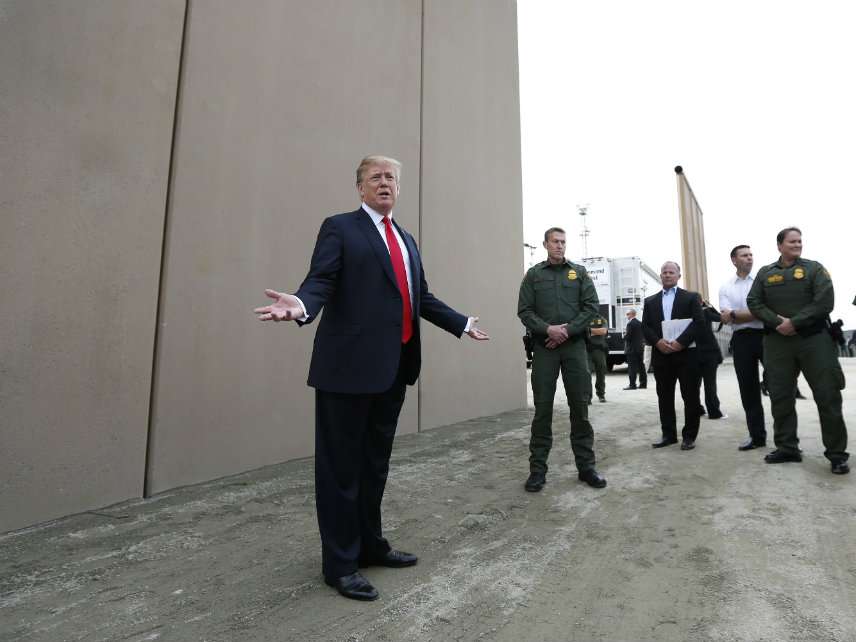 Could a wall on the U.S.–Mexico border be built with private funds?
Short answer: Probably not. But that's not stopping Brian Kolfage Jr., a triple-amputee Air Force veteran and conservative activist. Kolfage, who has more than 97,000 followers on his public Facebook page, set up a GoFundMe page Sunday titled "We The People Will Fund The Wall."
"Like a majority of those American citizens who voted to elect President Donald J Trump, we voted for him to Make America Great Again," the fundraiser notes. "President Trump's main campaign promise was to BUILD THE WALL. And as he's followed through on just about every promise so far, this wall project needs to be completed still."
The campaign's current goal: a lofty $1 billion. While he's nowhere close to reaching that goal, more than 16,000 people have pledged upward of $1 million and counting. On GoFundMe's homepage, Kolfage's campaign was also one of the top fundraisers as of this afternoon.
He's not the first person to suggest that the border wall be built with private funds. "Why hasn't someone made a GoFundMe for Trump's wall?" conservative columnist Michael Goodwin asked in a Saturday article for the New York Post. Nearly 200 border wall crowdfunding sites already exist, The Washington Times reported yesterday. According to a recent Rasmussen survey, 21 percent of U.S. voters are willing to donate to build the wall.
In his campaign description, Kolfage cites a bill proposed earlier this week. Rep. Steven Palazzo (R–Miss.) that would fund the border wall with savings bonds Americans could purchase. "This is just one option" by which Americans could private fund the wall, Kolfage writes, and "there are others on the table being discussed."
This is as good a place as any to point out that people should be free to spend their money however they please. And Kolfage emphasizes that "if we don't reach our goal or come significantly close we will refund every single penny."
Still, even if people were to voluntarily give their own money, the wall would probably require lots of government action. That's because the federal government only owns about a third of the land on the southern border with Mexico. The rest, as Cato Institute immigration policy analyst David Bier noted in a May 2017 article for Reason, belongs to the states, Native American tribes, and private individuals. The government has only barely begin the long process of seizing the land on which the wall would be built.
There are a host of other reasons why building a border wall would be a bad idea. I won't get into all of them here, but you can click on this link to read about some of them.
Crowdfunding the border wall is also not likely to work. Kolfage calculates that if each of Trump's 63 million voters from 2016 gave $80, then a total of $5 billion would be raised for the wall. That is how much the president was threatening to shut parts of the federal government down over in recent days and weeks, but it's only a fraction of the total cost. Reason's Eric Boehm estimated in March that getting the wall up could cost up to $28 billion, which doesn't include the $48.3 billion in maintenance costs over the first decade.
So even if Kolfage was able to raise $5 billion, taxpayers would still be on the hook for the rest.