Sabrina Offers Up Christmas With Satan, Not Santa
A very witchy holiday special on Netflix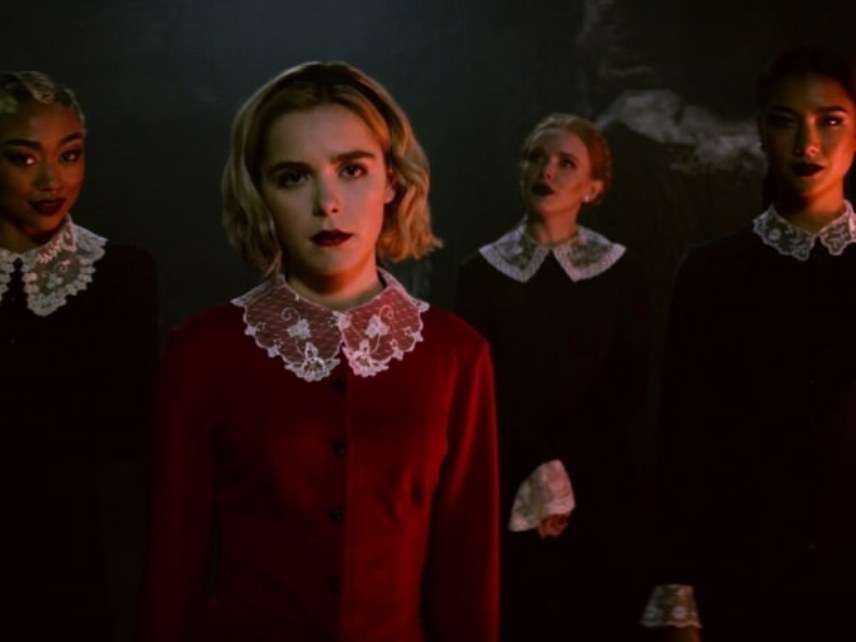 Chilling Adventures of Sabrina: A Midwinter's Tale. Available Saturday, December 14, on Netflix.
You doubt there's a war on Christmas? Then why has it been so long since we've had a decent slice-and-dice Santa movie? Now I'm not saying that Netflix's Chilling Adventures of Sabrina: A Midwinter's Tale is going to make anybody forget about Silent Night, Deadly Night or Black Christmas. But it does have a cannibal witch who likes to wash down her baby-meat sandwiches with gin. So don't be a Grinch about it.
A Midwinter's Tale is actually a (more or less) stand-alone Christmas episode of Chilling Adventures, the latest chapter of the pleasantly demented Archie comic-books auteur Roberto Aguirre-Sacasa to elevate his teen-town characters from zaniness to sociopathy to hellfire depravity.
He started in 2013 with the Afterlife with Archie series of comic books, in which the hero's hometown was overrun with zombies. (Sample title: "Betty RIP") In 2017, he took a small step backward with The CW series Riverdale, in which the citizens were not brain-eating undead but run-of-the-mill nymphomaniacs and serial killers.
I wasn't impressed with Riverdale, but in Chilling Adventures, Aguirre-Sacasa is letting his not-so-latent maniacal tendencies run much more freely, with macabrely amusing results.
One young character, grounded for trying to blow up the Vatican (don't ask), whiles away his hours with the frisky corpses in the family funeral home. Guest stars like the Red Ghost of Death pop in and out. A teenage girl, snatched from work by a child-eating demon, begs her rescuers not to tell her strict dad about it: "He'll never let me get an after-school job again!"
And then there's one of the sorceress aunts raising the title character Sabrina, full of daybreak cheer after that first cup of coffee. "It is a blessed morning," she primly assures the family, "given that none of us had our throats slit by malevolencies during the night."
The half-human, half-witch character Sabrina (Kiernan Shipka, who played Don Draper's bitchy little daughter in Mad Men) actually originated in during Archie comics' golden era in 1962. In those days, she was more Bewitched than Macbeth, her powers rarely invoked for anything more sinister than getting her homework done early.
This Sabrina, however, is a bit more baneful. She's signed her name in the Book of the Beast. (It's not entirely clear what that means, but it sounds distinctly unwholesome.) And she's also slated to be the bride of Cthulhu, though it could be argued that she was kind of tricked into that by a prankster teacher at school, Mrs. Satan. (Yes, that Satan.)
Characteristically, Sabrina decides to visit her dead mother, shrieking in hell for unspecified reasons, on the night of the winter solstice—when, she brightly observes to her friends, "the veil between the living and the dead is at its thinnest." Oh good, a chance to chat up Stalin, Charlie Manson, and Freddy Krueger on the same visit! Sure enough, something slips through, and it's not the ghost of Jacob Marley.
Witty, creepy and more than a little cracked, Midwinter's Tale is full of Addams Family-style malificisms. Typical conversation-starter: "Nicholas just left. He's off to the Unholy Lands for the holiday."
The local Santa's waxen mannequins of kids lined up to deliver their Christmas lists aren't entirely made of wax. The Christmas cookies look like they might have come off the back of a Jeffrey Dahmer cookbook.
And Sabrina's family watches A Christmas Carol mostly for the ghosts. But, just like the rest of us, they're heartened by the words of Tiny Tim: "May Satan bless us, every one!"