Republican Leaders Sneak Support for Yemen War Into Farm Bill Vote: Reason Roundup
Plus: Google hearing once again reveals legislative ignorance on tech and IRS auditors target more low-income taxpayers.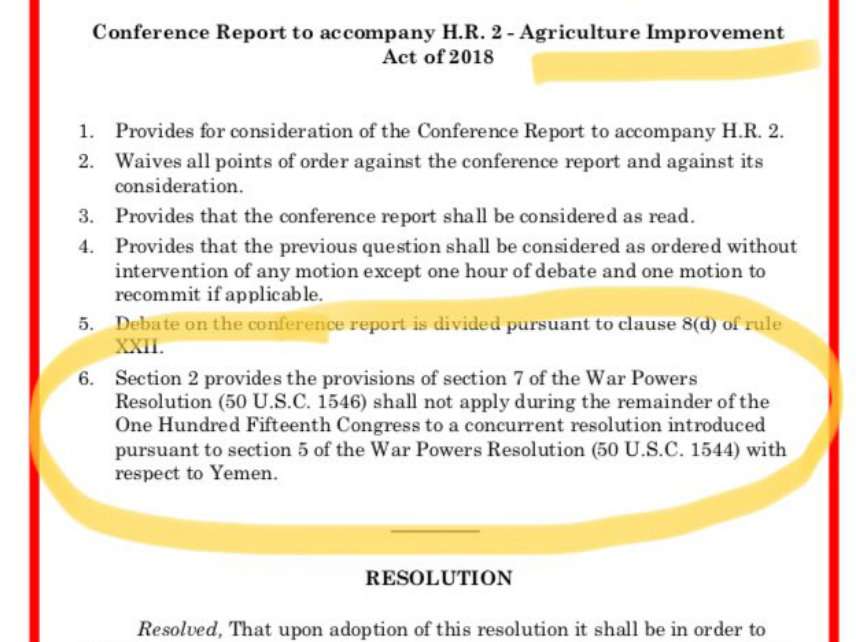 The House of Representatives will vote today on whether to proceed with the latest Farm Bill. Tucked inside of it is a resolution that would suspend the War Powers Act with regard to Yemen and halt any House debate on American support for Saudi Arabia's aggression there.
The resolution attached to the farm bill says that the Congressional part of the War Powers Resolution "shall not apply during the remainder of the One Hundred Fifteenth Congress to a concurrent resolution introduced … with respect to Yemen."
That likely-to-be banned resolution, introduced in the House by Rep. Thomas Massie (R-Ky.) and Rep. Ro Khanna (D-Calif.), would "recognize the undeclared nature of U.S. involvement in the Yemeni civil war and call for it to cease, absent explicit authorization," as FreedomWorks Federal Affairs Manager Sarah Anderson put it.
In the Senate, a resolution similar to the Massie-Khanna one (from Sens. Mike Lee and Bernie Sanders) is scheduled for a vote today.
"To avoid a debate on whether the US should be involved in a war in Yemen, today our leadership will trick members into suspending the provisions of the War Powers Act," tweeted Massie this morning. "Sad!" Last night, he called it "despicable" that House Speaker Paul Ryan "is shirking responsibility for debating our involvement in the Yemen war by hiding the war resolution in a procedural vote on the farm bill."
"Why not just vote against the farm bill?" someone asked Massie. He responded by explaining that today's House vote isn't to approve the farm bill itself but to approve a future vote on whether to approve it.
"We should vote against this procedural vote," Massie added. "If the procedural vote fails, the farm bill won't proceed to a vote."
If it does, and passes, it means Congress would temporarily give up their ability to have any say in how the executive branch decides to handle things in Yemen.
Does the Constitution not matter? Article I gives Congress alone the enumerated, undivided power to declare war. The executive branch can only wage war. U.S. involvement in Yemen is not declared, therefore the executive may not wage this war.

— Sarah Anderson (@smayranderson) December 12, 2018
This is the second time House Republicans have tried to sneak a vote perpetuating war in Yemen into unrelated bills, Anderson also pointed out. Last time, it was tucked into a measure about wolves.
Jason Pye, vice president of legislative affairs at FreedomWorks, commented:
Well, one of House Republican leadership's final acts will be to block a vote on the Yemen war powers resolution. House Republican leaders are determined to have the U.S. own our role this bloody conflict and humanitarian disaster in which we have no business being involved. pic.twitter.com/beboysfJqA

— Jason Pye (@pye) December 12, 2018
FREE MINDS
Republicans air grievances about their Google search results. As Robby Soave noted here last night, the whole hearing in which the House Judiciary Committee grilled Google head Sundar Pichai was seriously absurd, and kind of hilarious if it didn't foreshadow terrible new regulations and excuses for censorship.
Most of those questioning Pichai seemed under the impression that there are actual people at Google sitting around deciding what shows up in search results. This very busy cabal somehow manages to handle billions of searches globally per day while finding the time suppress good results about Republican leaders. Why else, they demand, would you get a picture of Trump when you search "idiot"? Why else would searching for these lawmakers' names not turn up positive news coverage?
The self-owns here are fun, and especially noteworthy since Google results depend at least in part on how popular a piece of content is (i.e., how many people visit the page) and how many times people search for particular terms together. What turns up is what's both topically relevant and what's popular. So yesterday's airing of grievances about GOP search results really just reveals widespread negative perceptions of these doofuses.
Beyond being ignorant about how search engines work, at least one of the lawmakers leading Pichai's questioning was not aware that Google doesn't make iPhones.
After @SteveKingIA raises inscrutable concerns about iPhones, Google CEO Sunday Pichai patiently informs him, "Congressman, iPhone is made by a different company." pic.twitter.com/TiNZ1t3VRo

— Aaron Rupar (@atrupar) December 11, 2018
FREE MARKETS
The IRS has been "gutted" in the past few years, ProPublica reports. Good news, right?
Mostly. Libertarians can certainly get behind budget cuts at the agency and a slew of exiting employees (auditors employed at the IRS are down by a third since 2010). But one result of this, according to ProPublica, is that IRS auditors have started focusing more efforts on low-income taxpayers who fall behind.
The article contains a host of other interesting tidbits, but as Christian Britschgi wrote here yesterday, it doesn't quite explain why anyone should care that the IRS is taking in less tax money overall. "ProPublica fails to identify what, if any, effect a scaled back IRS actually has had on wider government operations," writes Britschgi. More:
One might complain that wealthy tax cheats are benefiting at the expense of the beneficiaries of government programs starved of funds. But the fact is that the absence of that $18 billion has not resulted in cuts to federal spending.

Indeed, in the years since the IRS has been "gutted," federal spending has gone nowhere but up. Fiscal year 2018 saw the federal government appropriate $4.1 trillion, a 3 percent hike from the previous year. That spending hike included an annual defense spending increase of $83 billion, and another $60 billion in increased non-defense discretionary spending.
QUICK HITS
• The British Parliament is holding a vote this evening to determine whether Prime Minister Teresa May is incompetent and should step down.
• Surprise, surprise, there's not a realistic way to keep the Russians off "our" social networks.
• A big new study shows that criminalizing prostitution makes it more risky. Sex workers are "three times more likely to experience violence" from customers where prostitution is illegal, The Guardian reports.
• "Whether it's 1848 or 1968, social upheaval in France rarely ends well."
• Let's end on some good news:
Federal court says Massachusetts public officials can no longer abuse state wiretap law to punish citizens for recording them https://t.co/2wyPDm0rDbhttps://t.co/ieLMumBl5z pic.twitter.com/NoOSfeCXFX

— bloodthirsty cadaver junkie (@TimCushing) December 12, 2018