Congress Just Passed a Farm Bill That Legalizes Industrial Hemp. Other Than That, It's a Disaster.
The House Freedom Caucus calls it "a sprawling, cronyist agriculture bill."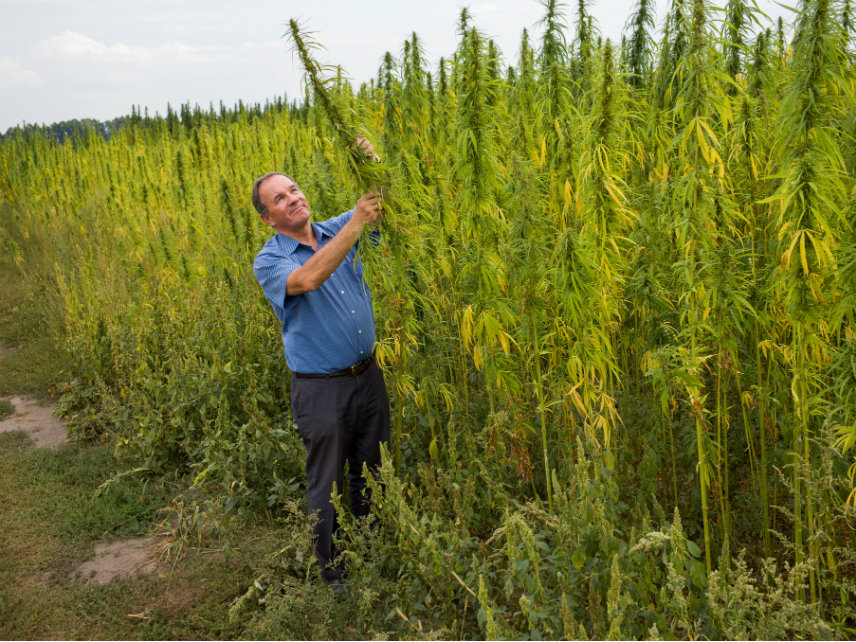 The House of Representatives just voted overwhelmingly in support of a conference committee version of the 2018 farm bill.
Combined with a similarly bipartisan vote in the Senate on Tuesday, that means the bill has cleared Congress and now heads to the desk of President Donald Trump. He is expected to sign it later this week.
The final House vote—by a count of 369-47—to approve the $867 billion legislation easily overcame opposition to the bill from the House Freedom Caucus, a collection of fiscally conservative lawmakers that's probably the closest thing Congress has to a libertarian voting bloc. In a statement issued earlier Wednesday, the House Freedom Cause decried the farm bill for combining "a sprawling, cronyist agriculture bill with continued funding for welfare that belongs at the state or local level."
Many of the headlines about the farm bill have focused on the inclusion of a provision that will legalize industrial hemp—a form of cannabis that contains very low levels of tetrahydrocannabinol (THC) found in marijuana. Industrial hemp has a wide range of uses that includes making clothing, as a substitute for plastics, and as a additive to food and drinks.
As Reason's Mike Riggs put it yesterday in this space, "we should commend Congress for taking the bold step of legalizing a plant that cannot get you high but can be turned into really cool necklaces."
But, as Riggs also noted, we should condemn Congress for passing a farm bill that somehow manages to suck even more than most farm bills. The bill throws taxpayer money at farmers markets, funds five more years of federal nutritional programs, and abandons proposed changes to the food stamp program that would have imposed work requirements on some recipients—that's the welfare issue that the House Freedom Caucus was alluding to in its statement.
But probably the most appalling part of the farm bill is the widening of an agricultural subsidy program that's already been widely criticized for sending benefits to people who, by most measures, would not count as farmers. Congress rejected a proposal to limit those subsidies to individuals who live or work on a farm, and instead expanded eligibility to include farmer's cousins, nieces, and nephews. As Caroline Kitchens of the R Street Institute highlighted this week, the changes would allow "distant relatives and their spouses to each collect up to $125,000 a year in subsidies, so long as they fill out the necessary paperwork."
The bill is also another missed opportunity to deal with America's unsustainable levels of spending and government debt. The farm bill isn't the biggest driver of the nation's fiscal problems, but every billion dollars wasted on an unnecessary and counterproductive farm bill is a billion dollars that could have been trimmed from the deficit instead. If Congress doesn't even have a conversation about possible cuts—or if it rejects small changes to food stamps, for example—it only reinforces the view that a serious discussion about the budget is not close to happening soon.
"With trillion-dollar deficits just around the corner, it is disappointing that policymakers could not at least identify a few billion dollars to help combat our unsustainable fiscal situation," says Maya MacGuineas, president of the Committee for a Responsible Federal Budget, which favors balanced budgets.
But, hey, at least they finally legalized something that never should have been illegal in the first place.